China glaze QT - holographic nail polish
You probably saw this beauty before but I just love holographic nail polishes! Especially now in the spring when sun is shining a bit more would be a sin to not wear it :) China Glaze QT is from 2008 OMG Text in Colour collection and I own OMG polish as well (but I use it just for konading :) These pictures were taken after 4(!) days of wearing! Amazing! I was very surprised how long this polish stayed in good condition. I managed to wear it 6 days and it still was good and without any repairing when I took it off.
Application: These are two coats but I must warn you. If you use base coat first, polish is streaky and the application is not easy.
Sun was not very helpful so the holographic effect is not so visible.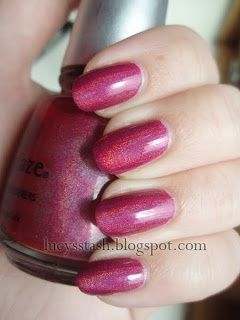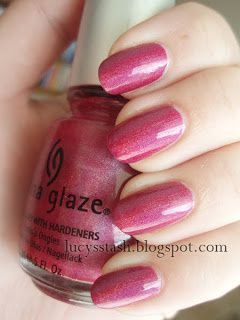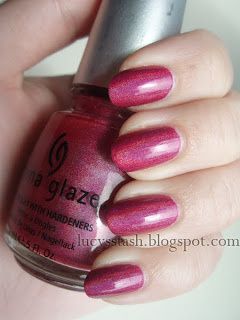 Tuhle krasku uz jste urcite driv videly (vy, zeny :D), ale ja proste miluju holografy! Zvlaste ted na jare, kdy sviticko sluni trosku casteji by byl hrich holografy nenosit. China Glaze QT je z 2008 OMG Text in Colour kolekce. Vlastnim jeste stribrny holograf OMG,ale ten pouzivam jen na razitkovani.
Tyhle fotky jsem nafotila po 4(!) dnech noseni! Fakt uzasny! Hrozne me prekvapilo,jak dlouho tenhle lak zustal v super stavu. Nakonec jsem ho mela na sobe 6 dni, nez jsem ho dala dolu a i tak vypadal bez oprav dost dobre.
Aplikace: Pro plne kryti stacily dve vrstvy,ale musim vas pred necim varovat. Nepouzivejte podkladovy lak! Kdyz pouzijete podklad, lak ma tendenci hodne pruhovat a jakoby o dost rychleji zasychat,takze kdyz stejne misto prejedete podruhe, predchozi barvu shrnete. fuj!
PS: Ceske ctenarky, napiste mi prosim do komentaru, jestli vam vic vyhovuje,abych cesky preklad psala nahore hned pod anglickou verzi nebo takhle dolu,aby se to nemichalo. Dekujuuu!