China Glaze Cheek-to-cheek
It took me few months to finally try this polish, cos it was not really interesting colour for me (you know, I like the darks ;)In the bottle, China Glaze Cheek-to-cheek looks like lovely pink with gold shine but it is very sheer on the nail :( I have two coats in the picture and in my opinion I would need another 2-3 to get full cover. However application itself was nice with no problems. So what about you? Do you like the colour?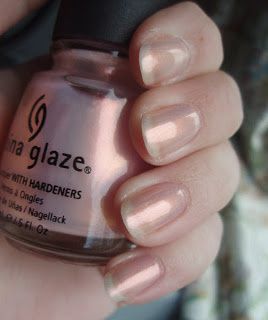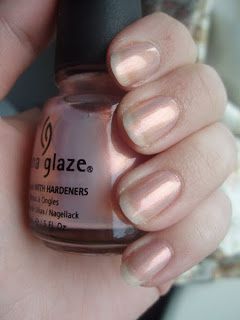 Trvalo mi par mesicu, nez jsem konecne vyzkousela tenhle lak na nehty. To protoze to neni zajimava barva pro me (mam radsi ty tmave ;) V lahvicke barva vypada jako nezna ruzova se zlatou perleti, na nehtech je ale dost prusvitna :( Na fotkach mam dve vrstvy, ale podle me bych potrebovala jeste dalsi 2-3, abych dosahla uplneho kryti (vopruz..). Aplikace sama o sobe ale byla bez problemu. A co vy? Libi se vam barvicka?