Gabriella Salvette Purple polish
Uff, that was a mistake :-/ Not a really nice kind of polish. I had to use four(!!!) thick coats to have at least the coverage you can see in the pictures. That really sucks :( This polish is really sheer and gives you just a hint of purple in one coat. I couldn't stand such a disaster on my nails so I removed it quickly and I don't know how long it stays in a good condition. Overally cheap drugstore polish, not even worth to buy (in my opinion).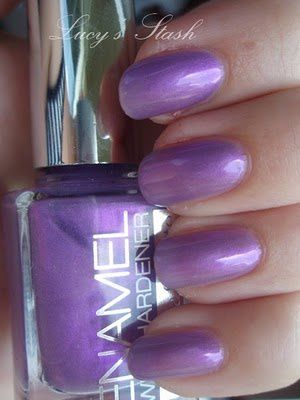 Uff, tak tohle byla chyba :-/ Ne zrovna super lak. Musela jsem pouzit ctyri (!!!) tluste vrstvy, aby lak kryl alespon tak, jak na fotce. Fakt na prd :( Bohuzel lak vubec nekryje a v jedne vrstve doda jen nadech fialove. Neco takoveho jsem proste na nehtech nesnesla, takze jsem ho hned odlakovala a nevim jakou ma vydrz. Je to proste levnejsi drogerkovy lak a podle meo nazoru za ty penize ani nestoji.