Golden Rose Super Shine 143 swatch
Just one quick old swatch before some nailart ;) I picked up this Golden Rose Super Shine & Lasting #143 on my holiday in Czech Republic. Perfect shimmery bronze colour for summer....but summer is gone isn't it? :-/ I have 2 coats in the picture and polish was opaque enough however the third coat would be better. It dried quite quickly which is a big advantage however removing was a little bit messy because of the tiny glitter particles. It really is super shiny but staying power is average.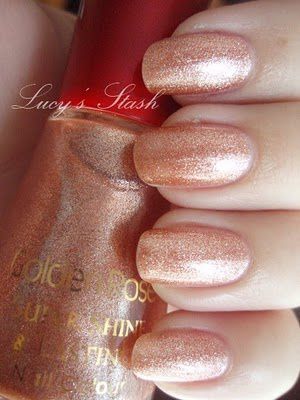 Mam tu jeden stary lak, nez vam ukazu nejaky dalsi nailart ;) O prazdninach v Cesku jsem si koupila tenhle Golden Rose Super Shine & Lasting #143. Je to perfektni trpytivy bronzovy odstin na leto...ale uz neni leto,co? :-/ Na fotce mam dve vrstvy. lak byl kryci tak akorat, ale klidne by to sneslo treti vrstvu :) Uschnul celkem rychle, coz je dost velka vyhoda, ale odlakovavani bylo trosku neporadne diky drobnym trpytivym casteckam. opravdu je super shiny (trpytivy/leskly), ale vydrz ma prumernou.