China Glaze's new collections for Spring 2011!
I've got some information to pass :)
First collection from China Glaze for a spring 2011 is Anchors Away! 
China
Glaze Introduces 12 New Glitters And Crèmes For Spring 2011
Los Angeles
, CA
– (October 2010)
: Sail away this spring in 12 nautically-inspired colors from China Glaze. These bold and confident brights are reminiscent of a carefree natural getaway, with soft ethereal hues that inspire leisurely thoughts of sand and sea. Colors in this collection:
Life Preserver

: Highly pigmented and luxurious poppy crème.   

Hey Sailor

: Vibrant crème red. 

 

Ahoy!

: Delightfully intense pink that flashes with reflective glass speck. 

First Mate

: Sophisticated and rich navy crème.

Starboard

: Hip and playful green crème.  

Lighthouse

: Multi-dimensional, bright yellow glass speck.

White Cap

: Whimsical and sparkling multi-dimensional white.

Pelican Gray

: High shine, cool toned grey crème.  

 

Sea Spray

: Calming pale blue crème.  

Below Deck

: A flirty mix of taupe and violet.

 

Sunset Sail

: Delightful peachy pink high shine crème.  

Knotty

: Micro-particle beige shimmer.
This spring, take a relaxing trip to the shore and sail away with China Glaze. Stop and smell the sea breeze!
The China Glaze Anchors Away collection will be available in two 6 piece acetates, a 12 piece display, a 36 piece rack, and as open stock colors.
China Glaze is free of DBP, toluene, and added formaldehyde.
The second collection is called Tronica and is full of holographic colours! Don't you just love holographs?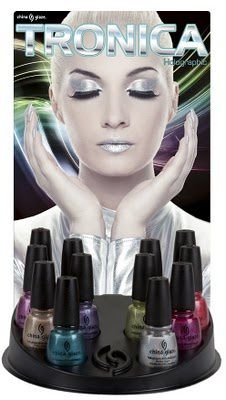 China Glaze is releasing a limited edition collection of 12 holographic polishes called "Tronica". The technology driven, fashion forward and edgy colors will be sure to become a cult classic. The 12 colors in the collection include:
Techno Teal – Turquoise Holographic

Virtual Violet – Violet Holographic

Electra Magnenta – Magenta Holographic

Gamer Glam – Purple Holographic

High Def -  Blue Holographic

Hologram -  Silver Holographic

Hyper Haute – Rasberry Holographic

3D Fantasy – Peachy Pink Holographic

Digital Dawn – Dusty Rose Holographic

Cyberspace – Taupe Holographic

Mega Bite – Gold Holographic

Laser Lime – Lime Green Holographic
China Glaze Tronica will be available at BSG starting January/February 2011 and at Sally's Beauty Supply starting March/April 2011.