OPI introduces new Shatter colours and Glam Slam! France collection soon!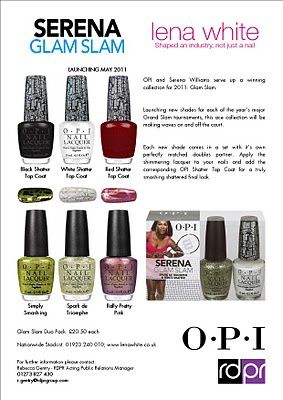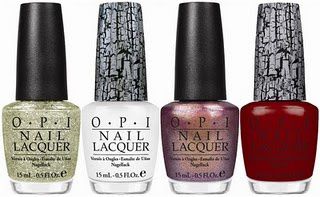 OPI captures Serena Williams' winning spirit with four additions to the Glam Slam! collection, including two new shades of the fashionable, must-have Shatter – Red and White. Launching in conjunction with the French Open, Glam Slam! France celebrates with two duo-packs for four unbeatable looks.
The first Lacquer set includes Spark de Triomphe (a monumentally marvelous silver glitter), paired with White Shatter. Once applied over completely dried Nail Lacquer, Shatter begins to crackle, leaving behind a two-texture pattern on each nail. The second Lacquer set features Rally Pretty Pink (rise to the occasion with this shimmering sunset-pink), paired with Red Shatter.
"We are very excited to continue working with tennis superstar Serena Williams to launch the next Glam Slam! shades," said Suzi Weiss-Fischmann, OPI Executive VP & Artistic Director. "France is a country with a rich history in fashion and setting trends. These four new color options are ideal for showcasing your own personal style, à la Serena, whether worn alone or overlaid with Shatter for instant nail art."
"Whether I'm on or off the court, style is important," explains Serena Williams. "In addition to watching the runways for the latest trends, I think it's important to add my own unique elements. With the new White and Red Shatter, I can customize my nails for a high-fashion take on the classically elegant silver and sunset shades in the Glam Slam! France collection."
Serena Williams has received the World Number One in singles ranking by the Women's Tennis Association on five separate occasions, along with being listed as sixth on the all-time greatest champions list. Additionally, she has won two Olympic gold medals in women's doubles and has earned 27 Grand Slam titles to date. Serena is the most recent player to have held all four Grand Slam singles titles simultaneously and only the fifth woman in history to do so.New shades in the Glam Slam! collection will be introduced to coincide with each of the four major tournaments, beginning with the Australian Open in January 2011, followed by launches in May 2011 for the French Open, June 2011 for Wimbledon and August 2011 for the US Open. As with all OPI Nail Lacquers, the Glam Slam! collection contains no DBP, Toluene, or Formaldehyde, and each includes OPI's exclusive ProWide™ Brush for the ultimate in application.
The Glam Slam collection will be available in UK in May.
Aaaaand.....there will be new blue Shatters as well!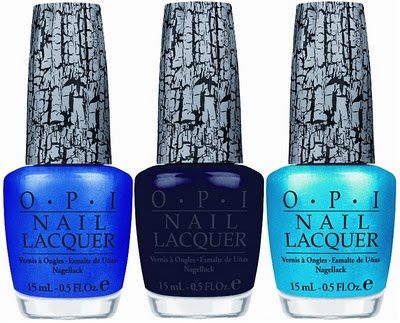 OPI expands its Shatter line with the addition of three new trendsetting shades: Blue, Navy and Turquoise. With nautical hues of cobalt, indigo and sapphire, these blues provide the perfect look for summer nails in one simple step. Inspired by graffiti art, Shatter leaves behind a crackled, two-texture finish when painted over any dry OPI hue. Adding top coat takes Shatter from matte to glossy in seconds.
"Black Shatter was received with great fanfare, showing that women are looking for new ways to express themselves and are excited to try different textures on their nails," says Suzi Weiss-Fischmann, OPI Executive VP & Artistic Director. "By adding a variety of colors to the line, there are more options for every woman, whether she is looking for a funky aquamarine or elegant deep blue. Unlike traditional nail art which can be complicated and difficult to replicate, Shatter is easy to use and allows everyone to experiment with this new trend."
In addition to the original Black Shatter, the line also features the Shatter coat in White, Red and Silver. All Shatter retail displays now feature Quick Response (QR) code, a two-dimensional barcode readable by smart phones and mobile phones with cameras and Internet capability. A quick scan of the display's QR code will directly link to a demonstrational video – making application foolproof.