What is Zoya preparing for Spring/Summer 2011?
Zoya is comping up with two new collections and ModMattes is total surprise for me! In the season when almost every brand comes up with crakles Zoya is not afraid to go back to the Matte trend and bring three new spring colours! I love it!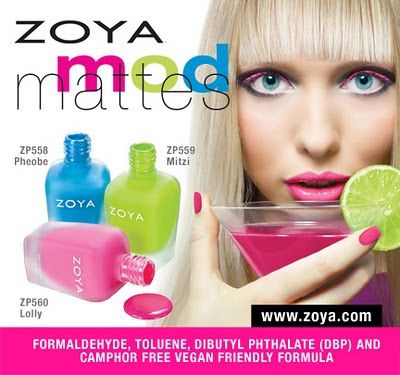 The incredible Zoya modmattes LE* shade collection has been expanded with three new LIMITED EDITION beauties. Get all of the color, none of shine with modmattes LE*, Zoya's exclusive blend resulting in utterly wearable and truly stylish matte nail polish.
In US, collection should be available from  March 21, 2011.
The second and also very exciting collection is Sunshine Collection! It consist of 6 shimmery shades and 6 cremes as usually so everybody can find their favourites!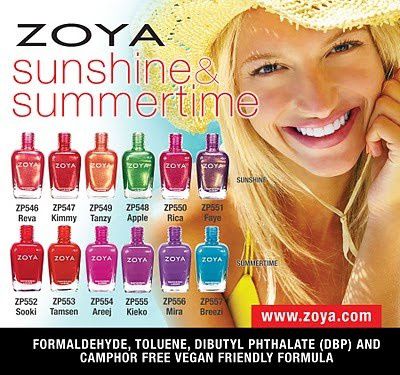 Summer 2011 color so perfect that it could only come from the nail polish experts at Zoya... Zoya is the New Color of Fashion!
ZOYA SUNSHINE COLLECTION
·
Reva
(ZP546) - A cool toned strawberry red with glowing golden metallic sparkle. A very rich and luxurious looking gilded red.
Kimmy

(ZP547) - Gleaming metallic candy apple red brightened by gold sparkle. Not your usual red shimmer- this one has a fiery attitude.

Apple

(ZP548) - Luminous yellow-toned apple green packed with gold metallic sparkle. A dimensional green that's clean and bright.

Tanzy

(ZP549) - Light, bright tangerine orange with yellow gold metallic sparkle. A sunny orange that's easy to wear year-round.

Rica

(ZP550) - Warm light coral with pink and orange tones and heavy gold metallic sparkle. An alternative to flat corals for when you want to shine.

Faye

(ZP551) - A bronzed mauve with purple and brown undertones flooded with right gold sparkle. A unique gilded shade that will work in any season.
ZOYA SUMMERTIME COLLECTION
·

Sooki

(ZP552) - Bright, clean, crisp cool cherry red cream with a subtle jelly finish. For an irresistible, attention-grabbing red nail.

·

Tamsen

(ZP553) - Medium warm brick red with strong orange tones with an opaque cream finish. A special red that is both enticing and mysterious

·

Areej

(ZP554) - Pink with an opaque cream finish. A pink for when you want a bold pop of color but not something neon-bright.

·

Kieko

(ZP555) - Warm, red toned dusty light purple with berry tones with an opaque cream finish. A nice alternative to pure pink or berry, especially flattering on warm skin tones.

·

Mira

(ZP556) - Blue toned medium purple with dusty lavender tones and an opaque cream finish. For a muted yet colorful purple that isn't too dark.

·

Breezi

(ZP557) - Soft, dusty, medium cerulean blue with an opaque cream finish. A super chic high-fashion denim look for nails.