Have you heard of Airbase make-up? Secret of celebrities!
Some time ago I got a new makeup called Airbase to try (thank you, Debs). It is supposed to be the next big thing in make-up as it is already used on celebrities creating flawless skin.
Here is some oficial information from www.airbasemakeup.com
Packed full of vitamin A and vitamin E, Airbase is more than just a make-up. The vitamin A improves elasticity of the skin and temporarily reduces the appearance of fine lines. Vitamin E moisturises and repairs. An antioxidant, it acts as an agent to deactivate aggressive free radicals and protects cells from free radical injury.
When you spray using an airbrush it atomises the product making the particles of make-up tiny. This is why airbrush make-up is used in HD TV and film. The particles in the make-up become much smaller than when it is conventionally applied and therefore less visible.
Airbase Make-Up promises:
Flawless Finish
Weightless Application
Long Lasting
Allows Skin to Breath
No 'touch-ups' required
Silicone Based
Smooth and Natural Finish
Airbase is silicone based which might not suit everyone but personally, I don't mind it. It makes skin nice and smooth so I don't have to use any primer. Airbase makeup should be applied with airbrush to get the best results (check Pixiwoo video tutorial with airbrush if you want to see it in action). I haven't got airbrush so I've used foundation brush. It applies very smoothly because of the silicone in it and has light coverage. Airbase makeup is great for layering so if you want better coverage just apply another layer. I have shade TWO - Light Medium.
The make-up itself is quite watery, it is not thick like ordinary makeup. The result on me using foundation  brush is really nice. My skin tone is nice and even, it looks natural and does not create 'mask' on your face. I'm sure the result would be even better with airbrush as it it designed for it.
Final thoughts: If you are thinking about buying Airbase, you should definitely buy the whole set including airbrush. You can also go to one of the Airbase Professionals doing Airbase makeup just to try it and see the result.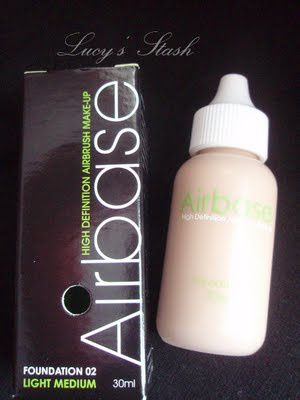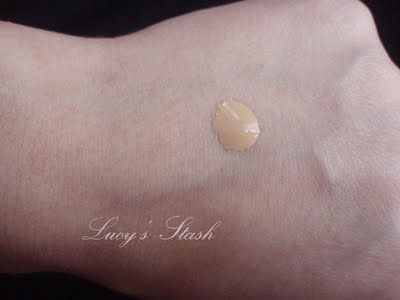 As you can see it is almost invisible after application of one drop yet my skintone looks better!