Illamasqua Theatre Of The Nameless Collection -swatches coming soon
Hey guys! I'm sure you've already heard about another amazing Illamasqua's collection - Theatre Of The Nameless. Unfortunately I wasn't able to attend the preview of the collection and take lots of pictures for you but I will have swatches of three products.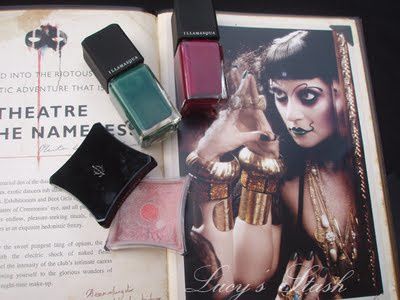 But first I want to introduce the collection with the official promo pictures which are again amazing, they are just art!
Descend into the riotous scene of erotic adventure that is THE THEATRE OF THE NAMELESS, nocturnal den of the dissident leaders of underworld subcultures. Exotic dancers rub shoulders with expressionist actors and performers; nudists and Boot Girls openly compete for the Conférencier's eye; and all participate in the Club's endless, pleasure-seeking rituals, immersing themselves in a heady world of sensual delight …
Teased by the sweet, pungent tang of opium, the air throbs with the electric shock of lovers' flesh. Dare to feel the intensity of the club's intimate caress, and abandon yourself to the glorious wonders of unfettered night-time make-up.
"Theatre Of The Nameless is a heady mixture of opulent hues, decadent pigments and fearless application. A bruised and burnished pallet that gives a sensual slip that bleeds colour into colour, worn through and kissed off "  Alex Box, Illamasqua Creative Director
Infused with the essence of self-expression that transformed 1920s Berlin, this rich and indulgent collection envelops the senses. Darkly sophisticated tones are accompanied by shocks of dazzling iridescence, creating a breathtakingly modern interpretation of the most illicit nightlife in history.