Xen-Tan: end of the search for the right tanning product for you - comparison
Hello lovelies!
Today I'll compare all four Xen-Tan products I've reviewed earlier HERE and HERE. I know how hard it is to choose the right product based only on the product description so that's why I am very grateful that I had a chance to try and review four of the Xen-Tan products.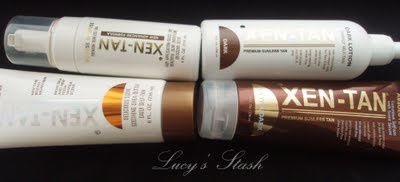 Product
Transform Luxe-cream, ideal for light and gradual tanning and light complexions
Instant Mousse-my favourite product! It is the only product that is not a cream. It's a light foam with lots of air bubbles in it. dries few minutes after application so you don't have to worry about stains
Dark Lotion Absolute Luxe-cream, for dark complexions.
Dark Lotion-very dark brown cream, great for dark complexions. Let it dry out completely so you don;t colour your clothes!
Tan
The four products I've tried varied from light gradual tan to the dark tan.
Transform Luxe-one application will give you about two shades darker tan but no more. You can easily regulate the colour and you can get darker by applying more times. The tan was visible on me for about 5 days but it was fading fast
Instant Mousse-Darker tan than Transform Luxe after one application. You can apply second time for even darker tan. The colour lasted on me upt to 7 days and then faded slowly
Dark Lotion Absolute Luxe-the second darkest of the lotions. It lasted on me for about a week.
Dark Lotion-this product will give you the darket tan of all four products. See the colour difference in the pictures. I had nice colour for about 9 days
Leading colour
Transform Luxe-no leading colour
Instant Mousse-light brown with green undertones
Dark Lotion Absolute Luxe-light greenish brown colour
Dark Lotion-dark brown
Smell
Transform Luxe-very strong, rich vanilla scent
Instant Mousse-vanilla scent
Dark Lotion Absolute Luxe-very light vanilla scent
Dark Lotion-marzipan scent
Colour
Transform Luxe-white cream colour
Instant Mousse-light brown with olive undertones
Dark Lotion Absolute Luxe-greenish brown colour
Dark Lotion-very dark brown
Packaging
Transform Luxe-8 FL. OZ. (236ml)
Instant Mousse-4 FL. OZ. (118ml)
Dark Lotion Absolute Luxe-8 FL. OZ. (236ml)
Dark Lotion-8 FL. OZ. (236ml)
Price*
Transform Luxe-£24.99
Instant Mousse-£23.99
Dark Lotion Absolute Luxe-£39.99
Dark Lotion-£28.99
*prices from www.xen-tan.co.uk
Overall, all products are really good you just have to decide which one is the right for you and which one to buy. Always decide first what you expect from the product and how dark you want to get. It is always safer to start with a bit lighter self tanner and build gradually your tan. Don't waste your money, read reviews! That's really important if you don't have a choice of getting a sample to try it. Reviews and pictures can always help you with choosing the right product.


In UK you can get Xen-Tan products from official website www.xen-tan.co.uk.