Feel Unique January 2012 Beauty Box - review
Hi girls,
just a quick post with Feel Unique January 2012 Beauty Box review. It was a first box I was dissapointed with because the only product I want to try and I will use is the Dead Sea Spa Magik Salt Brushing.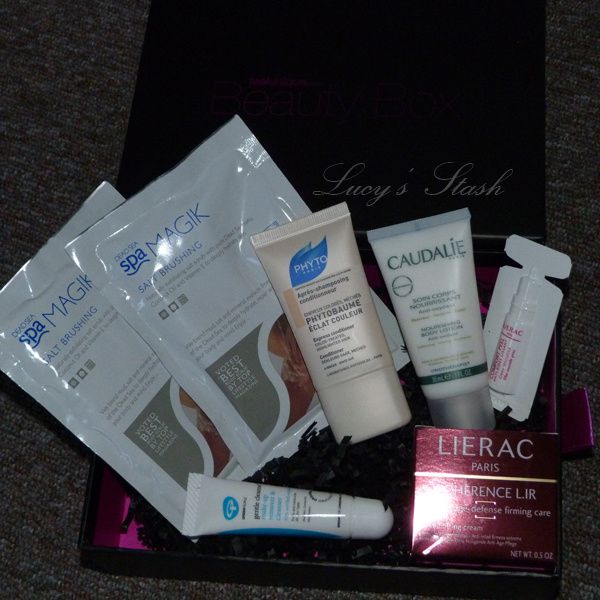 So what was in the box?
Two packs of Dead Sea Spa Magik Salt Brushing 50g each - This is supposed to be the best selling product, voted 'Best Body scrub' by You Magazine. Suitable for those who desire a highly nourishing exfoliating treatment. Made from 100% pure Dead Sea Salt, mixed with a citrus aroma oil... will leave you amazingly silky and smelling divine. Paraben free! It naturally exfoliates without irritating. Vitamin E is an anti-oxidant therefore having an anti-ageing and healing effect, and the Coconut oil nourishes and hydrates the skin.  I've tried this product and I must say I REALLY like it! It smells nice lemony and it left my skin smooth, oily(but good oily) and nourished.
Green People Make up remover & cleanser - Want to liberate your skin from pollutants and impurities? Purify with beautiful Gentle Cleanse. 2 in 1 organic cleanser: make-up remover and face wash. For all skin types. Suitable for areas of sensitive skin and safely removes eye make-up (including waterproof mascara).
Caudalie VinoTherapie Nourishing Body Lotion - Caudalie Nourishing Body Lotion is a rich, hydrating body treatment, enriched with plant-derived ingredients that provides intense nutrition and anti-oxidant action to your skin. Unctuous, it encourages micro-circulation and helps prevent premature skin ageing. The sample I received in the box has 30ml. I have tons of body creams and butters so this one goes to swap box.
Lierac Coherence L.IR Infrared Lifting Cream - Extreme Age-Defense Firming Care. Drawing inspiration from dermatological infrared laser techniques, this advanced formula, with its soft and velvety texture, helps reactivate the synthesis of collagen fibers. Featuring combination of collagen III accelerating vectors and micronised tourmaline crystals, Lierac Coherence L.IR Infrared Lifting Cream produces a virtual "face-resculpting" effect. Skin looks visibly "lifted" and regains optimum firmness. The oval of the face appears ideally redesigned.  This cream will go to my mum as I really don't need super-duper anti-wrinkle cream. It is 15 ml.
Lierac Comfort Peel - a small tube-like packaging of a serum
Phyto PhytoBaume Color Protect Express Conditioner - Grapefruit and sea buckthorn extracts, castor oil, sunflower extract, hibiscus flower acids, mallow extraction (78%). Phyto PhytoBaume Color Protect Express Conditioner instantly detangles and protects colour-treated or highlighted hair. Sea buckthorn extract has nurturing and antioxidant properties that acts as a cellular protector to lock-in colour and prevent fading. Grapefruit extract combined with hibiscus flower acids seal the cuticle for ultimate shine. I've already tried this conditioner and to be honest it doesn't make a big difference. My hair is not too tangled, it is nice and soft but that's about it..