FeelUnique Beauty Box February 2012 - Review of the last FU box
Hello girlies :)
New month, new beauty boxes! Yay! It's time to review FeelUnique's February Beauty Box. This one was really good, I think most people will like it :) Unfortunately this was last FeelUnique box :( FU Beauty box service is finishing and I am really really sad :(
So what was in the box?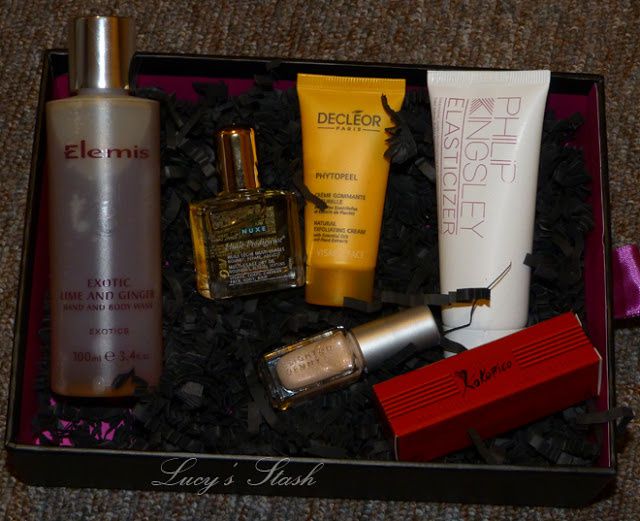 Philip Kingsley Elasticizer - 'Improve or maintain the quality & behaviour of your hair with this amazing cult treatment loved by the beauty industry! Great for over-processed, dry and damaged hair, the more frequent use of this intensive treatment formula wills the more restorative the result!' I've tried this product before and I can remember my hair was nice and smooth. Don't know what the big hype is about but it's quite good treatment. Sample size has 40ml valued at £5.95 (full size 150ml, £22.30)
Elemis Lime and Ginger Hand and Body Wash - 'This fresh hand and body wash is a beautiful exotic fragrance of lime, vetiver, petitgrain and ginger essential oils, combined with plant extracts of thyme, nettle and chamomile, in a soya, wheat and milk protein base. This skin friendly formula is deep cleansing, whilst the rich creamy lather is super gentle, leaving your skin feeling fresh, clean, soft and nourished.' I won't be trying this shower gel because I don't like the scent. So I can't really tell you anything about it except that it has 100ml which values at £6.13 (full size 300ml, £18.40).
Decleor Phytopeal Face Peel Cream - 'A soft cream formula which exfoliates and smoothes the epidermis. It gently absorbs and eliminates impurities, and does not contain exfoliating particles, the gentlest and most natural way to renew your skin' I've got quite generous 15ml sample but haven't tried it yet. I personally prefer peelings/exfoliators because my dry skin gets flaky every other day.
Nuxe Huile Prodigieuse - 'Multi-usage dry oil for face, body and hair.' There has been a big hype about this dry oil since it first appeared in the GlossyBox. It smells lovely, almost like Johnson's Baby Oil I use. I've tried it on my hand and it felt the same too except it absorbed faster. Sample has 10ml, value of £2.83 (100ml costs £28.30).
Leighton Denny mini nail polish in Diamond Ivory - this shade is for french manicure. I will try to use it in a manicure and review it in a separate post. Mini size has 4.6ml which values at £5 (full size 12ml, £13.25 at FeelUnique.com)
Kokorico by Jean Paul Gaultier - this is an extra sample we got in our boxes, it's a 1ml perfume sample in a black vial with pump. The scent is very spicy, woody. 50ml retails for £31.05
There is a 10% discount code for all these products featured in the box, just use code BBFEB10B at the checkout. Expires 18/03/2012


I will miss you FeelUnique boxes!!!