I Love Nail Polish glitters - review and swatches of gorgeous glitter topcoats
Hello lovelies,
I have hurried with this review because there's still time to snatch an amazing discount on these polishes and I don't want you to miss it. What I'm talking about? I'm talking about I Love Nail Polish, new indie brand that offers a really nice polishes! Let's have a look at them: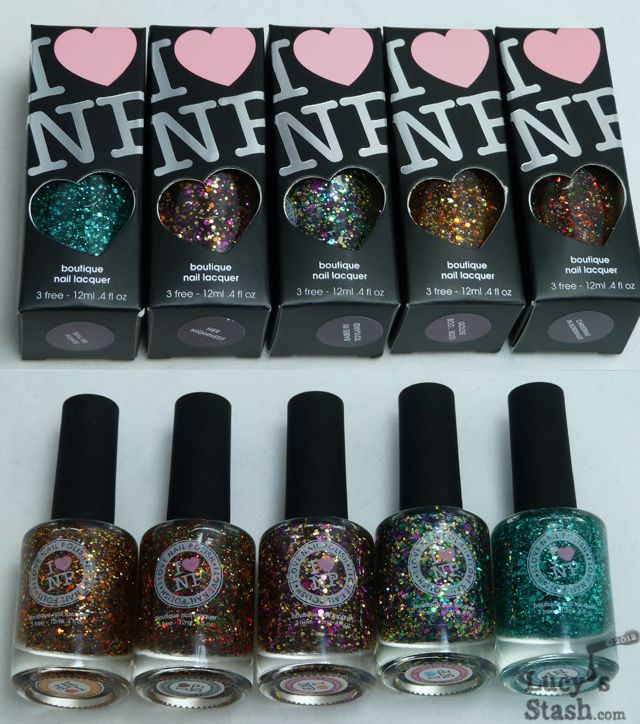 Since they have arrived I fell in love. Look at the box - all details have been thought of from a cut out heart to stickers on the boxes with the shade name. I love that they come in boxes, it adds this expensive look & feel to it.
Then I opened the box....a cute bottle with see-through sticker came out. There is also a branded sticker with a shade name at the bottom of the bottle. Very cute. But let's not forget the cap! It's black, it's matte and it's rubberized so you can open it much easier! LOVE IT! Each bottle has 12ml which is slightly less than usual but let's be honest - have you ever finished a bottle of glitter topcoat? :D
The brush is a good width and flat. The one thing I didn't like is the strong smell. I suspect it's the suspension base for the glitters. And since I have few more untried indie glitters I started to sniff them all if they stink too and they do :-/ The base is not thick at all, it is easy to work with. I've got five polishes to show you and the first up is...
Babes in Toyland - a colourful mixture of green, fuschia, blue, and gold glitters. Some glitters are square, some hexagonal and some round and also have different sizes. This polish is a part of the Winter collection. I have applied it over Lime Crime Lavendairy. This glitter nicely stands out over pastel shades but it would look pretty over some dark colour too.
Christmas In Bordeaux - mix of green, gold and red glitter in a clear base. This is another polish from the Winter collection and it looks really festive, nice Christmas colours. It is again a mixture of different shapes and size that makes the polish look quite dynamic (at least in my eyes). I have applied one coat over OPI Alpine Snow.
Goldie Boo... Boo! - brown, orange, gold, and grey glitters. This polish comes from the Halloween collection and it is a cute pumpkin-coloured glitter. The brush picks up a nice amount of glitter and it applies easily. I have applied one coat over Lime Crime Milky Ways.
Her Highness - gold, fuchsia and brown glitter in a clear base. This is quite simple glitter mix and I must say I really miss the tiny glitters that are in other mixes. I have applied one coat over Lime Crime Parfait Day.
Teal Me Please - mix of round and square teal glitter in a clear base. I really like this glitter despite it being just one colour. It reminds me of snow and it would look gorgeous over white, black or pastel blue as well. I have applied it over HJ Ice, silver metallic polish.
Final verdict: I LOVE THEM! Lol just to prove you that I'm not lying and I really love these polishes I can tell you that yesterday I have made and order on my own of another 5 polishes and I can't wait till they arrive!
All polishes have the same clear base that is not too thick and it applies well. I haven't used a topcoat over the swatches and I almost didn't need it. Of course if you'd like to have a completely smooth surface I would recommend a topcoat. 
I Love Nail Polish can be purchased at Etsy Shop or website. International shipping is also very reasonable. 
PS: Sorry for the not very good macro shots, there hasn't been a bright day for ages so the lightbox had to do..
*These were provided for a review