OPI Mariah Carey Collection for Spring 2013 - Review and swatches
Hello lovelies,

It took me while but here they are, gorgeous OPI Mariah Carey polishes! The collection consists of 8 new shades, four of which are textured Liquid Sand™ polishes.

From the press release: "OPI Liquid Sand nail lacquer offers a never-before-seen look with a pebbled finish that lightly shimmers with fine glitter particles. Worn without top coat, Liquid Sand lacquer gives nails a unique textured matte finish worthy of a superstar." 
A Butterfly Moment - frosty peachy beige shimmer. This is quite unique colour, I've never tried one like this. It has tiny tan and peach particles similar to what foil polishes have. I usually don't like flesh colours very much but this one looked just gorgeous! The polish is well pigmented, I'm wearing two coats. It applied nicely and dried quite fast. The finish is slightly streaky. I thought the small particles in the polish would cause troubles when removing it but it was ok.
Anti-bleak - purple creme with red undertones. In real life the colour is so much more reddish, I don't know what my camera was doing! Polishaholic's pictures of Anti-bleak are more colour accurate. The formula is absolutely excellent as I'm used to with OPI polishes. I'm wearing two coats which were enough for full coverage. it dried fast and removal was easy.
OPI Pink Yet Lavender over A Butterfly Moment - Pink Yet Lavender is a mix of big rose pink hex glitters with small holographic glitter in a clear base. It's a very pretty glitter topcoat and it looks feminine and still office friendly over A Butterfly Moment. The formula is slightly on a thicker side but it still applied quite well. There's a lot of glitter in the bottle, this is just one coat applied.
OPI Pink Yet Lavender over Anti-bleak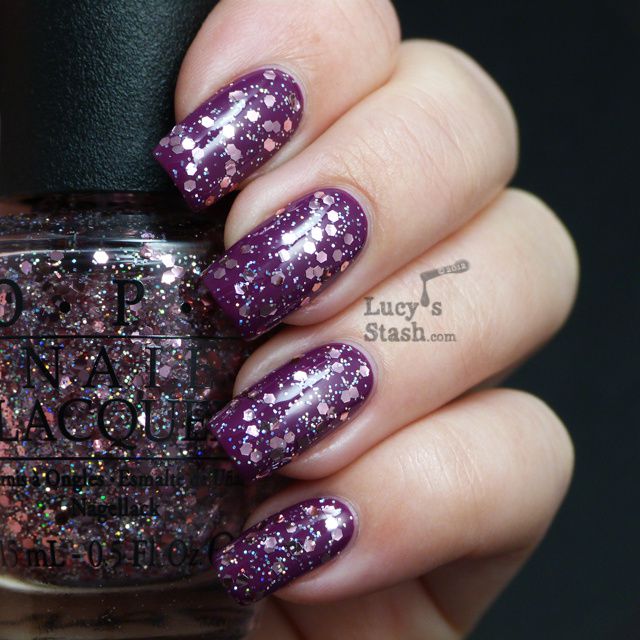 Sprung - mix of copper and brown foil particles creating foil finish. This shade reminds me of Warm & Fozzie from the Muppets collection with its formula and shade. Sprung is much warmer though. The pigmentation is not that great, I had to apply three coats to achieve full coverage. Application on the other hand was easy. I did experience foil particles sticking to my skin while removing this polish.
Can't Let Go - grape purple with purple hex glitters and small round purple glitter. It applied easily and the pigmentation of the polish was good. I have applied two coats. The drying time is a bit longer than with other polishes and removal is similar to glitters.
Can't Let Go with topcoat
Get Your Number - blue jelly base with lots of holographic glitter. The holo glitters shows up beautifully on the direct sun and creates nice contrast with the grainy texture. It applied nicely and I have needed two coats again.
Get Your Number with topcoat
Stay The Night - black jelly base with reddish pink glitter. The glitter stands out beautifully within the textured finish. This was my favourite Liquid Sand polish, especially with topcoat! Absolutely gorgeous! I have applied two thick coats to achieve full coverage. It applied nicely :)
Stay The Night with topcoat is stunning!
The Impossible - reddish pink jelly with purple hex glitter and star glitter. It has slightly lower pigmentation that the other polishes, I'd compare it to the Get Your Number. I have applied two thick coats to get the coverage in the pictures. It applied easily, no problem there.
The Impossible with topcoat
The Liquid Sand polishes are obviously something totally new to the market and OPI is one of the first to release them. Their finish is sand-like, grainy and matte. It probably won't appeal to everybody but it will certainly make you stand out.
All Liquid Sand polishes had slightly longer drying time. I have always applied the first coat, waited about 8 minutes for it to dry enough, then applied second coat. Then I waited about 10 minutes for it to dry and get matte but I would still ruin it if I'd touch it. The removal was slightly easier than glitter but I still had to soak my nails for a while in remover on a cotton pad.
Overall, the collection is really nice, I like the mixture of bold and feminine shade as well as different finishes. I will always prefer smooth and glossy finish but I could get used to the texture. 

The Mariah Carey Collection is available now at Professional Salons, including Beauty Brands, Beauty First, Chatters, Dillard's, JCPenney, Pure Beauty, Regis, Trade Secret, and ULTA, for $9.00 ($10.95 CAN) suggested retail for each nail lacquer.

*These were provided for a reviw