Did you know about Custom Blues for Autism Auction? Please read...
Hello lovelies,

there is one special nail polish auction I'd like to tell you more about - it will raise funds for ASPECT Australia. You could get your hands on unique blue nail polishes and help a good cause.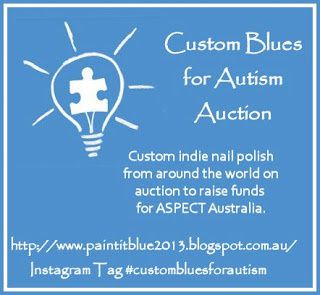 Tara, the organiser of the auction event says more about it:

My name is Tara,
 
 I am currently organizing a charity event this month to create awareness of Autism and raise much needed funds for ASPECT Australia. As a mum of child with ASD and another little one who is in the process of getting diagnosed with autism I decided this month to create a blog http://paintitblue2013.blogspot.co.uk/  where i have organized over 20 indie polish brands from around the world to create one of a kind custom blue nail polishes and then auction these polishes off to raise funds for ASPECT

A

ustralia who help kids and family's dealing with autism.
We have some big names offering their customs for us these include:
lynnderella,  nerd lacquer, enchanted polish, gloss n sparkle, shades of phoenix, sayuri, femme fatale, pretty serious cosmetics, Alanna Renee, Lokis Lacquer (that's me), Emily de molly, pietas polish, love thy polish, loony lacquer, DIFFERENT Dimension, Dollish Polish, Pretty n polished, dead set babes, Mckfresh nail attire and lacquistry.
P

lease feel free to check out our blog and also our paint it blue FB page. We also have several hashtags running for IG  #custombluesforautism #lightitupbluenails # bluenailsfor autism where over 2500 ladies have popped up their nails.
The auction will be live on the blog from the 20th April 2013 9am EST

A

ustralia.

I

t will run for 10 days

s

o no one misses out because of the time differences around the world. and is open worldwide. there will be several google doc form for bidders to enter their details and what polish they would like to bid on. and i will keep the blog updated with the highest bidder so if you get out bid you can re bid which will cancel out your previous bid.
The responsibility of the bidder will be to pay via paypal in AUD $ and to pay the postage to where ever they live. i will have several options for postage on the terms and conditions page.
Hope you'll all visit Tara's blog to see all the beautiful polishes

and consider bidding or at least post about this auction on your blog to help to spread the word! x