Review and swatches of China Glaze Hologlam polishes Not In This Galaxy and When Stars Collide
Hello lovelies,
I've got here another two China Glaze Hologlam polishes. There's not much sun lately so I can't really swatch holographs...but be assured many more are coming ;) I got these at a Professional Beauty exhibition in London where they've had the whole collection. I didn't buy them all because the price was much steeper than for the regular polishes so these are some of my picks...
Not In This Galaxy - peachy bronze in the sun, peachy pink in the shade. It's really interesting how the colour is so different under artificial light and in the sun (leaving out the holo effect). The main thing to know about this polish, and all the Hologlams for that matter, that they dry VERY fast. That causes patching if you go over the same place twice with brush. It makes application very tricky. When I was applying NITG the polish was streaky but once it dried there were no streaks visible. As you can see, the holographic effect is not very strong even in direct sunlight.
Artificial light
When Stars Collide - aubergine purple holographic shade. Oh..the purple colour is so pretty, one of my two favourites! The holographic effect is not that strong but it is more contrasting with the dark colour so it looks like it's stronger than in Not In This Galaxy. The formula is the same as the previous polish - dries too fast, can and probably will cause patching.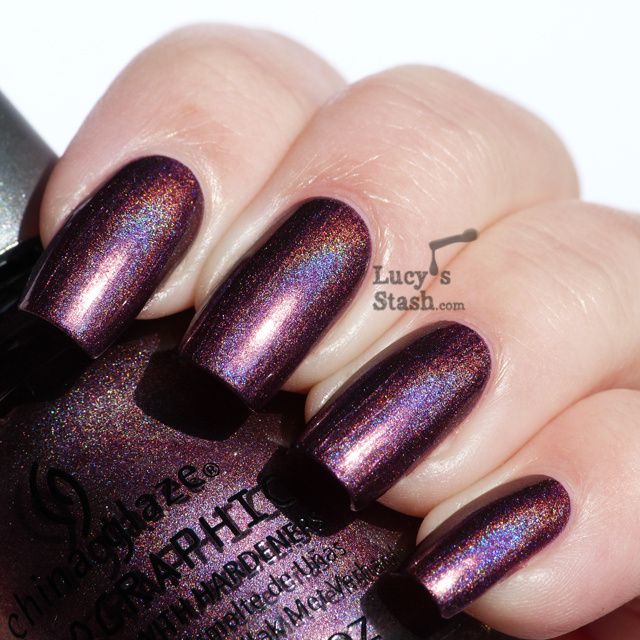 Shade
So which one do you like the most? I really like When Stars Collide but I would prefer it to have stronger holo effect and better formula. I have previously reviewed CHG Galactic Gray HERE.
You can purchase the Hologlam collection at your usual stores or online, they are already available.