Review of more gorgeous Mont Bleu goodies!
Hello lovelies,
I've had another package from Czech company Mont Bleu which offers many items including crystal nail files, mirrors etc, all decorated with Swarovski crystals. This is what I've received:


The first product I've got is Shamballa bracalet with peach pink beads. It's very pretty but I'm not very much into it as it's not my style. But it will make a very nice gift :) Here's a little bit more about it from Mont Bleu website:

"Shamballa bracelets made with Swarovski crystal pearls are a perfect everyday jewelry with a touch of luxury. Stunning simplicity and glamorous vintage effect of pearls come as one chic bracelet.
Shamballa bracelets are made with waxed cord tied in knots using macramé technique. You can easily adjust the size of the bracelet, making sure it will fit nicely on your wrist. The bracelets are presented in leatherette box."
Another product is Bag Hanger Sun Yellow - I feel like they have read my mind, I was just looking for a handbag holder! This one is so sparkly under the light or in the sunlight, I love the Swarovski Elements crystals! The hanger feels sturdy and well made. I've already tested it and it works very well. The other side of the hanger has a velvet surface so it does not slip from the table.
Next up is a crystal nail file from their Crystal line. I've already received and tested their nail files perviously and I am still very happy. They are very fine so I use them at the end of filing my nails to seal and clean the edges so I don't get any splitting. The nail file is again beautifully decorated with crystals and the handle has gradient colour.
I've also received a business card holder which is perfect for my new business/blog cards! There are pretty black, pink and silver crystal on it and it has a velvet lining inside. I don't really know what else to say other that that it's just perfect and I will be using it from now on.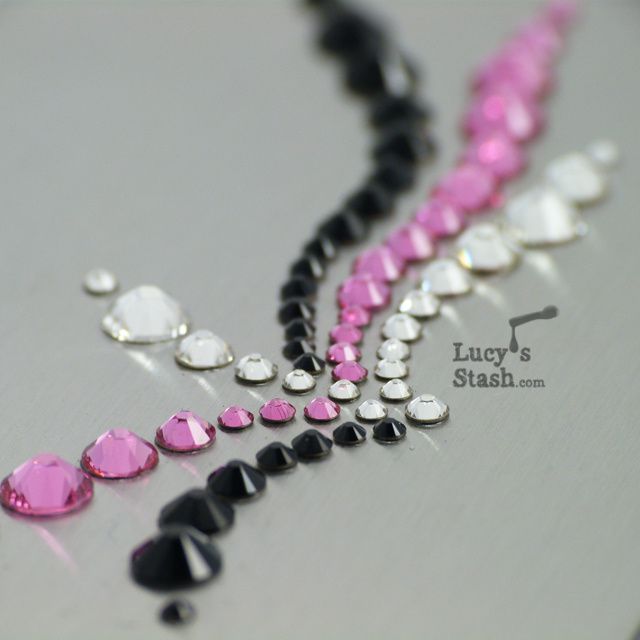 So which product is your favourite? Mine has to be the bag hanger, I really like it. I also can't fault the nail files which I use regularly and are my favourite! If you'd like to buy anything from Mont Bleu e-shop you can use discount code BLOG20 for 20% discount.
*These products were sent to me for a review