Review and swatches of Cadillacquer Life's Too Short, So It Begins, Tell It To The Frogs and Say The Word
*These products were provided for a review
Hello lovelies,
today I want to show you more Cadillacquer polishes. Cadillacquer is a Switzerland indie brand and the person behind this brand is lovely Madeleine.
These look very unique to me, I don't have anything similar in my nail polish stash. You can check out review of four different shades here.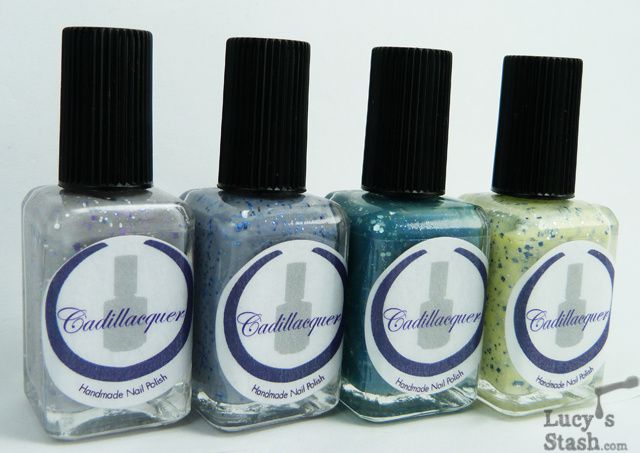 So It Begins - grey jelly base with purple shimmer, white, purple and grey glitter. This polish didn't 'stand out from the crowd' for me but once I've painted it I really like the result. The formula was easy-going..it applied nicely and dried quite fast. I've applied two thicker coats for full coverage. I needed a topcoat as it dried little bit gritty but nothing terrible.
Life's Too Short - blue-grey base with medium and dark blue glitter. Another very unusual mix that works very well together. It's all cool tones so I don't think it would go well with very tanned hands. The formula is good as with the other polishes - it applies well and two coats are enough for full coverage.
Tell It To The Frogs - blue-ish green jelly with blue shimmer and white glitter. This polish is a bit on the sheer side so I've layered it over Barielle Blue Cotton Candy which was very close to the base colour of Tell It To The Frogs. It applied easily and dried fast but I had to fish out the big white glitter.
As always, I was happy with these - formula is very good and the colours are unusual. Each bottle of Cadillacquer has 15ml and black ridged cap that makes opening the polishes easy.
You can purchase Cadillacquer polishes in Madeleine's Etsy store and they are also available at Harlow & Co. Polishes are priced between $12-14 and international shipping is available. Stay up to date at Cadillacquer Facebook page.