Iconic Effect - British indie nail polish - Review and swatches
*PR sample
Hello lovelies,
This post will be very interesting for UK ladies because I am reviewing a British indie polish brand Iconic Effect! Iconic Effect is "custom mixed 3-free Nail Polish made in the UK". Today I will show you just four shades but they offer more.
Pea Soup -  pale green base with teal holo, neon pink and magenta glitter. It's a subtle and quite unusual polish, it is definitely unique to my collection. The formula was easy to apply but slightly sheerer. I needed two thicker coats for good coverage. It dried fast and gritty so thick topcoat like Seche Vite is a must-have.
Portfolio Pink - muted medium pink creme leaning to purple with small blue and fuchsia particles. Lovely girly shade made interesting with the tiny particles. The polish applied easily and it was well pigmented. Two coats were enough for full coverage. I've applied thin Barielle topcoat and as you can see, the surface is not completely smooth. I recommend thicker topcoat.
Purple Paradise - magenta, purple, holo and rose pink glitter in a clear base. I've applied one coat over Portfolio Pink and it got me more than enough glitter. This one is better for layering rather than for wearing alone. It applied well but I did play a bit with the glitter placement.
Psychadelic Snarl - green shimmer in a blue jelly base with magenta holo glitter. I've applied one coat of Psychadelic Snarl over A England Camelot and it really made it stand out! Also how awesome is the name? Love it, don't know why! The polish itself is a really pretty combination but it's a bit on the sheer side so that's why I layered it. I think three coats would make it opaque enough to be worn by itself. It applied well and dried fast.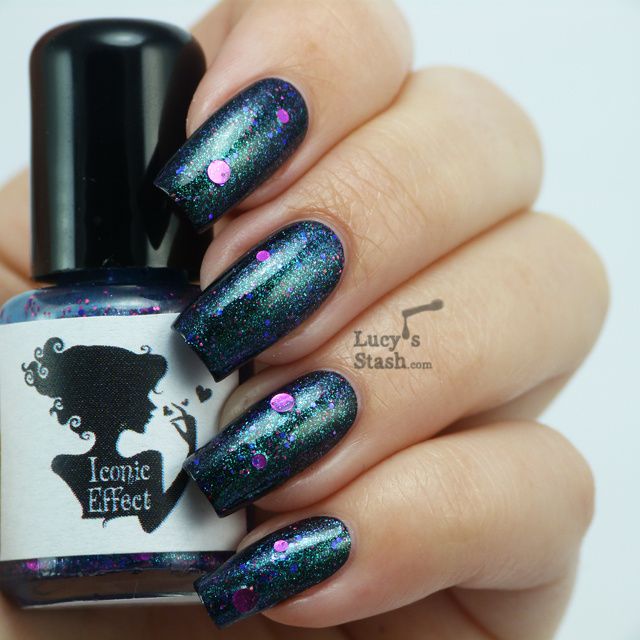 So what do you think? Some pretty interesting shades, right? I was happy with the formula of these but some are better for layering because they are not so opaque.My absolute favourite is Psychadelic Snarl for its name and gorgeous shimmer.
You can purchase Iconic Effect in their Etsy store but they only ship within UK (due to the recent restrictions on shipping polish outside UK). Each full size bottle has 15ml and is sold for £6.50