Nicole by OPI Gumdrops Collection - Review and swatches
*PR sample
Hello lovelies,
the texture polish trend is not dying out, on the contrary. Right now I have here another texture polish collection, this time from Nicole by OPI called Gumdrops.
From the Press release: "These shades are sure to satisfy any sweet tooth," explains Suzi Weiss-Fischmann, Nicole by OPI Co-Founder & Artistic Director.  "By combining groundbreaking texture technology with some of the hottest trends including matte and shimmer finishes, Nicole by OPI has created a new line of lacquers for cutting-edge manicures.  Worn without top coat, Gumdrops lacquers dry to a textured matte finish to give nails a "sugar" coated appearance.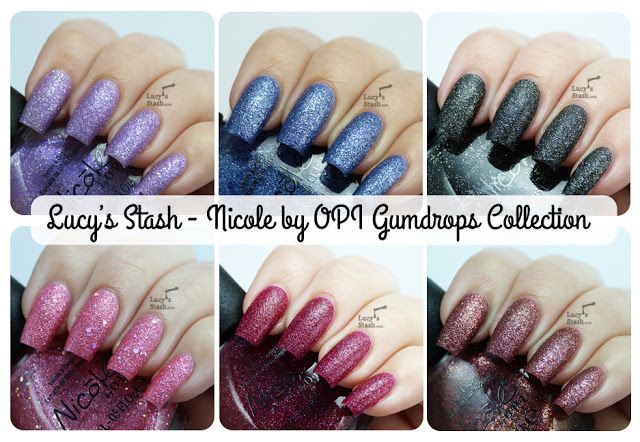 My Cherry Amour - dark cherry textured base with multi-coloured glitter. The polish is absolutely gorgeous in the bottle and while it's glossy but once it dries into a matte texture it is not so much. Don't get me wrong I still like it but the glossy version is just amazing. Two coats were fully opaque.
And here is a version with topcoat. It beautifully sparkles with rainbow coloured glitter in the sun and the colour looks much richer.
A-Nise Treat - charcoal black textured base with silver glitter. It's chic rock chick look and I like it! It applied easily and two coats were fully opaque.
Blue-Berry Sweet On You - lavender blue textured base with silver glitter. This polish has a slight foil-like shine to it and it doesn't feel as gritty as the other ones. The formula was slightly thicker but manageable and two coats were fully opaque.
 
Candy Is Dandy - medium pink textured base with holographic glitter and silver particles. It's a pretty pink and I like the bigger holo glitters, they stand out nicely and shine in the sun. It is a bit sheerer so I've had to apply two thick coats.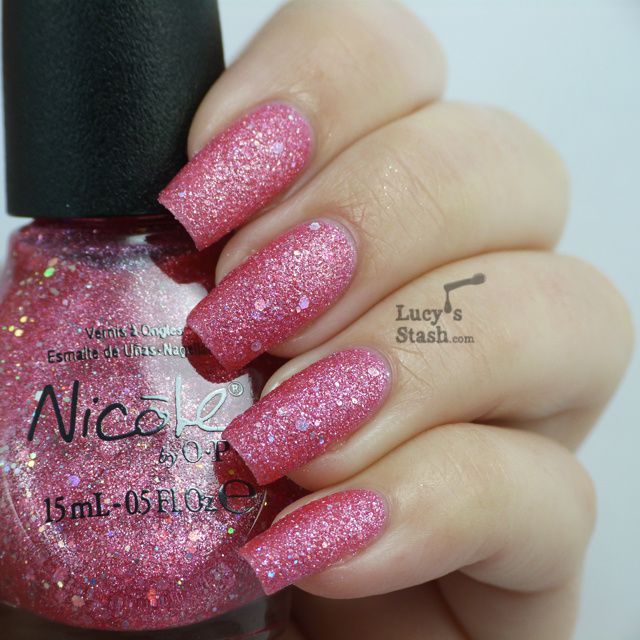 Cinna-Man Of My Dreams - bronze brown base with silver, blue and bronze particles. It's an interesting colour combination. It is not completely brown, it is leaning towards red plus the blue particles thrown into mix make it really unusual. I'm wearing two coats.
I Lilac Gumdrops - lilac base with big silver flecks. The formula of this polish was slightly thicker yet manageable. I needed two coats for full coverage.
Overall, this collection offers some nice textured polishes with extra sparkle. They all applied easily and were opaque in two (sometimes thicker) coats. The drying time is longer than with normal nail polishes, the texture needs to dry and harden properly otherwise it can be ruined easily. But once it's completely dry it can last without chipping quite long. The removal is somewhat difficult as with glitter nail polishes. 
My absolute favourite is My Cherry Amour, especially the topcoated version!
This limited edition collection will be available beginning May 2013 for $7.99 each at retailers including select Walmart (May 2013), CVS (June 2013), Rite Aid, Kmart, Kroger, Ulta, H-E-B, and Duane Reade locations (August 2013), In Canada, these shades will be available for $10.99 each at Shoppers Drug Mart, Walmart Canada (July 2013), Jean Coutu, Loblaw, and London Drug (August 2013).