F.U.N Lacquer - Princess Collection, Part 2 - Review & Swatches
*PR sample
Hello lovelies,
Here's the promised part 2 of the F.U.N Lacquer Princess Collection! It's full of bright holographic polishes with Disney Princesses' names. If you've missed part 1, click here.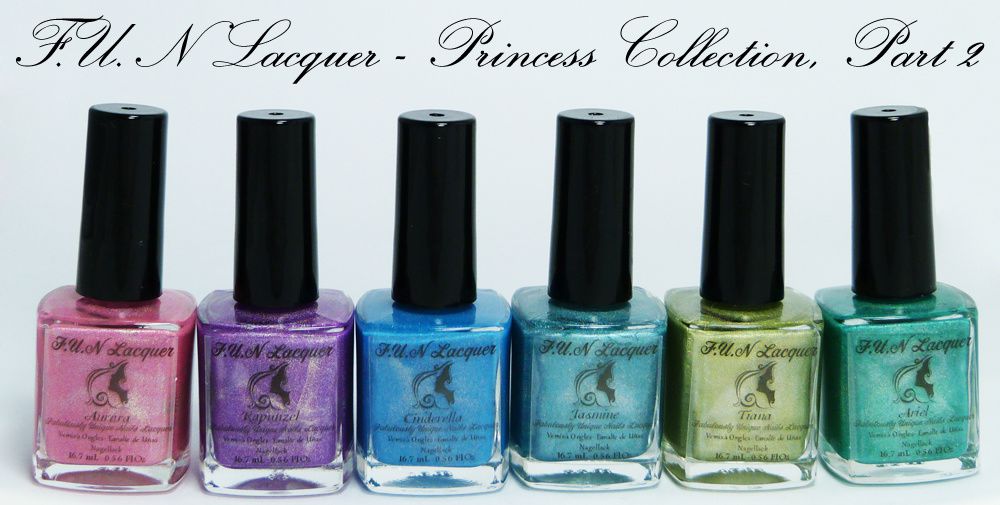 Aurora - pink holographic shade. It's a lovely and quite vibrant pink. I actually didn't know that Sleeping Beauty's name was Aurora :) Two coats provided good coverage and the holo effect is nice and strong.

Rapunzel - purple holographic shade. This shade of purple is absolutely stunning in real life! It's more red-based than the photos show and it has this soft yet vibrant feel to it. I've applied two coats again.

Cinderella - sky blue holographic shade. The blue is just perfect, I love it. It is quite bold and the mixed the holographic particles give it that extra special touch. I'm wearing two coats which provided good coverage.

Jasmine - turquoise holographic shade. Very pretty turquoise shade leaning towards blue undertones. I've applied two thicker coats because Jasmine is slightly sheerer than the rest of the collection.

Tiana - light green holographic shade. This shades is fresh, bright and reminds me of Spring :) Tiana is a bit sheerer like Jasmine so I've applied two thick coats.

Ariel - light teal holographic shade. Now this is a stunner! The shade is quite unique as it is teal but not that full and bold shade but light and pretty. Two regular coats were enough for a good coverage.
What a rainbow of colours, right? I liked the colours in the first half of the collection but I love these! Especially Ariel, Cinderella and Rapunzel. They are all so pretty and glossy, so fun!
Their formula was the same except slightly lower opacity with Tiana and Jasmine. They all applied well and dried quite fast. I've applied topcoat over all of them. They dry glissy but sometimes the surface is not completely smooth so the topcoat does add that bit of extra polished look.
If you'd like to get your hands on the F.U.N Lacquer Princess Collection, hurry up because it is available till stock lasts and will be discontinued. You can purchase it at F.U.N Lacquer store, each full size bottle holds 16.7 ml of nail polish and is sold for $13. Mini sizes (7ml) are available too for $7.50. For news about F.U.N Lacquer visit their Facebook page.
*PR sample