Rainbow Connection Exclusives: Polish Addict Rainbow Connection and Smitten Polish Birds of Paradise
*PR sample
Hello lovelies,
I've gotten a chance to review two Rainbow Connection store exclusive polishes. They are both from quite well-known indie brands - Polish Addict and Smitten Polish.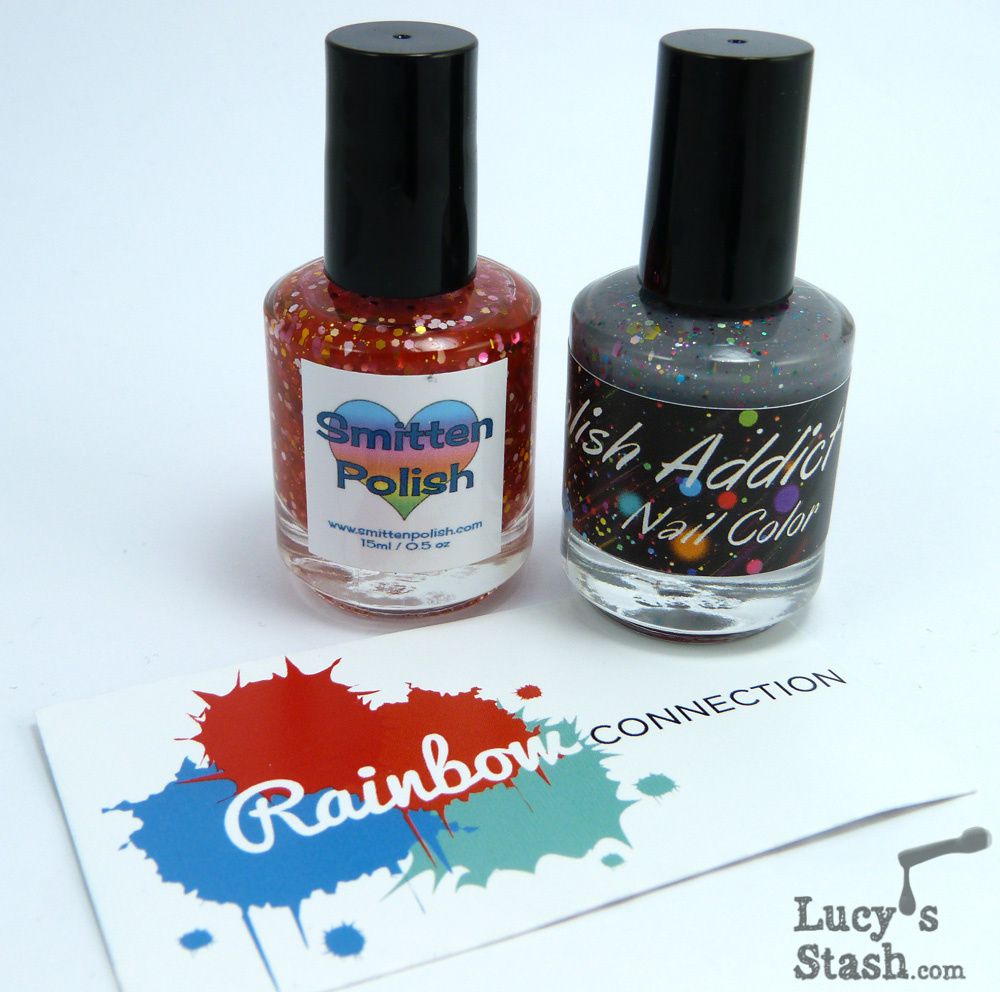 Polish Addict Rainbow Connection - grey creme base filled with multi-coloured glitter. The grey base is quite warm with purple undertones and the rainbow colour glitter in it looks so much fun! The formula was good and easy to apply with the right amount of glitter. The polish dried fast but slightly gritty so I needed thick layer of topcoat (I've used Seche Vite).
Smitten Polish Birds of Paradise - red orange jelly base with gold, white, rose pink glitter. The jelly base is very sheer and it would take at least three thick coats to build up good coverage so I have layered it over similar shade, Barielle Orange Parfait. It applied well and I was also happy with the amount of glitter. Again, I needed a thicker layer of topcoat.
As I said above, both of them are exclusives for UK nail polish store Rainbow Connection but there are more!
"Rainbow Connection is the UK's premier stockist of top international independent nail lacquer brands. The store is headed by Annette, the proprietor and also die hard polish fan. We are proud to support and represent independently crafted lacquer brands like Dollish Polish (USA), Lush Lacquer (USA), Polished by KPT (USA), Lacquer Lust (USA), Polish Addict (USA), Ethereal Lacquer (USA), Black Cat Lacquer (USA), Glisten & Glow (USA), Smitten Polish (USA), Jindie Nails (USA), Cadillacquer (Switzerland), Pahlish (USA), Contrary Polish (USA), Pahlish (USA), Glam Polish (Australia) and more as time grows!"
Annette generously offered a 10% discount to you guys, just use code LUCYSTASH10. So head over to her store and check out these and other beautiful indies she's got there:)
*PR sample