Cadillacquer Breaking Bad Collection Part 1 - Review & Swatches
*PR sample
Hello lovelies,
I'm excited I can finally show you Cadillacquer Breaking Bad Collection! I love Breaking Bad and unpacking these polishes and finding out their names felt like Christmas! Even my boyfriend stayed throughout the whole process just to find out all the nail polish names :D Anyway...
The collection consists of 12 shades and in this post I will show you first half of them.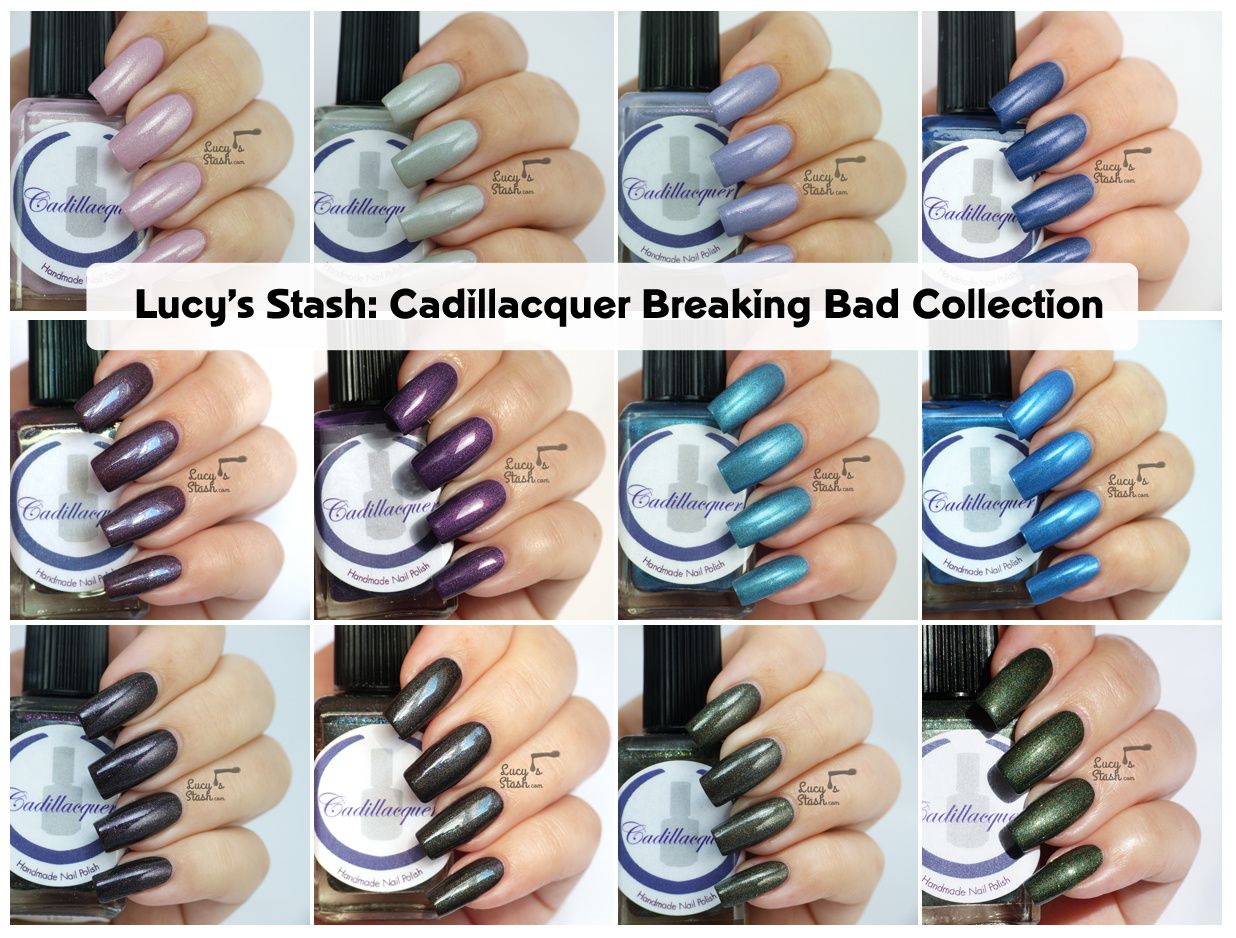 Yeah Science! - lavender blue base with fuchsia shimmer and hints of subtle green shimmer. I'm starting with a shade that wasn't my favourite just because it doesn't go with my skintone. Otherwise it a pretty and interesting colour with easy to apply formula. It is opaque in two coats.
Pinkman - cool-toned pink base with greenish-gold particles. I see a fine holographic powder in the base as well which made the polish to 'light up' in the direct sun. It had good formula and pigmentation. I've applied two coats and topcoat.

Blowfish - light mint green with iridescent teal flecks and fuchsia micro particles.
There are micro holographic particles in the base but the holo effect is not very strong. Blowfish is very unusual shade that will not suit all skin types but I like to see unconventional colours in collections. It applied well but the pigmentation is slightly lower. I have applied two thick coats and topcoat.
Better Call Saul! - bright blue shimmer with holographic particles. It applied easily and is a bit streaky but nothing major. I've applied two coats and topcoat.
Crystal - turquoise blue shimmer with holographic particles. Crystal is so pretty! I really like the shade and the fine holo effect. It applied easily and dried smooth & glossy. I needed two coats for full coverage; no topcoat.
Cap'n Cook - dark purple base with magenta shimmer and scattered holographic particles. This beauty is my very favourite from this part of the collection. I love purples and Cap'n Cook looked awesome! I loved how the warm magenta shades shined through the dark purple. It has easy to apply formula and good pigmentations. I've applied two coats and topcoat.
All of them had generally good formula so I'm happy with this collection. In this part I've shown you the lighter shades so you can look forward to the dark vampy ones in the next post!
Cadillacquer is available at their official website (worldwide, shipped from Switzerland) or through e-tailers like Llarowe (US), Harlow & Co (worldwide), Rainbow Connection (UK) and Beauty So Fly (Singapore).
Have a nice weekend!
*PR sample