Cadillacquer Breaking Bad Collection Part 2 - Review & Swatches
*PR sample
Hello lovelies,
Hope you're looking forward to see more Cadillacquer beauties because I've got here the second part of the Breaking Bad collection! I've left the dark and chic shades for this second half.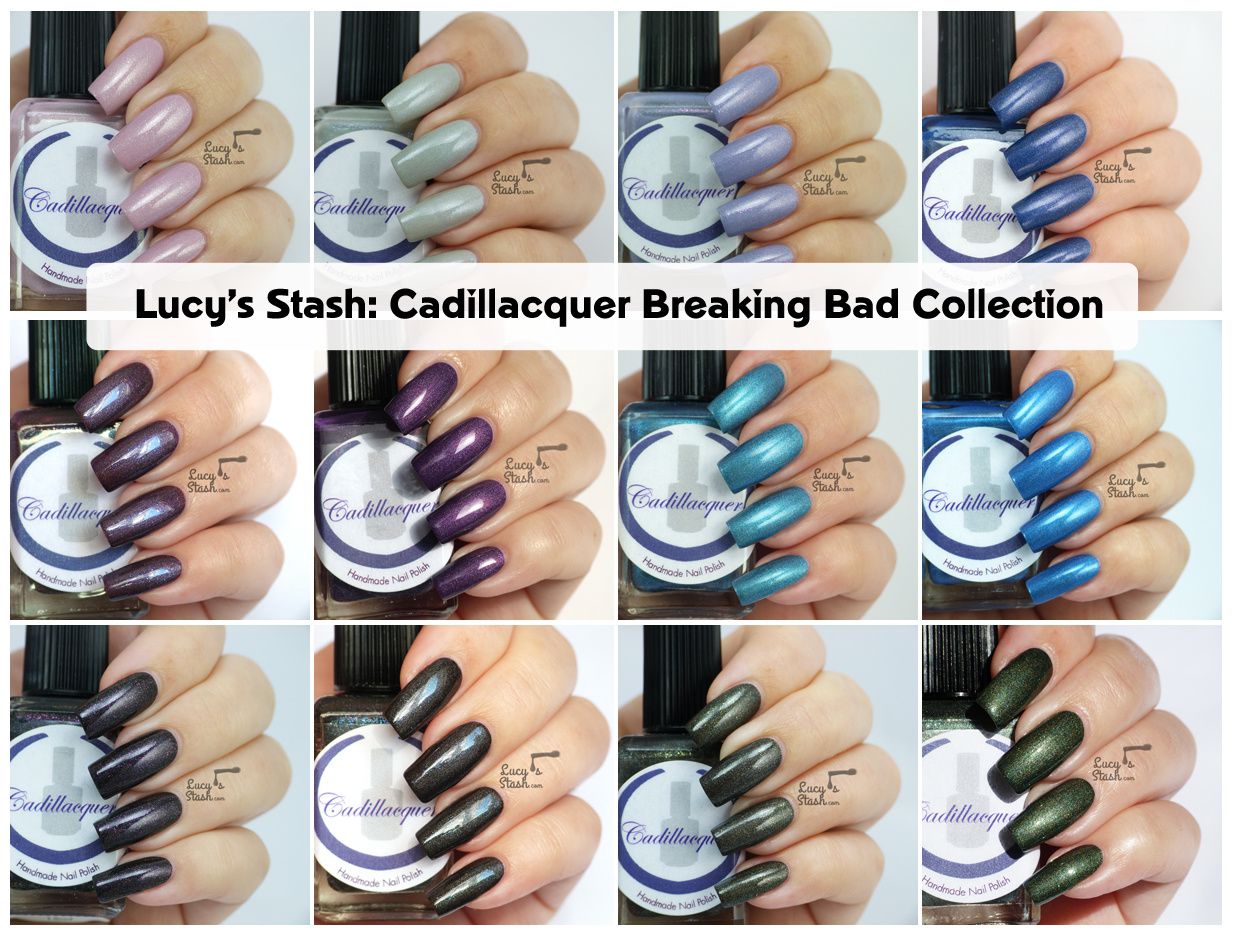 Pink Teddy Bear - black jelly base with fuchsia and fine holographic particles. Well I would have expected a polish with this name to be pink :D But I'm not complaining, it's a beautiful colour. It has good and easy to apply formula and is opaque in two thicker coats.

There's No Better Reason - dark olive green base with lighter olive and holographic particles. I like this shade for it's beautiful dark olive colour and that it's not 'black looking' in the shade. I've had no problems with application and it dried fast. It was opaque in two coats.

I'm The One Who Knocks - dusty forest green with holographic particles. The name of the polish is giving me goose pumps because I always recall the terror in Walter's wife's eyes when he said those words. Nail polish-wise it has stronger holographic effect than most of the other shades but it is still quite subtle. Two coats were perfect.

Mr. White - charcoal base with duochrome fuchsia and turquoise particles and fine holographic dust. This shade is a bit boring in the shade and looks like an ordinary dark grey but it looks so much prettier in the sun! The turquoise particles are quite visible (which is good), lightening the polish up. I've applied two coats for full coverage.

Say My Name - grape purple base with iridescent blue flakes and holo particles. Oooh I love purples and this one will be great for winter season. It applied well but it had slightly lower pigmentation so I've applied two thicker coats.

Car Wash - denim blue base with magenta shimmer and holographic particles. I think lovers of blue polish will like Car Wash a lot. The fine holographic dust lights up the shade once you step into the sun. I needed just two coats of polish and I didn't use topcoat. It dried fast and glossy.
All of the polishes above were perfect in two coats (some needed thicker coats) and I have applied topcoat over all of them except Car Wash. They dried fast but not completely smooth so that's why I needed the topcoat. I didn't experience any bad formula or patching.
I've always been happy with Cadillacquer polishes, not a single one was ever horrible. I like that consistency :) If you have missed the first half of the collection, check it out here!
Cadillacquer is available at their official website (worldwide, shipped from Switzerland) or through e-tailers like Llarowe (US), Harlow & Co (worldwide), Rainbow Connection (UK) and Beauty So Fly (Singapore).
Have a day!
*PR sample