Zoya Satins Collection for Fall 2013 - Review and swatches
*PR sample
Hello lovelies,
I am so so late with this post! Let me show you the second half of the Zoya Fall 2013 collection - Satins. Satins collection consists of five metallic shimmer shades and one gold flakie topper: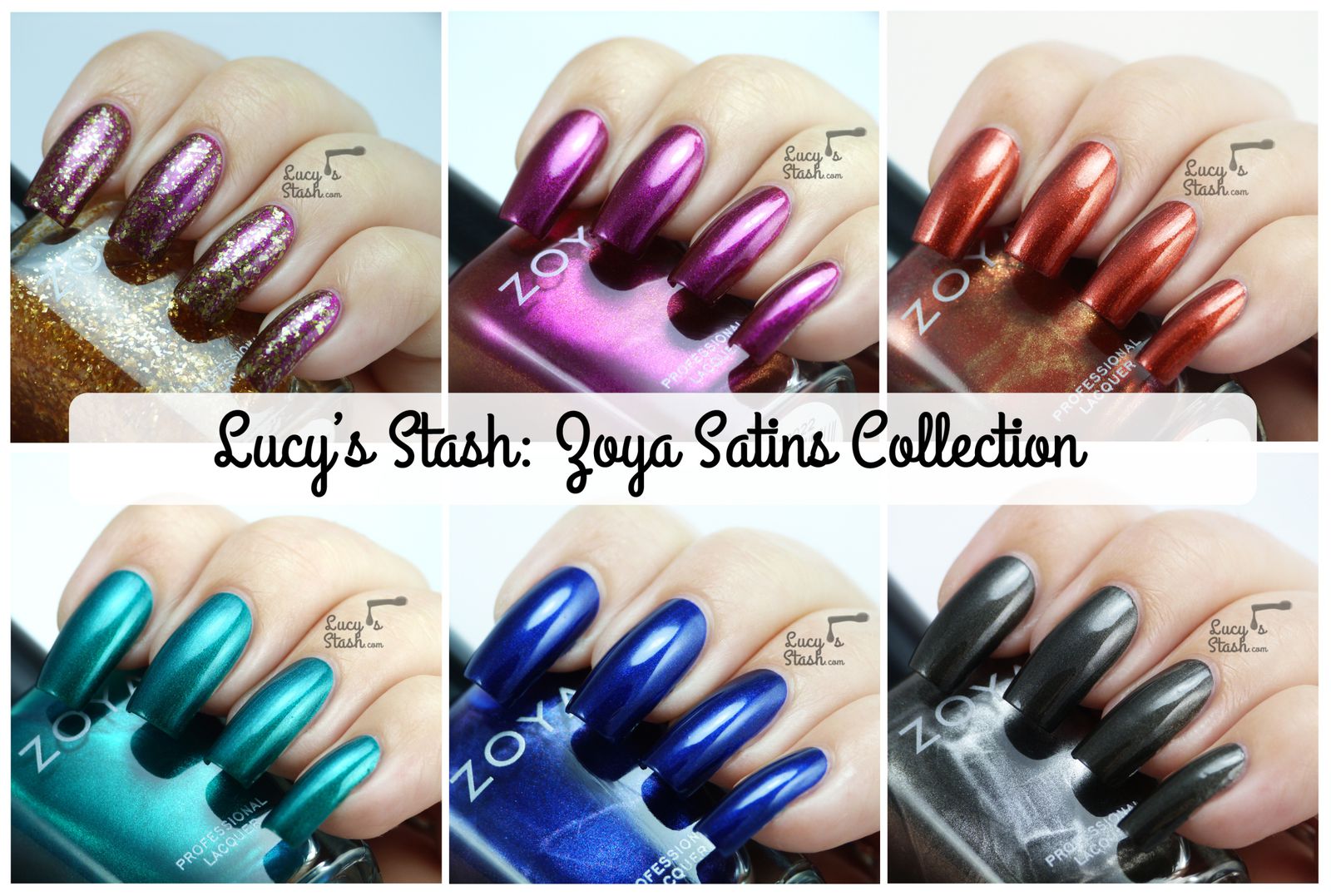 Giovanna - teal green metallic shimmer. I'm starting off with my absolute favourite shade of the collection. The colour is so bright and beautiful, kind of that mermaid teal/green. Sadly here the positives end. The polish is slightly less pigmented so I needed two thicker coats. It streaks a bit too and stained my nails. Great colour, not so great formula.
Channing - red copper metallic. I find Channing to be a very interesting colour, it's not exactly copper, it's not brown and it's not red. It's somewhere in between, mix of all those colour. The result is pretty metallic colour that is great for Fall. It has good formula which is opaque in two coats and dries fast.

Neve - sapphire blue metallic shimmer. I love gem-like colours and Neve is so beautiful! It is slightly leaning towards purple in real life. It applied easily and was opaque in two coats. I must point out the strong funky smell of this polish - it is a bit like rotten eggs, the same smell that FeiFei shade has.

Claudine - charcoal grey metallic with a hint of green undertones. There is a fine silver shimmer in the polish making it lighter than proper charcoal shade. The formula was good and easy to apply. I needed two thin coats for full coverage as the pigmentation is great. It dried fast and I applied topcoat as well.

Mason - rich magenta purple shimmer with fuchsia and red particles. Mason is just stunning colour; I love warm magenta purples! It applied easily but it had lower pigmentation. I needed two thicker coats and applied topcoat.

Maria Luisa - gold flake leaf topper. The gold flakes are not real gold but they look quite similar. This polish was originally designed for Rafael Cennamo/AW13. I like that you can put it over any polish and it will look good. The formula was a bit thicker but it still applied easily and I needed only one coat for the coverage you'll see in the pictures below.

Overall, all of the polishes in the Satins collection had good formula except few with slightly lower pigmentation. Most of them were a bit streaky but nothing too distracting. I like the colour palette and my absolute faves are Neve, Giovanna and Mason although the rest is very close. The only real problem I had was the very strong smell of Neve - hated it!
If you have missed review of the other half of the Zoya Fall 2013 collection - Cashmeres, check them out here.
You can purchase Zoya at Zoya.com if you live in US. In UK you can get them at Amazon, Amarya or on Ebay. But I'm sure there are more places online that sell Zoya.
Have a lovely day!