Glam Polish Blue Goo, Fern Gully and Funhouse! - Review and swatches
*PR sample
Hello lovelies,
I got some unexpected surprise from Rainbow Connection which is a UK e-shop/store selling indie polishes and making it easier for us in the UK to get some international brands. This time I've received some fab Glam Polish shades and today I will show you three of them. They are all awesome under UV light so expect some extra photos ;)
First up is Glam Polish Blue Goo. Blue Goo is a light blue crelly (half jelly, half creme) base full of white, neon pink, blue and green glitter in various shapes and sizes. It has easy to apply formula but it is slightly less pigmented so I applied two thick coats. You could do with three thin coats too. It dries fast and grity because of the glitter therefore I've applied thicklayer of tocoat to smooth the surface out.

Fern Gully - green jelly with neon green, pink and white glitter. Fern Gully is the least pigmented of all three. I've applied two thick coats and as you can see it is still not enough. I would recommend 3-4 regular coats. It applied well and dried quite fast and also gritty so I needed Seche Vite to smooth the suface out.

Funhouse! - light pink crelly with purple and neon pink glitter and purple holo glitter. I've left my favourite at the very last, Funhouse! is so pretty! Lately I've been drooling over neon glitter polishes that would glow under black light and this is my absolute favourite. It went on easy and was opaque in two coats. I've applied Seche Vite to achieve smooth finish.

...and here we have all three beauties under black/UV light: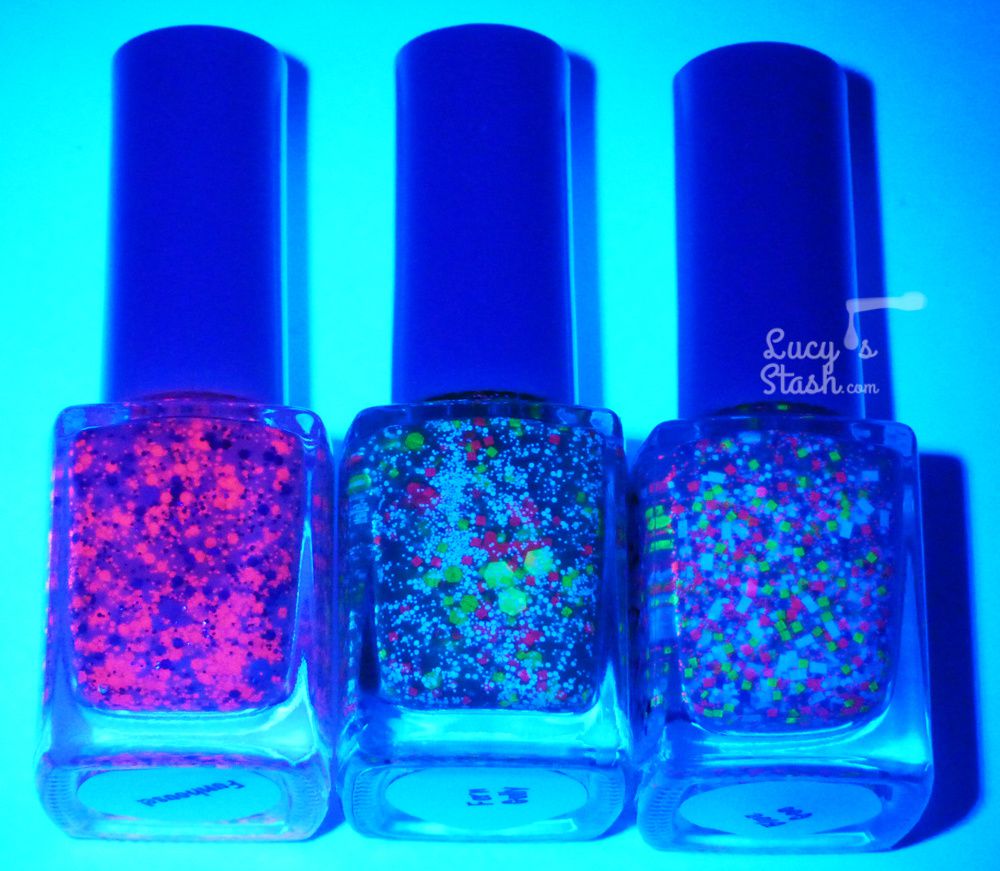 ...I've also done a skittle mani with all three shades...
Oh my, how I love UV-glowing stuff! It's like little fairies on my nails and I just couldn't help staring on my nails. It was a bit hard to capture it on my nails as my hand kept shaking and the camera needs to be absolutely still. Well despite that I hope you've enjoyed the pictures :)
Glam polish is an Australian brand but thanks to Rainbow Connection we can enjoy easy access here in UK too :) Glam polish is also available for Australian and US customers directly from their website and for other international stocklists please click here.
*PR sample