Nails Supreme Nail Art Pens - Review & Nail Art Designs
*PR samples
Hello lovelies,
I've been preparing today's review for a while so it's exciting for me to finally publish it! I got here two sets of Nails Supreme Nail Art pens that I got sent for review and I want to show you what you could do with them!
I've heard of Nails Supreme for the first time from the amazing Sophie aka The Illustrated Nail when I got to talk to her at the Olympia Beauty Show and I knew I had to try them so I happily accepted them for review.
There are currently two sets available, each containing 10 colours - the first one has creme shades and silver and gold glitter and the second set consists of shimmer shades...

The nail art pens come in a hard carton box with instructions leaflet and a pin to clean the pens. Each part of the pen (one colour) holds 4.8ml of polish and has a thin metal tip for precision drawing and a classic nail polish brush for painting whole nail. Another cool thing about these is that you can take them apart and combine different colours together so if you're for example going on holiday and want to take just two or four colours you can simply screw the chosen ones together.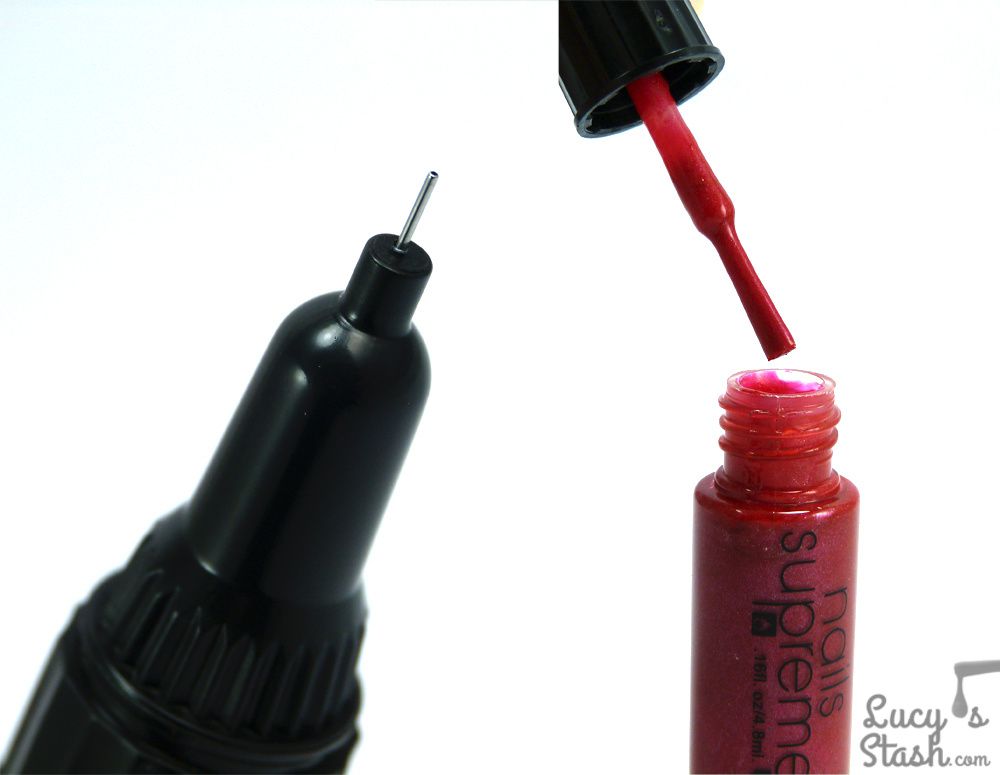 My thoughts: The metal tip is thinner than the cheap nail art pens from China that you can buy on Ebay in like 60 in a set. I've tried those before and they were terrible, complete waste of money. These pens allow me to draw much thinner lines. I would personally appreciate a striping brush inside each polish instead of the regular brush for nail polish application because I'm using these pens for nail art not for applying nail polish.
The polishes vary in pigmentation - some are great (e.g. black, white, red) but some are not that well-pigmented (e.g. pink and yellow cremes). What's great though is that I can replace the colours I don't like/won't use with different polishes so I will always be able to use these pens even if I don't like some of the colours supplied.
Here are some of my manicures I've created using these pens:

I hope this post was helpful because I really think these are great and I'm using them very often now. Especially nail art beginners should find these to be easy to work with and with a little bit of practice you'll be able to create stunning designs.
You can purchase Nails Supreme Nail Art pens HERE.
Have a nice day my lovelies!
*PR samples