Cadillacquer Seek The Fire Collection - Review & Swatches of Four Shades
*PR sample
Hello lovelies,
Swiss indie polish brand Cadillacquer has recently released a new collection inspired by Seek The Fire video game and today I will show you swatches of four shades.
I have reviewed for Cadillacquer before, you can find swatches of Breaking Bad Collection here and here and other polishes here and here.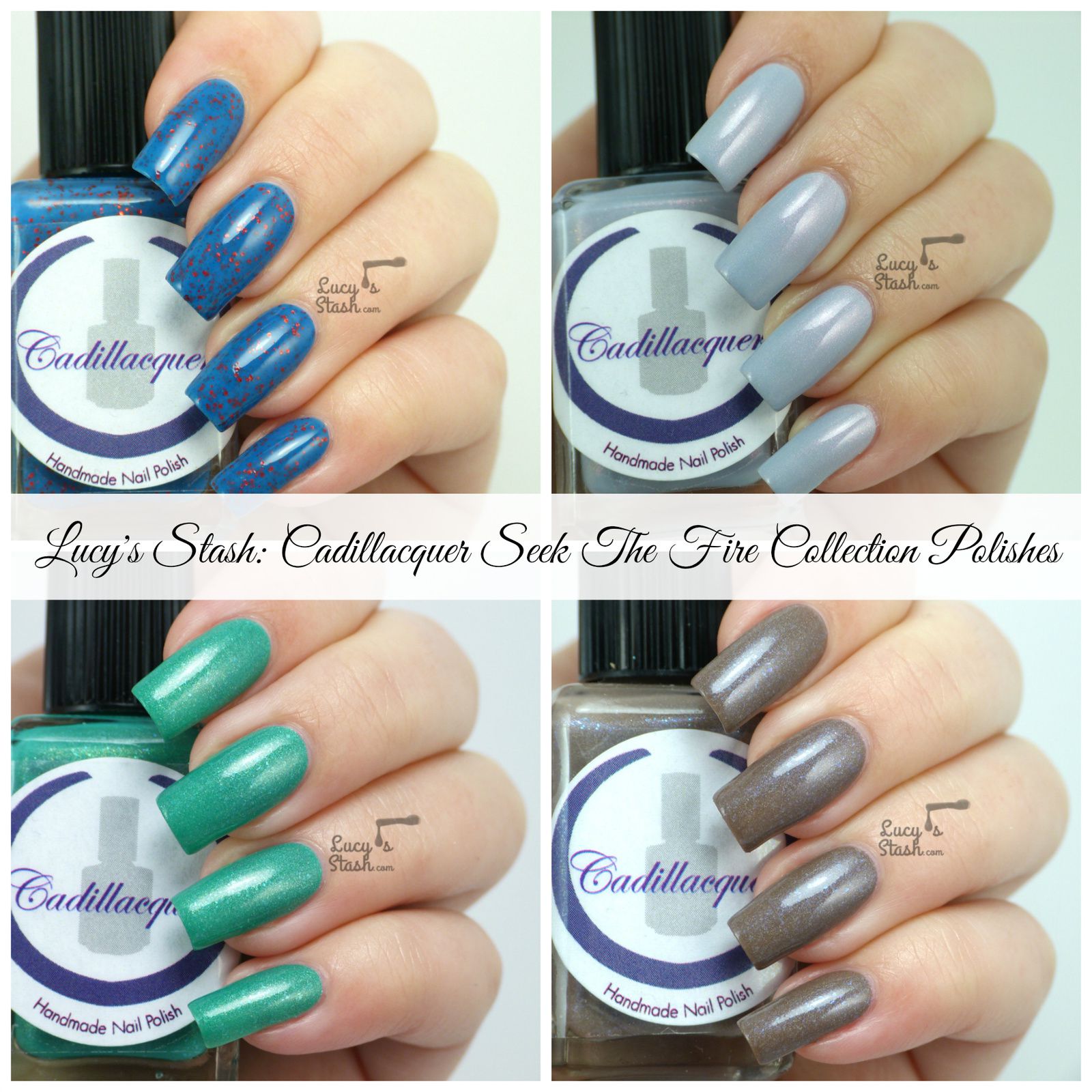 Seek The Fire - denim blue crelly base with red glitter. IMO this is the most interesting shade from the whole collection..at least for me. I love the contrast of blue and red very much, it makes the polish unusual. I've applied two thicker coats to get full coverage. The polish dries a bit gritty because of the glitter so I've applied topcoat.

The Woods - green base with gold shimmer and fine flakies. This green seems quite cool-toned to me despite the fine gold shimmer. The formula was easy to apply but I needed two thicker coats for perfect opacity. It dried fast and smooth but I still applied topcoat.

Beyond The Walls - mushroom brown base with iridescent blue and gold sparkles. This shade is looks very elegant in real life, kind of like cool-toned taupe. It applied nicely and two regular coats were fully opaque. The polish dried fast but not completely smooth so I've applied topcoat.

She's One Of A Kind - pastel grey with magenta shimmer. I really liked this shade, especially with matte topcoat (coming soon ;). It applied well but I needed two thick coats or you could do three thin coats. I just don't like doing three coats. The drying time was good too and I'm wearing topcoat.

Have you seen Cadillacquer Seek The Fire collection before? It is inspired by video game "The Last of Us". They all had good formula and I haven't encountered any major problems.
If you'd like to get your hands on Cadillacquer polishes you can purchase them directly at Cadillacquer website and at various international stocklists.
*PR sample