Luscious Potion Holographic polishes - Review & Swatches of 4 shades
*PR samples
Hello lovelies,
Hope you're all well! Today I'm trying a new to me indie brand Luscious Potion. I've got here four pretty holographic shades. It took me a while to swatch because there weren't many sunny days until recently.
Luscious Potion is an American indie brand based in Texas that offers different polishes from glitters and holos to thermals and shimmers.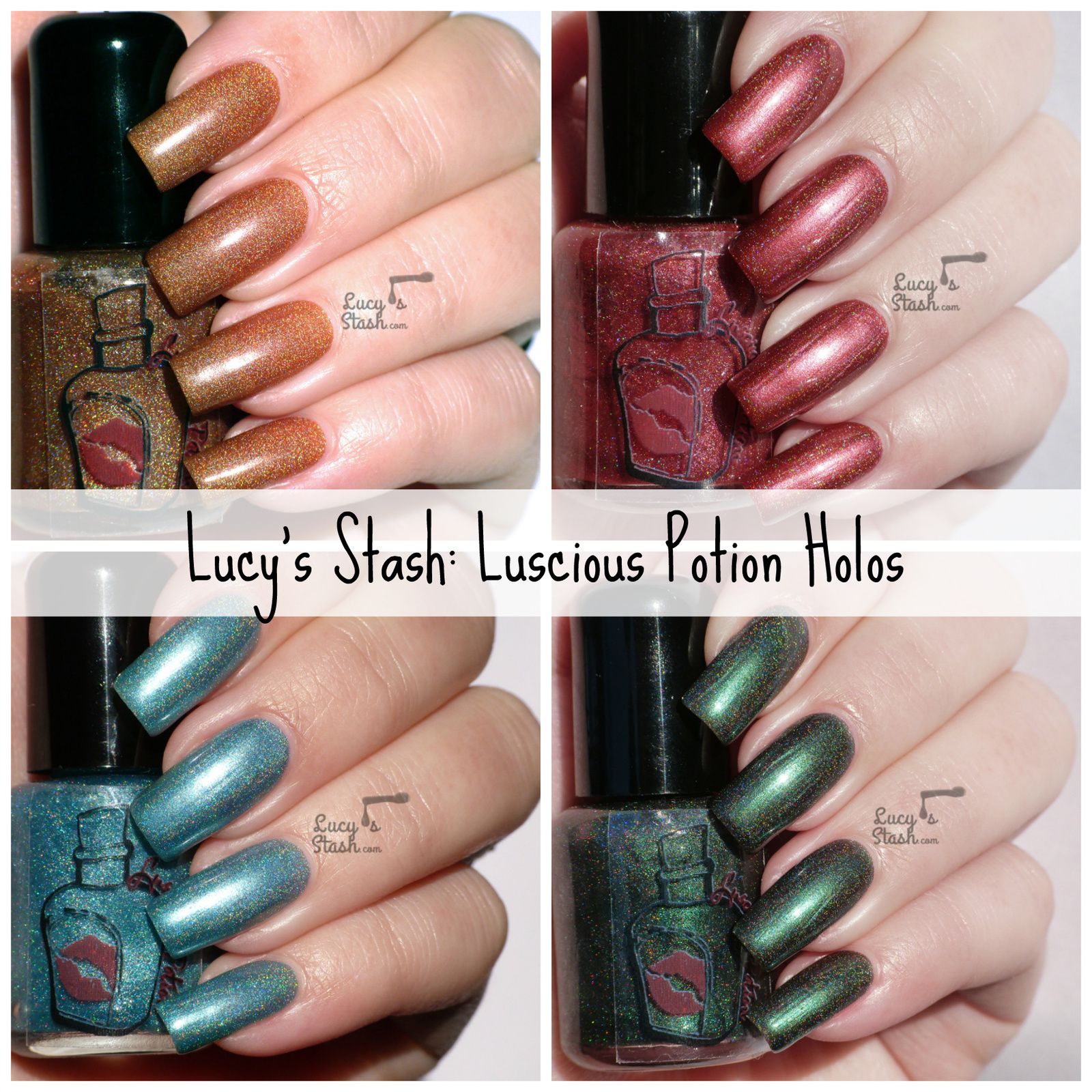 Rising Shine - caramel brown holographic and thermal. I haven't seen many caramel holo polishes around so I was quite glad to try one. The formula was sheer so I've applied two thick coats and it still wasn't 100% opaque. It dried quite fast and smooth but not very glossy so it needs topcoat. The formula with this one was ok to apply although slightly thicker. I must say I didn't really observe a thermal effect on my nails.

Ruby Kiss - maroon holographic colour. Interesting shade this one - the reddish brown is nice and vivid and looks very good with the holo particles. Unfortunately the formula of my mini sample wasn't very good. Whilst it was well-pigmented the polish was thick and gloopy and very hard to apply. I ended up painting two thick coats because thick coats were more manageable and less prone to patching. I also needed a coat of topcoat to smooth the surface completely and get high gloss.

Glaciate - aqua blue holographic shade. This colour is not my cup of tea to be honest because it doesn't suit my skin tone. The formula was on the sheer side and thick and gloopy so I needed to apply thick coats. Two thick coats were still not completely opaque but I just couldn't do another coat because the application was quite a pain. It dried quite fast and smooth though.

Emerald Mint - dark emerald green holographic shade. I like this colour very much. The shade is quite dark and could be called blackened emerald I think? I'm quite sad that this polish also had thick and gloopy formula that was hard to apply. The pigmentation was good but I still had to apply two thick coats to avoid patching.

I must say I was very disappointed with the formula so I've contacted Luscious Potion directly to ask about it. Apparently another blogger has given her a similar feedback so I was assured that since then she checks all polishes before they are shipped to customers. So I hope that if you order you'll get much better formula than I have. Otherwise I liked the colours, especially the Emerald Mint and Ruby Kiss.
Luscious Potion is available at their e-shop and you can keep up with any news on their Facebook page.
*PR samples