New brand on the block - Graffiti Nails! Review & swatches
*PR samples
Hello lovelies,
I've been approached to try and swatch few polishes from new brand Graffiti Nails. Well I do like to try new brands so I agreed :)
Graffiti Nails have launched in March with 13 nail polish colours and base and top coat in collaboration with Alice from One Nail To Rule Them All. Alice has also swatched all the polishes so check out her posts for more swatches.
I'm swatching four of their polishes: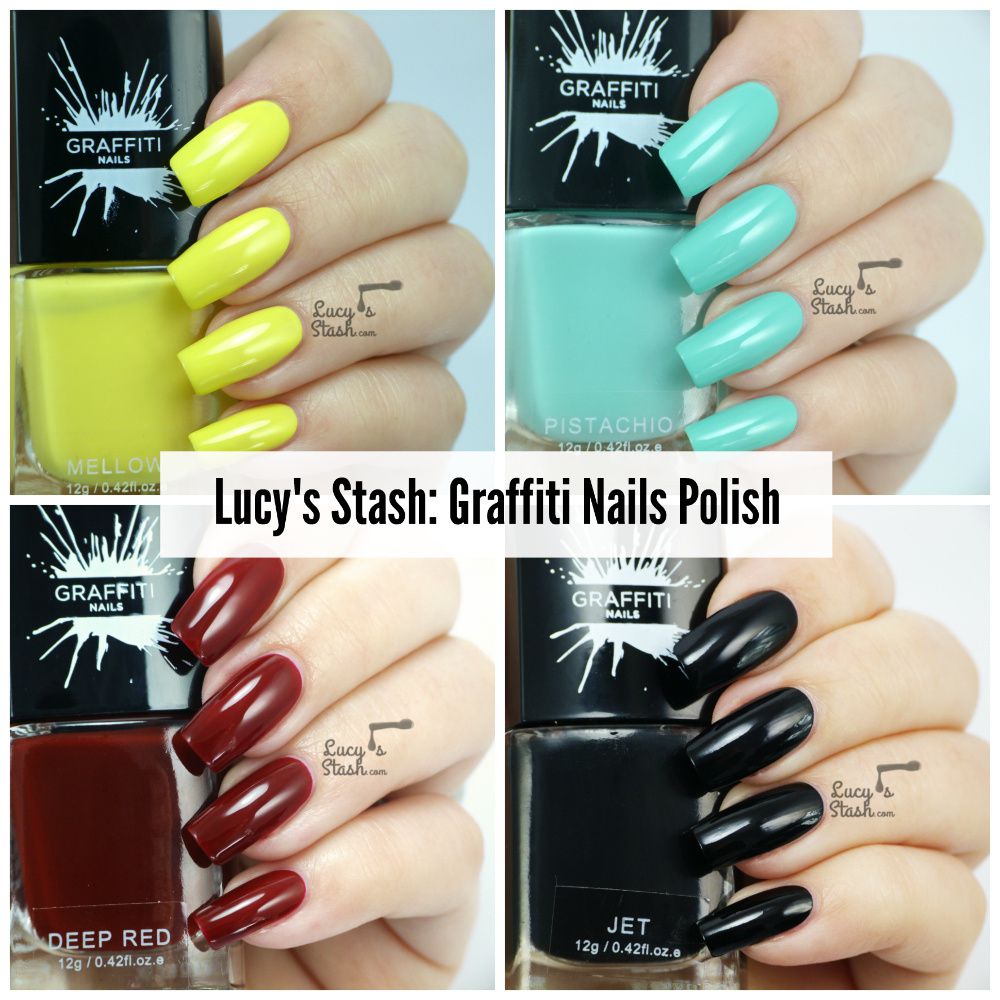 Mellow - light yellow creme. I picked this shade because I liked that it's lighter and not as fully-blown bold yellow shade and I found it to be quite flattering to my skin tone. The polish had good-flowing formula that applied well. The pigmentation was a little bit lower so I've applied two thicker coats. Three thin coats would work well too. It dried quite fast and glossy but I still applied topcoat in the end.
Pistachio - light green creme leaning towards turquoise blue. Pistachio is a beautiful but hard to capture shade. It is very much green but with strong blue undertones. It has a great formula that is opaque in two coats, applies nicely and dries fast and glossy.
Deep Red - dark red creme with partly jelly formula. I'm a sucker for red polishes especially if they are 'vampy' so this shade was an easy choice. I needed two thicker coats for a good coverage (again, 3 thin coats would do too). The polish applied well and dried glossy with slightly longer drying time due to thicker coats.

Jet - black creme. I wanted to try the black in case I stumble upon another well-pigmented, great for nail art, black. And to my surprise that's what I got! I've applied one thicker coat and topcoat and the coverage is great! I'll be sure to reach for it for my future nail art designs.
The brushes in these polishes were ok to work with but I found a little differences. Some were a bit thinner and for example the brush in the yellow shade was slightly bigger and some bristles were separated. I think this was probably just one odd one but I thought I'd disclose it.

The polishes retail at £3.99 including VAT and are available online only at the moment. . To quote Alice, "if you order 3 polishes then the 'Express' delivery is FREE. Express service is 1-3 days, but we can deliver 3 polishes Next Day for only £2.95."
If you'd like to check the Graffiti Nails brand for yourself or purchase polishes, you can do so at their website.
Have a lovely Friday (yay!) and stay tuned for tomorrow's nail art post! Lucie x
*PR sample