Zoya Magical Pixie Collection for Summer 2014 - Review & Swatches
*PR samples
Hello lovelies,
Zoya has released second Magical Pixie collection, this one is for Summer 2014 and consists of three shades - Bar, Ginni and Arlo. I have been little swamped lately so this review is a bit late, sorry!
Let's have a look at the polishes: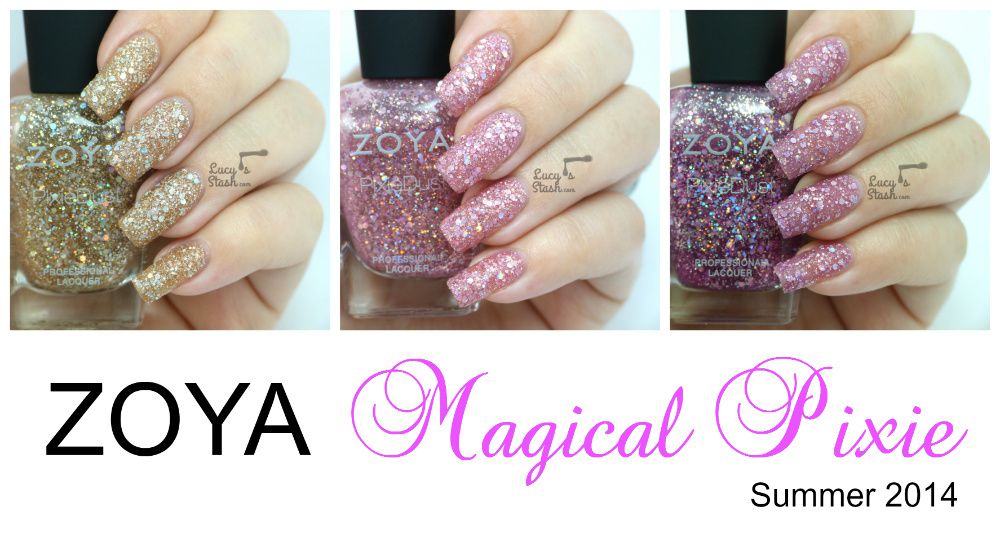 Bar - champagne beige base with chunky holo glitter texture. Bar has some very pretty gold undertones but it won't suit everyone. It's a bit strange combination - on one hand it could be a subtle 'nude' but the load of holo glitter makes it stand out quite a bit. I've applied two coats.

Ginni - pastel pink tinted base with chunky holo glitter texture. Ginni is a cute and girly shade that I enjoyed wearing. It looks very nice with the silver holo glitter and sparkly texture. I'm wearing two coats.

Arlo - pastel magenta tinted base with chunky holo glitter. Arlo looks cool-toned in the bottle but once it's on the nails the base gets thinner and looks much warmer. I've applied two coats.

All three shades have the same thick formula so inevitably you'll be applying a bit thicker coats. They are all quite sheer so the thicker coats will help to build up the colour. The drying time was longer and you really need to let it dry and harden properly before doing something. I would really recommend wearing peel off base because once these polishes dry they are very hard to remove and peel off base will safe you lot of time and aggravation.
I think I've mentioned it before that I really love Pixie Dust range but the Magical Pixie doesn't appeal to me as much. I find it just too gritty and sometimes sharp and scratching my eye is absolutely impossible without hurting myself :D
If you've missed the first Magical Pixie collection, check it out here. I've also reviewed the new summer collections Tickled and Bubbly.
Zoya polishes are available at Zoya.com (US), at The Nail & Beauty Link (UK) and at Nail Polish Direct (UK).
*PR samples