Illamasqua Once Collection - Review & swatches of Melange, Courtier, Exquisite and Naked Rose
*PR samples
Hello lovelies,
Today, yes, today, Illamasqua is releasing a new collection called Once. For now the collection is only available in stores but I would expect it to be online soon as always.
About Once: The beauty of old and new endures with Once. Decadent & lavish, dabble with rich textures and autumnal, delicate colours, which are conveyed in this exquisite & harmonious fall collection.
"Once is the beauty of the burnished, eroded and erudite. A palette inspired by the gentle and exquisite point when a flower starts to fade and becomes impossibly beautiful in its complex decline. Combined with the subtle opulence of faded gilt layers that reveal themselves the more you blend and search. She is an incandescent moment, a poem alive and a light within a pallet of decaying decadence." Alex Box, Creative Director for Illamasqua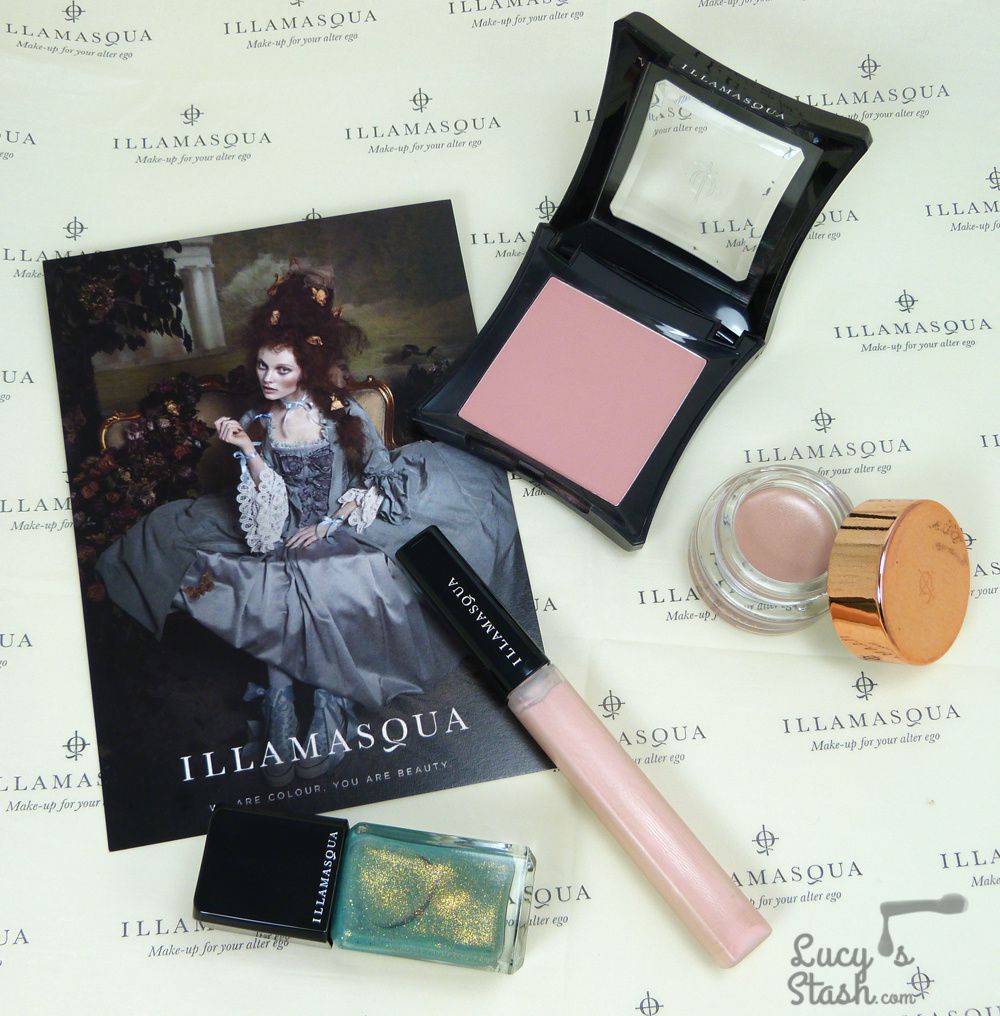 Once collection consists of:
three shades of new Vintage Metallix Eye Shadow (Courtier - dusky rose, Embellish - rich cocoa, Bibelot - rustic golden teal)
two new shades of Sheer Gloss (Exquisite - pink oyster, Opulent - rainbow beige)
Powder Blusher (Naked Rose)
Nail Varnish (Melange - antique teal)
And of course the first thing I'll show you is the new nail polish shade! It's called Melange and it's antique teal leaning heavily towards moss green and with gold and copper metallic particles.
I know that Illamasqua strives for the best possible formulas in all of their products and this polish is excellent as the other ones. It applied like butter and was almost opaque in one coat. I've applied two coats just to achieve absolutely perfect finish. It also dried fast and I've applied one coat of topcoat.
Another product from this collection I've tried is the Vintage Mettalix Eye Shadow in Courtier. Courtier is described as dusky rose and leans a bit towards bronze shades. It is very soft and creamy and it seems to have some sparkly particles in it. When I was removing it I found that it didn't want to go off so I would think it might have a good staying power. I'll have to test it more first :) I also want to mention that it comes in a beautiful packaging with copper coloured lid and print as opposed to the classic black.
Then I have here another new product - Sheer Lipgloss in Exquisite. Exquisite is a pink oyster shade full of gold particles. It's very sheer and glossy and it applied nicely and didn't feel overly sticky.
Lastly, the collection includes a Powder Blusher in Naked Rose which is not a new shade. I didn't receive the blush in the package but I already own it so I've swatched it for you too. It is a soft neutral pink that can be built up or you can just have a light flush of colour. it is highly pigmented so a little goes a long way.
My favourite piece is of course the nail polish! I don't have any other colour like this, I think it's very unique and definitely 'vintage'. I also love my blusher in Naked Rose and it has been a great companion on my holiday.
As I've mentioned in the beginning, the Once collection is available from today in the UK Illamasqua stores and counters and hopefully will be available online soon.
What do you think of this collection and of the new polish Melange? Let me know in the comments!
Have a lovely day! Lucie x
*PR samples