My Wedding Diary - Part 1: Engagement, Venue, Decorations & THE DRESS
Hello lovelies,
I think it's time to start My Wedding Diary. This first post is about early planning stages and how I got about them and what were all the things I had to think about. We are definitely doing a wedding on a small budget so I hope to give you some tips on how to save money.
If you've missed it, I got engaged in August 2013 in Prague. What made it even more special was that Andy took me to Charles Bridge at midnight and proposed there. It was magical and so romantic! Our wedding will be August this year which is two years after we got engaged which gave me quite a lot of time to think about all the details.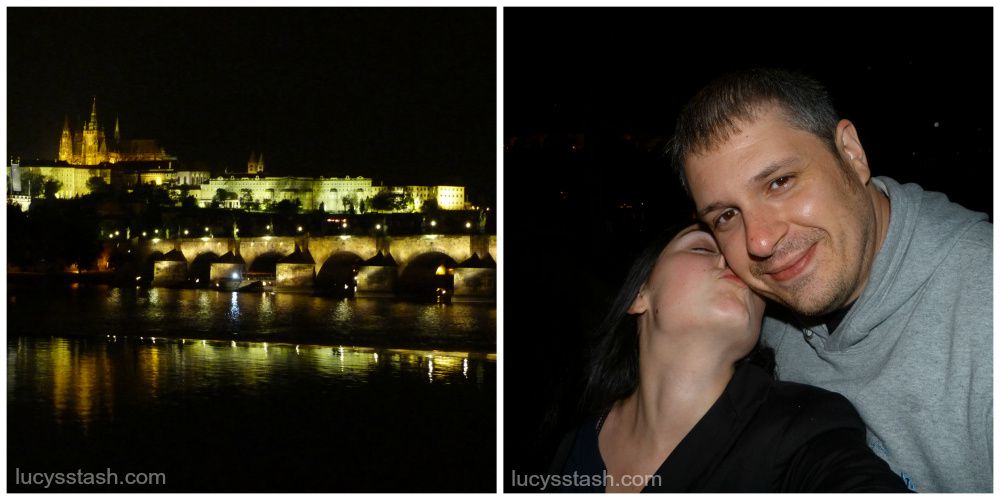 Prague - Charles Bridge & Prague Castle on the night of our engagement, photo we took minutes after getting engaged :)
There were three options for our wedding in the beginning that we were considering - doing it in the UK, doing it in the Czech Republic or having a small civil ceremony in the UK and then do a celebration in the Czech Republic. We were considering third, split wedding option but in the end we've decided to do the whole wedding in the Czech Republic (not in Prague). The main reason was the cost - everything is so much cheaper there.
The Venue
One of the first thing I had to think about was the venue. That was a pretty easy choice for me since last year I attended my cousin's wedding who had it in the local hunters' lodge at the edge of a forest and I've decided the venue will do. Admittedly, it is nothing luxurious but our family has a history in there (my grandad is one of the hunters who takes care of the forest) and it will cost around £60 to hire it for three days! That's an absolute bargain compared to £1000 and more for venues in the UK. If you have a good budget then you could afford a beautiful wedding in one of the Czech castles!
The Decorations
I wanted to find a theme for our wedding and since I didn't want anything really specific (themed weddings are not usual in the CR) I settled on a cute crafted style. I have also decided that I don't want fresh flowers on my wedding. I know it's pretty unusual decision and to be honest my mother hates it and criticizes me for it a lot but that's just what I want. But also DIY decorations are much cheaper than fresh flower arrangements. I am currently working on my own floral table decorations but on that in another post ;)
The Dress
Yes, I know, the most important thing at the wedding is the wedding dress. Having a strict budget wasn't easy while buying a dress but I got quite lucky. I went to several bridal shops with my maid of honour to find the style of dress that will suit me the best. It was so hard not to fall in love with some of those dresses since they were usually all around £1000 mark. Once I knew what I was looking for I searched the internet for second hand wedding dresses hoping to find one I'll love. This option didn't work out for me in the end but if you're after reasonably priced wedding dress, buying a second hand one can sometimes work out great. Just make sure you look for some locally or within a distance you're willing to travel to because you really do need to try it on. I would never buy a wedding dress without trying it on first.
So where did I get my wedding dress in the end? My maid of honour and I made a trip to a Wedding Dress Factory Outlet in Bromley, London (now renamed to WED2B) and bought my dress there. All their dresses are under £500 which is awesome! It was super busy because it was Saturday and we waited almost two hours in line to try on my five chosen dresses. But in the end I found the ONE! I'm not going to tell or show you which one (of course!), for that you'll have to wait for some wedding photos ;)
to be contiued...
Have a lovely day! Lucie x