My Wedding Diary - Part 5: Accessories & THE CHOSEN Nail Polish
Hello lovelies,
I'm working on the main wedding post for you but I've decided to split it in two and show you all the accessories first. There's quite a lot to cover in both posts so I think you'll understand ;)
Of course there is A LOT apart from the wedding dress that I had to get including the bouquet, rings, jewellery, garter, hair accessory and more! I'll start with the bridal bouquet because I made that one myself from scratch. I had quite clear vision of what I would like - fabric flower bouquet with brooches. I've decided to make my own after seeing prices upwards from £200 for the ones I like. I have filmed the whole process of creating the bouquet and flowers so once I have just a bit of time I will edit all the 100GB (!!!) of footage and upload a tutorial.
So you can see how my bouquet looked in the end. I was quite happy with it but I already though up many ways I could have improved it :) Once I create the tutorial I'll write a new post with many more details.
Next up are my shoes which were a real bargain. I browsed all the website with bridal footwear and have decided I want shoe without full back because I ALWAYS get bad blister and rubbing. So that narrowed my search right down. I spotted these shoes on the Debenhams website and really liked them but decided to keep looking. I found these same shoes in my size, new with tags on Ebay for less than a third of a price so I bought them straight away! That was a great purchase, the shoes looked very pretty. They have a lot of AB crystals and I didn't even mind that they are Ivory colour instead of white.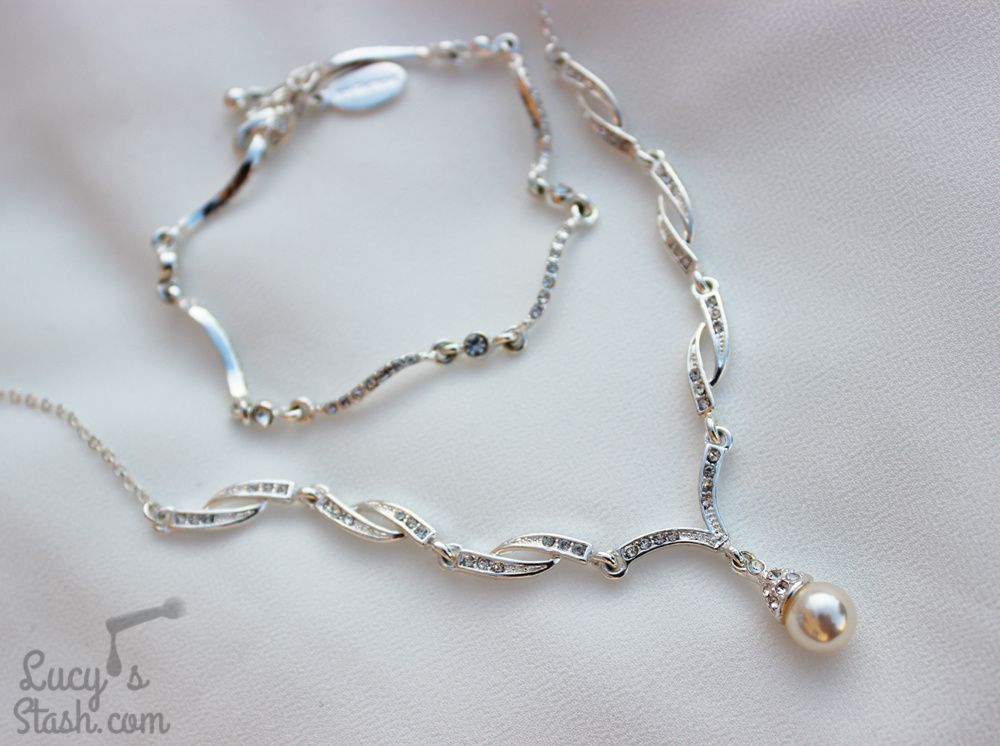 Next on my list is jewellery. I wore just a single clear stone earrings that I already had and then I purchased this necklace and bracelet from Jon Richard. I've been looking at their range online and in our local Debenhams for ages and then just few days before we left for wedding I bought these two pieces. I was so happy that I waited because they had 70% sale on so I saved a lot of money. BUT unfortunately yesterday I've noticed that parts of the jewellery started to turn green. I have no idea why is that but I'm definitely heading back to the store to ask about it.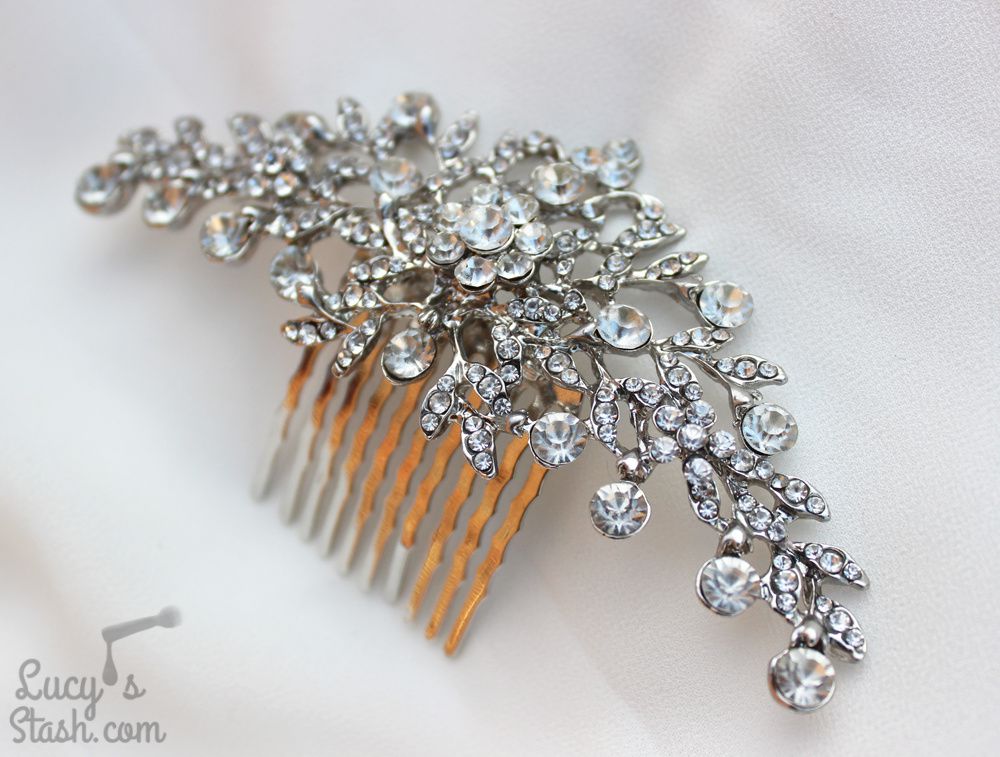 This next accessory is a crystal hair comb that I wore at the back of my head. It made the whole look so much special! I got this piece from Light In The Box* and it currently costs just £8! They sell so many different styles that it was really difficult to choose just one but I'm happy with the choice I made.
I also wore an organza and satin garter from Light In The Box but I forgot to take picture and then gave it away on my wedding day as a prize in a funny raffle we were doing.
Now I want to show you three special pieces - ivory flower for groom's jacket, flower sash I made as an accessory for my second evening dress and a beautiful Fossil watch that Andy wore.
I feel that people often forget about accessories for the groom. Andy wanted a nice elegant watch that would look nice with a suit. I suggested he looks at watches2u.com because I've previously worked with them and I know they have a great selection and good prices (plus they previously got me a discount code
LUCIE10 which will give 10% off - you can use it too!). As you can see he chose stunning black watch with stainless steel case and strap and it looked really nice on him. He's got big hands so the large 'watch face' wasn't too much. This particular watch is still available here if you want to check it out.
Andy also wore an ivory fabric flower I made in the same style as my bouquet instead of a regular flower. I think it nicely tied up with the overall theme :)
And then there was the flowers sash - I created it in the same way as the flowers for my bouquet only bigger with less layers. I think it looked really pretty and not too 'handmade' and it definitely gave the plain white dress some 'oomph'. All materials like brooch and ribbon were purchased on Ebay and the fabric was from my local fabric store.

Another accessory I cannot forget to include are our wedding bands. We opted for plain smooth bands in silver colour. Mine is made of palladium and Andy's is from tungsten because he needs hard and durable metal. We bought them in our local H Samuel where we could try them on and see if they fit properly.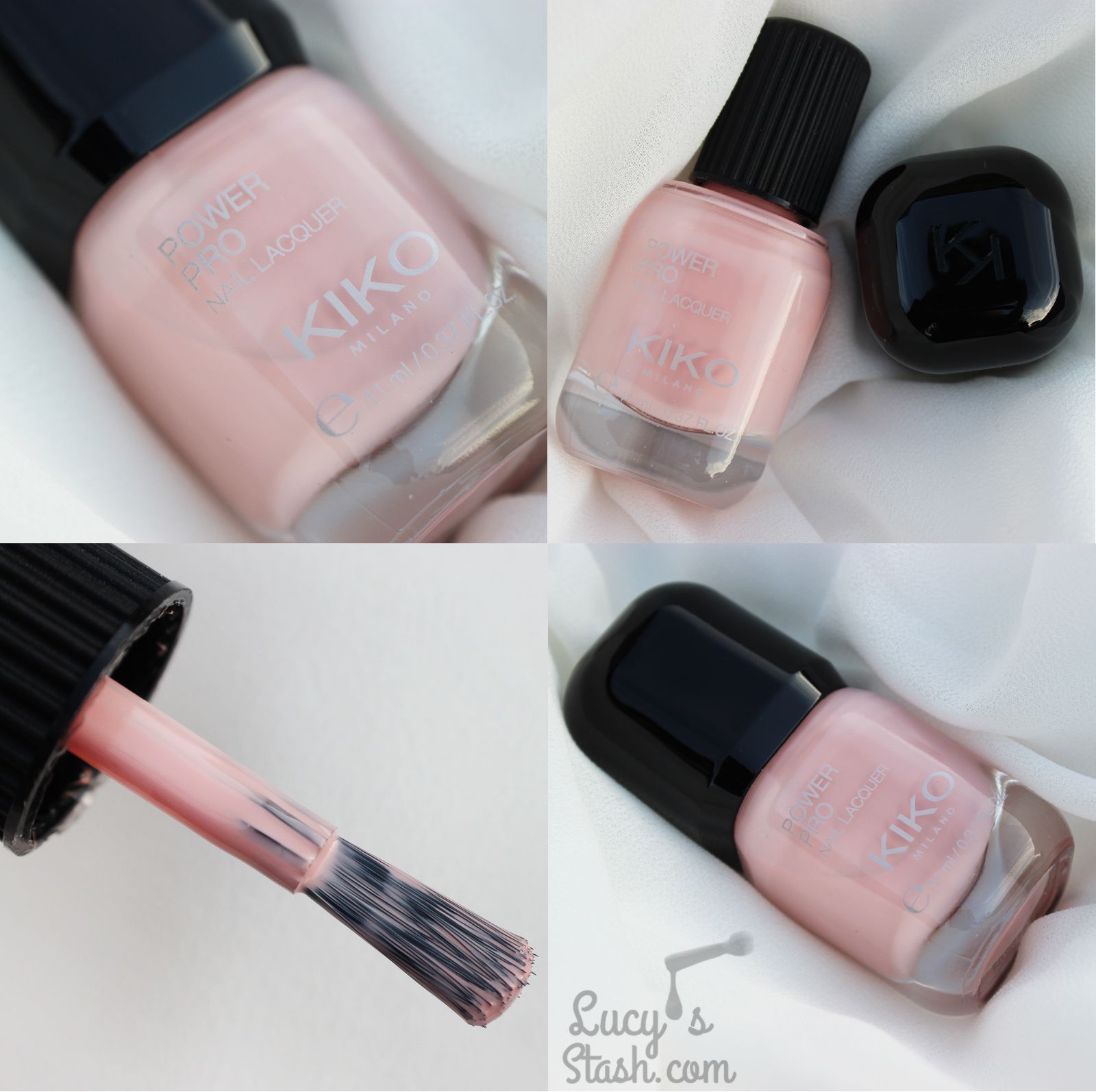 And now the most important accessory of all - the nail polish! I will show you the final look with some nail art in the next post so stay tuned ;)
It was a very hard decision and a lot of colour-testing to choose a colour I would be happy with. I don't have that many bridal colours but I settled on OPI I Theodora You UNTIL the day we were leaving for Czech Republic. That morning I got a package from the KIKO's PR with three new KIKO Power PRO polishes. One of them was this beautiful soft pink that was opaque in two coats! That was the perfect one for me! OPI I Theodora You is beautiful but very sheer so 3-4 coats are a must and when you're pressed for time that's not what you want. So KIKO won!
The shade I wore was KIKO Power PRO - 02 Camellia*. As I said it was opaque in two coats and it dried fast and glossy. I was very happy with it and wore the manicure for the next week or so. The polishe started to chip a bit in about 5 days. What is good about this line is the wide, round-shaped brush that make application easier, especially near the cuticle. KIKO says the brush has 1000 bristles which sounds impressive.
So what do you think of my accessories and the polish I chose? Have a lovely day! Lucie x
*Products sent for consideration