Review: Morgan Taylor REACT No Light Extended Wear Base & Top Coat
Hello lovelies,
Have you tried anything and everything to make your nail polish last more than 2 or 3 days? Well, maybe I have a solution for you! I have been testing the new Morgan Taylor REACT duo (base and top coat) promising prolonging the wear of your polish by 50% in the past few weeks and today I can finally reveal the results. Let's have a look at the products first...
"The innovative REACT range consists of two varnishes; the Morgan Taylor REACT No Light Extended Wear Top Coat and the Morgan Taylor REACT No Light Extended Wear Base Coat, both of which work with any polish colour and brand transforming it into an extended nail polish.
Once applied, manicures last up to 50% longer than average, and with no need to use an LED lamp or to soak for removal either, this ten day long wear range makes a great investment to any at-home nail kit."
With REACT your manicure can last up to 50% longer
Works with any lacquer system
No LED light needed
Up to 10 days of wear and soak–free removal
Gelish infused technology with base radical colour adhesion
These claims left me very curious and I wanted to test this new 'system' myself. Since the Morgan Taylor REACT duo can be used with any brand of nail polish, I've painted my nails with A England Polovetsian Dances and Morgan Taylor Berry Contrary to test it.
I've started with one coat of Morgan Taylor REACT Base Coat on clean and dry nails - I like to wipe nails with isopropyl alcohol and no lint wipe before painting. Then I've applied two coats of the A England and Morgan Taylor polishes and sealed them with one coat of the REACT Top Coat.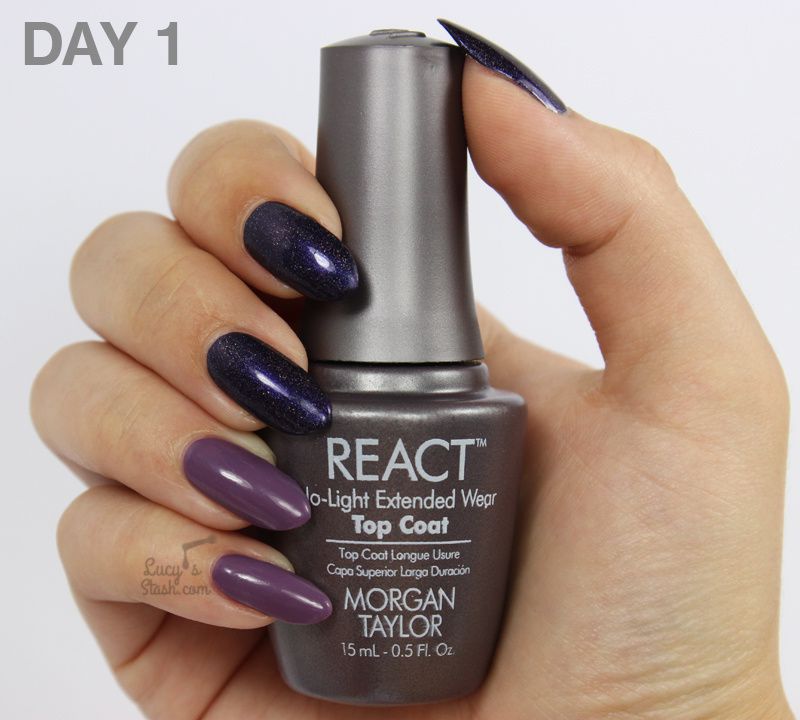 Morgan Taylor REACT Base Coat has a thicker consistency than regular base coats - not watery/runny but little bit thicker. It was still nice to apply and it had bit of a ridge-filling effect.
Morgan Taylor REACT Top Coat is a bit different to other top coats too. It's thicker and it also smells differently. Almost like it's made to smell flowery but with a mixed chemical taste. When I was applying the top coat I was very sceptical of the whole system because it was smearing polish underneath a little and I had to use thicker coats to avoid patching. I literally had three good strokes to finish the nail otherwise it would drag the already drying layers. So advice - work fast and have enough product on the brush! On the other hand the top coat dried fast and glossy. In 15 minutes the coat hardened quite well and I could do light work like typing on a laptop.
Each bottle holds 15ml of product and has a wide flat brush with clear bristles. This is how my nails looked 5 days in: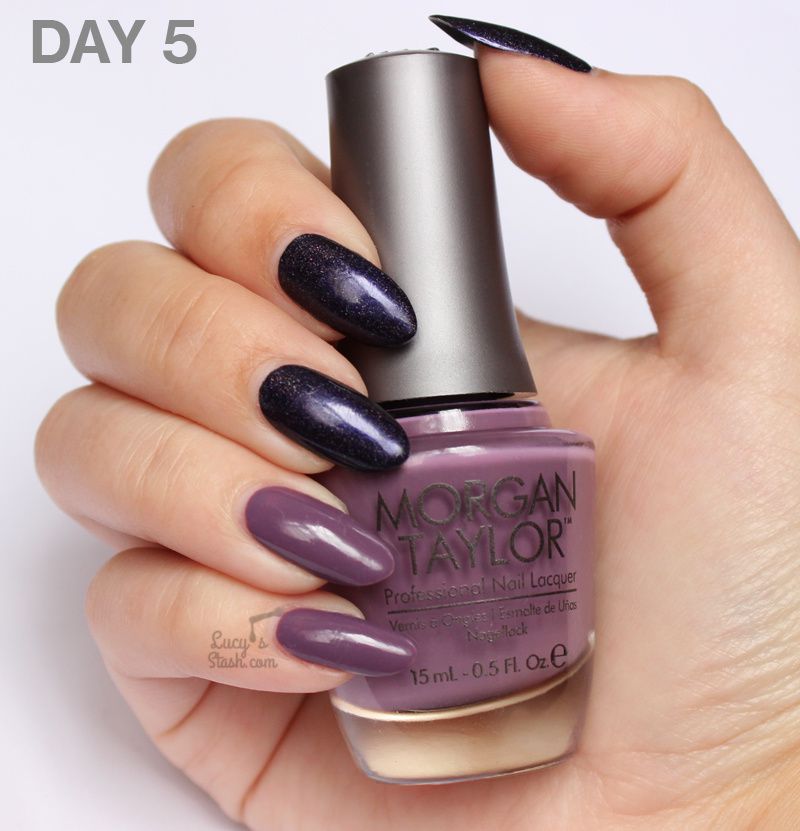 I've had only minor tipwear and some scratched surface after 5 days which I think was quite good result so far. Next up is the photo of a 10 days wear: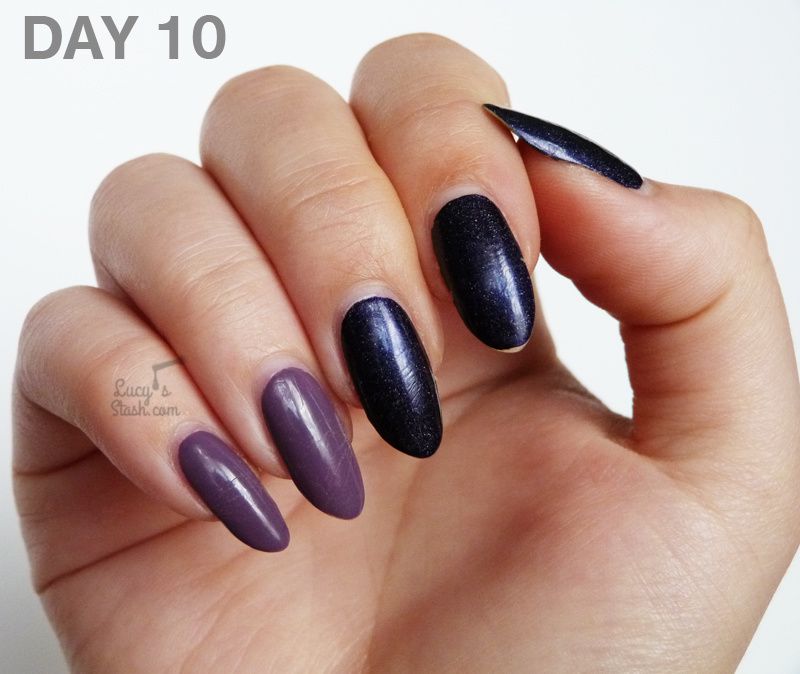 As you can see, the polish doesn't look that great anymore but it still held up quite good. My long nails are quite flexible so I've had my nails bent few times which caused the cracking in the polish. The tipwear was still quite minor (I accidentally dipped the tip of my index finger into acetone which caused the lack of polish on the tip).
So does this system really extend the wear of polish by 50%? I think it does! I've deliberately used two different brands since the system is supposed to work with ANY brand and it passed the test. So now you know the result and it's up to you to try this duo.
Morgan Taylor React duo is available from Sally UK stores nationwide and www.sallyexpress.com for £12.95 per bottle. For US and other countries - these should be available where Morgan Taylor products are sold.
So what do you think? Will you be trying this new duo and test the longevity for yourself?
Have a lovely day! Lucie x
*PR samples