Semilac Hybrid Gel Polish & Starter Kit | Review & Swatches
Hello lovelies,
Long time no see, eh? Well the thing is - I've been very overwhelmed with work lately and I finally need to take blogging a little bit easier. It changed from a joyful and relaxing hobby to a chore and work and I need to recharge my batteries. I won't be blogging as actively as I've been for the past (almost) 7 years but I'm still here, still alive and kicking!
It's long overdue that I share with you my thoughts on the Semilac hybrid gel polish system. Lovely people from Semilac have sent me the Starter Kit* to try and some additional gel polish colours. You might have noticed one Semilac nail art I've done already back in October.
Semilac is a Polish (in this case it's finally with capital P, Semilac is from Poland! ;) brand and they have been crushing it over in Poland so I'm glad to see them expanding further to the UK and other countries.
"Semilac is a hybrid nail polish which combines gel, UV and nail polish properties to create a high performance, long lasting product which rivals the top gel nail polish brands currently on the market. Available in over 130 colours ranging from bright and vibrant to subtle and demure.
Offering salon ready nails from the comfort of your own home, we pride our products on being easy to apply and requiring next to no maintenance as they'll be no chipping or smudging on or after application.
Alongside our Semilac UV Gel Polishes, we also have nail polishes in our excellent range of colours and UV Gel Colours ideal for nail art. Our collection of accessories is also extensive as we aim to offer everything you could possibly need to enjoy great nails day in, day out including the likes of LED lamps, brushes, nail files and so much more."
Yes, Semilac has a wide range of nail polish, gel polish, nail art gels and accessories so nail salons AND consumers like you and I can find products to try.
The Starter Kit arrived in a white glossy box with a shiny silver Semilac logo on it and inside it every product was neatly placed. The starter kit contains:
- UV LED Lamp 6W
- Semilac Removing wraps 50
- Nail Cleaner 50ml
- Semilac Remover 50 ml
- Base coat 6 ml
- Top coat 6 ml
- Straight nail file 100/180
- Straight wooden file 180/240
- Semilac Stripper
- A Sanding Block which is intended for matting the nail plate.
- UV Hybrid My Love 026 7 ml
For the price of £60 you'll get all the above. It's all you need to do your gel polish nails at home. In fact, most starter kits that I've tried contained less products than this so you really get a lot for your money.
The UV LED lamp comes in a cute pastel pink colour on the top and white at the bottom. It has a ON/OFF button and adjustable timer so you can vary the length of time between 45 or 60 seconds. The lamp is very lightweight and transport friendly, ideal for mobile technicians or for ladies without dedicated nail space. It is 6W and alone costs £40 so get your monies worth by buying the whole kit.
Each bottle holds 7ml of product and the brush has medium length, straight bristles. It was quite easy to work with, the bristles aren't too stiff and the width of the brush is just perfect even for my small nails.
As I've listed above, the set contains everything you need for a home gel polish manicure, including one gel polish colour. In this case it's a beautiful red with glass flecks called My Love.
This was my first test and I was hooked straight away! After applying a coat of Semilac BASE, I've painted on two coats of My Love. The gel polish was very well pigmented and I only needed two thin coats for full coverage. It applied easily and together with Semilac TOP I've had beautifully glossy nails. The TOP leaves a sticky layer which I've cleaned with the Nail Cleaner and the lint free pads provided.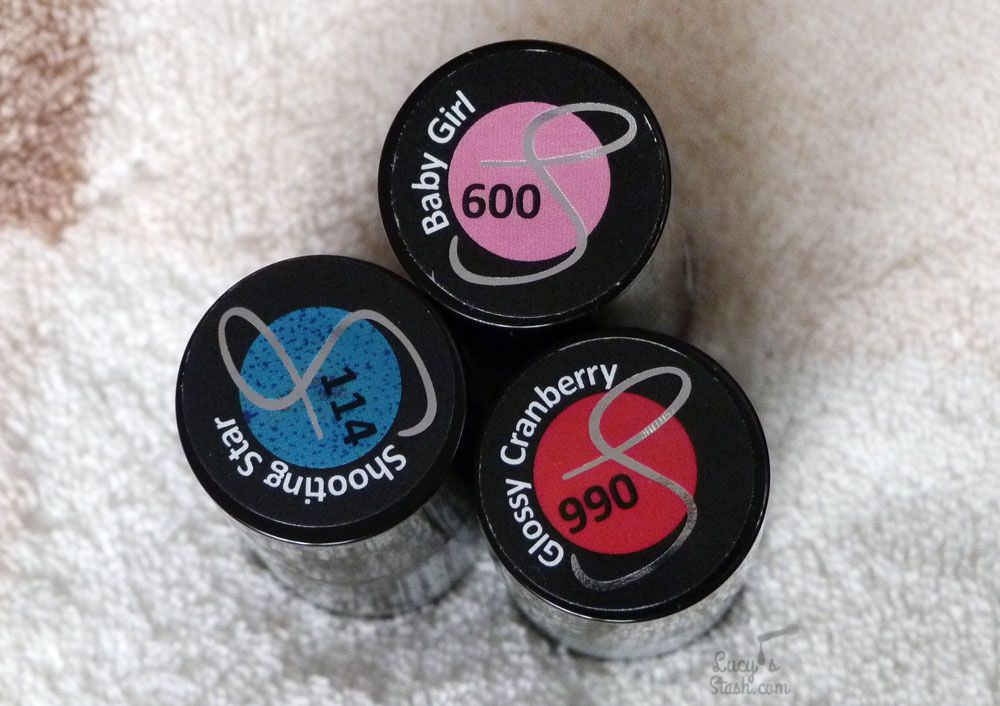 I've also received three more colours to try so here are the swatches for you:
Glossy Cranberry 990 - this raspberry creme colour had exceptional pigmentation and was almost fully opaque in the first coat. I ended up applying two coats just to get the perfect finish.
Baby Girl 009 is a cool-toned pastel pink creme and it was also very well pigmented. I'm wearing two coats.
Shooting Star 114 is a gorgeous bright blue full of sparkle. Two coats were enough for full coverage.
So after trying all this - would I recommend Semilac Starter Kit and gel polishes? Hell yeah! I found it to be an amazing value for what you get and the gel polishes were so nice to work with and well pigmented, definitely one of the top five gel polish brands I've tried.
If you're in the UK, you can buy Semilac products at Semilac.co.uk and you don't have to be licensed nail professional. But I would always recommend you to watch videos made by professionals on how to use and remove any pro products properly. You can follow Semilac also on Instagram, Twitter, and Facebook.
Have a lovely rest of the day and upcoming Holidays! Lucie x
*Products featured in this post were sent for review