China Glaze Autumn Nights for Fall 2013 - Review and swatches of six shades
*PR samples
Hello lovelies,
I'm always very excited about A/W collections, I just love the deep jewel-like shades and dark vampy colours. I was very excited that China Glaze has sent me six shades from the new Fall collection Autumn Nights. The shades are shimmers and cremes and are perfect for Fall/Autumn.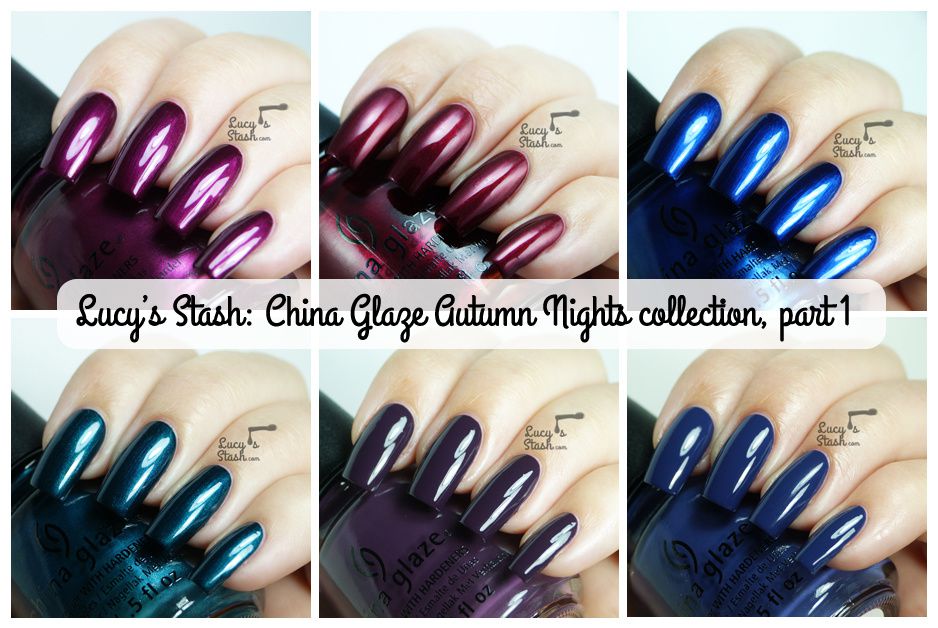 About the collection: "As the season begins to change and the weather cools, China Glaze® invites you to step inside for an evening of cocktails, gossip, flirtation and gorgeous nail color with the new Autumn Nights collection. Gab with the gals, clink those glasses and cheers to a fabulous Fall with nails that strike up a conversation."
Tongue & Chic - dark emerald shimmer. This shade of green is very dark, I almost dare to say blackened? It leans towards teal as well, it's just gorgeous. The formula was fast drying so I had to work fast to avoid patching. It is also a bit streaky so I had to pay attention to my brush strokes. The pigmentation was excellent and the polish is almost one-coater .I have applied two coats and topcoat.

Don't Make Me Wine - red-based purple shimmer. Wow, this is so beautiful colour! I've been waiting on China Glaze to release a similar colour since Cowgirl Up came up. This is my favourite kind of purple and it is very similar to the Cowgirl-Up colour. The formula was similar to the previous polish - fast drying, slightly streaky and quite easy to apply if you work fast. I've applied two coats and topcoat.

Red-y & Willing - dark red shimmer with purple undertones. This is another gorgeous shade that I really like. The formula was the same as the previous two shimmer shades again. I've applied two coats and topcoat but the polish was almost perfect in one coat.

Scandalous Shenanigans - vibrant blue shimmer. China Glaze has described this shade as a rich blue and they are right. The colour is very vibrant and bold. The formula was same again as the other shimmer shades. The polish is fast-drying so I needed to work fast to avoid patches and also I kept in mind streaking. I've applied two coats and topcoat.

Queen B - dark blue-purple creme. The colour in the pictures is not 100% accurate, the blue is leaning heavily towards purple shades. The formula was great, easy to apply, fast drying and with excellent pigmentation. It was almost one-coater but I ended up wearing two coats and topcoat.

Charmed, I'm Sure - dark dusty purple creme. It's a great purple for A/W season, I like it a lot. The formula was exactly the same as with the previous shade - easy to apply, well-pigmented and fast-drying. I've applied two coats and topcoat.
So that's all I have to show you from the new China Glaze Autumn Nights collection. I actually got sent the prettiest shades in my opinion so I love most of them. Especially Don't Make Me Wine and Red-y & Willing are my absolute favourites.
The formula was good with all polishes but the cremes were easier to apply. The shimmers tend to be streaky and patchy if you're working slowly. All of them have excellent pigmentation which is always a big plus for me.
This collection should be available during September through salons and professional beauty supply stores nationwide. For more information, please visit www.chinaglaze.com or follow China Glaze on Facebook (@ChinaGlazeOfficial), Twitter (@ChinaGlaze) and Pinterest (pinterest.com/chinaglaze)
*PR sample