Guest post: Jacqui from Craftynail
Hello lovelies,
It's time for another guest post! I've asked many bloggers to contribute to my blog while I'm on holiday but I haven't asked just big bloggers but I also wanted to give a chance to smaller blogs that definitely have great potential. I'm happy that Jacqui from Craftynail blog has agreed to contribute. I like her work very much as she very often comes up with interesting nail art ideas and I think you should all check her blog out.
********************************************
Hi Everyone! My name is Jacqui and I run a U.S. nail art blog called Craftynail. I've been a loyal fan follower of Lucy's blog ever since I spotted one of her jaw-dropping designs on pinterest some months back. Needless to say, I am thrilled to have the chance to contribute to Lucy's Stash today! Thank you for having me! I'd like to share a manicure with you that sort of personifies my Craftynail style. I do throw in some tips, swatches and reviews on my blog, but my passion and focus is simple and fun nail art. Today I have a holo rainbow splash design to show you and I hope you like it!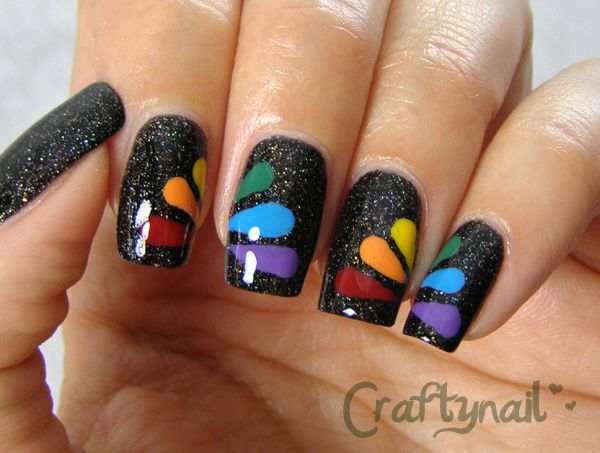 I started with a base of Sally Hansen Maximum Strength to keep my nails long and strong. Then I applied two coats of one of my favorites- L.A. Girl 3D Effects Hologram Nail Polish in Black Illusion. The scattered holo effects in these L.A. Girl polishes are magical, plus they dry in a jiffy (and are never tested on animals)! What's not to love? After a few minutes of dry-time I grabbed 6 different polishes in every color of the rainbow along with a dotting tool and a detail brush.
To make my simple splash design I create a dot on my nail using my largest dotting tool. This dot forms the soft rounded end of the splash. Then I take a skinny detail brush and a healthy dollop of polish and drag the color down from the dot to form a point. It's actually very quick and easy! I encourage you all to try this out and let me know what you think! If you're interested in the rainbow colors that I used here's a quick list: Cherry Red by Sally Hansen (red), Orange Creamsicle by AVON (orange), Pull Over by Sinful Colors (yellow), Lucky Duck by Orly (green), Keks by Butter London (blue),and I'm a Belieber by Nicole by OPI (violet).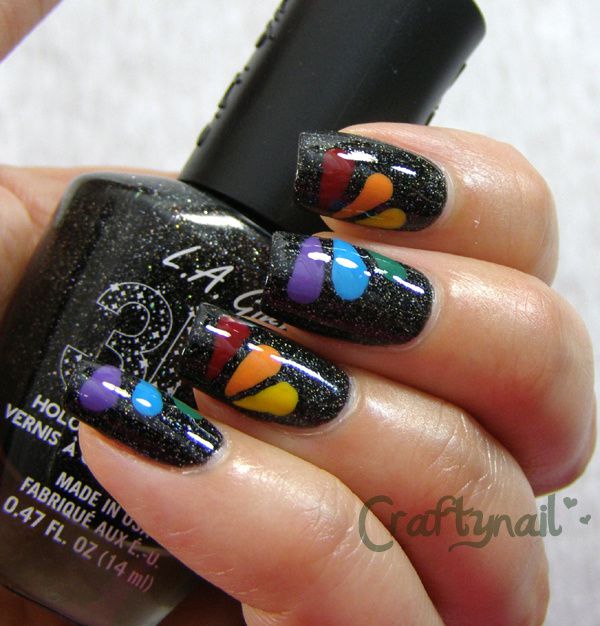 I hope you enjoyed my crafty design! Thanks to Lucy for reaching out to me... and I hope to see you all online!

xoxo Craftynail
********************************************************
Cool idea, right? Thank you so much Jackie for this great post! Here are some other links where you can find Jacqui AKA Craftynail: Facebook, Twitter and Bloglovin'.