Illamasqua The Sacred Hour event - photo report, products & swatches (pic heavy)
Hello lovelies,
I'm honoured that I've been invited again to the Illamasqua's unveiling of the new Sacred Hour collection.
The collection "is inspired by two pivotal times of day; dawn and dusk. As we move through life's journey these mystical, spiritual hours provide a moment for empowerment. Every day the spark of our inner fire is ignited with the dawn breeze, and rolls towards a raging fire at dusk", says Alex Box.
The set up was spectacular again and right upon arrival I felt like I'm in a mystical forest with amethyst stones all around. There was an interesting 'throne' in the middle of the room which was a place reserved to the one and only Alex Box, Illamasqua's Creative Director (below).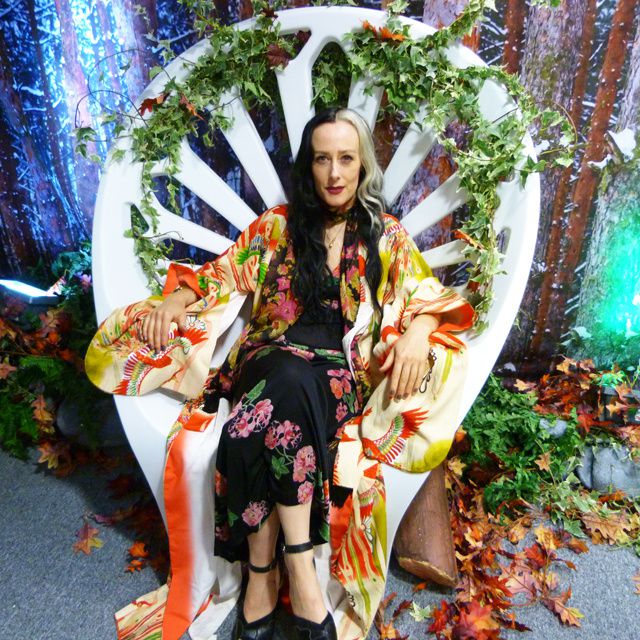 The collection is very wearable and even though Illamasqua usually comes out with daring and bold colours, this autumn colour palette is a fresh breath of air.
The Sacred Hour collection introduces new shade of lipstick in Shard (red violet, RRP £16.50), two new formula Velvet Blushers in Sleek (dusky coral, RRP £18) and Peaked (dusky rose, RRP £18), New Reflection Palette (RRP £34), two nail polishes in Hemlock and Facet (RRP £14.50) and feathered false eye lashes in Lush (RRP £14.50).
On top of all of this, Illamasqua is also introducing a Brightening concealer Skin Base Lift (RRP £16) in seven shades, one of them being and iridescent white (White Light), perfect for brightening and highlighting. Skin Base Lift is supposed to compliment the Skin Base Foundation and Hydra Veil products.
David Horne, Director of New Product Development showed me how the product works and even when layered over my concealer, make up and powder the Skin Base Lift didn't 'cake' and worked perfectly! You simply must check it out next time you visit Illamasqua's counter.
I was given a generous goody bag and even though I usually write just about nail polish, I think you'll appreciate swatches and pictures of the products I've got.
First up is the New Reflection Eye Shadow Palette - "A combination of four highly pigmented shades and an innovative new water resistant eye shadow formula, the Reflection Palette creates striking washes of colour. With a long-lasting hold, each shadow's silky texture allows for effortless application and blending. Choose from Precipice (Soft Lemon), Acute (Ash Taupe), Graphica (Graphite Grey) or Dart (Toasted Bronze)."
I honestly like this palette very much, I can create warm or cool-toned smokey eyes. The eye shadows are really soft and velvety to touch and are well pigmented.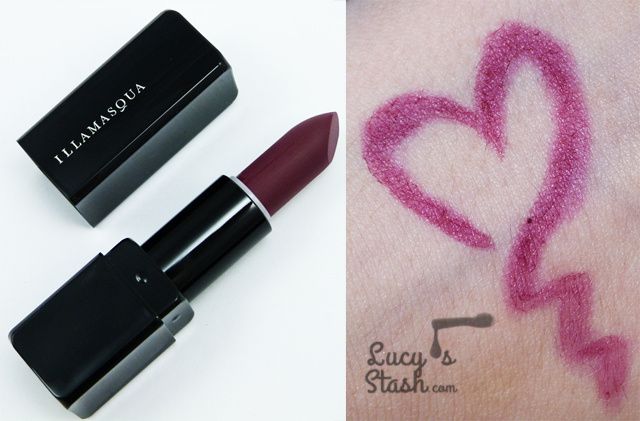 Shard, the only lipstick in this collection is just something made for me! I love the purple undertone which suits me very well. I have many similar lipsticks to this but none of them is identical to Shard. It is nicely pigmented and can be used just to achieve 'stained lips' look. Maybe you've noticed, that Alex Box is wearing Shard in the first picture.
And now the most awaited part of all - the nail polishes. I love them too, no surprise there :)
Facet is brown base with purple undertones filled with golden copper foil flakes. Absolutely fitting to the collection theme and for Autumn. I'm wearing two coats of Facet which were enough for full coverage. It applied very easily and dried fast and smooth. I really don't have anything bad to point out.
Hemlock
is a bit of a chameleon. It appears to be pale beige base with bright green shimmer. The green iridescent shimmer shifts to pink in certain angles creating an amazing colour. The shimmer stands out when layered over dark colour as you can see in the pictures.
Hemlock is rather sheer so I needed three thicker coats for good coverage but one coat was enough when layered. It applied easily and dried fast.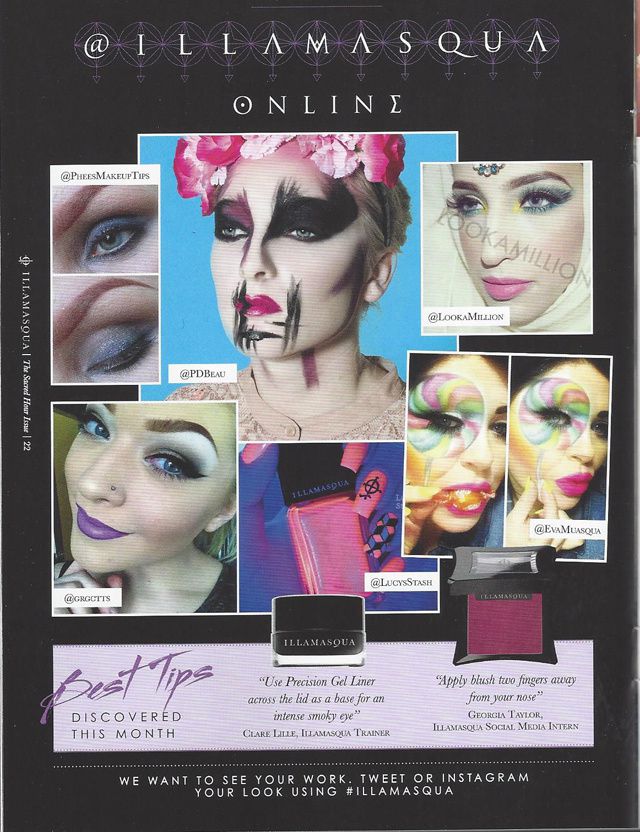 There's one more thing I wanted to share with you and I'm rather proud of it. I was reading through the Sacred Hour brochure on my way home and I've came across the Illamasqua Online section where, to my surprise, I've been featured! Illamasqua published my UV glow nail art! How awesome is that?!? Thank you Illamasqua!
The Sacred Hour collection is now available at the Selfridges in London and will be available online and nationwide from 19th August.
Wow, what a long and exhausting post! Hope you've enjoyed it. What do YOU think of this collection?
*PR samples