Hello lovelies,
Yesterday I've spent a day training Gelish (gel polish) application at Nail Harmony UK headquarters together with some other bloggers. I will be preparing post about it so stay tuned!
Today I want to show you an experiment with stamping decals and the new(ish) Kaleidoscope stamping plate from MoYou London. Let's have a look at the final look:
This manicure consists of two main elements - polka dot nails and the kaleidoscope design nails. The polka dot ones are plain easy and created using dotting tool so I'll focus on the kaleidoscope design nails.
How to:
Step 1 - Paint several rectangle shapes larger than your nails on a non-porous, smooth surface like a plastic folder or a silicone pad using a top coat. Once they dry properly stamp over them with your chosen design.
Step 2 - Start colouring in different parts of the stamped design using small brush and different nail polish colours. Bear in mind that the parts that are transparent will be in the colour of nail polish you are wearing underneath
Step 3 & 4 - Paint your nails with two coats of nail polish and let them dry OR apply the decal over the second layer of nail polish while it's still wet. Apply coat of topcoat over the nail which will seal the decal in place
Step 5 - Clean up all the excess of decal and edges of nails using flat brush dipped in acetone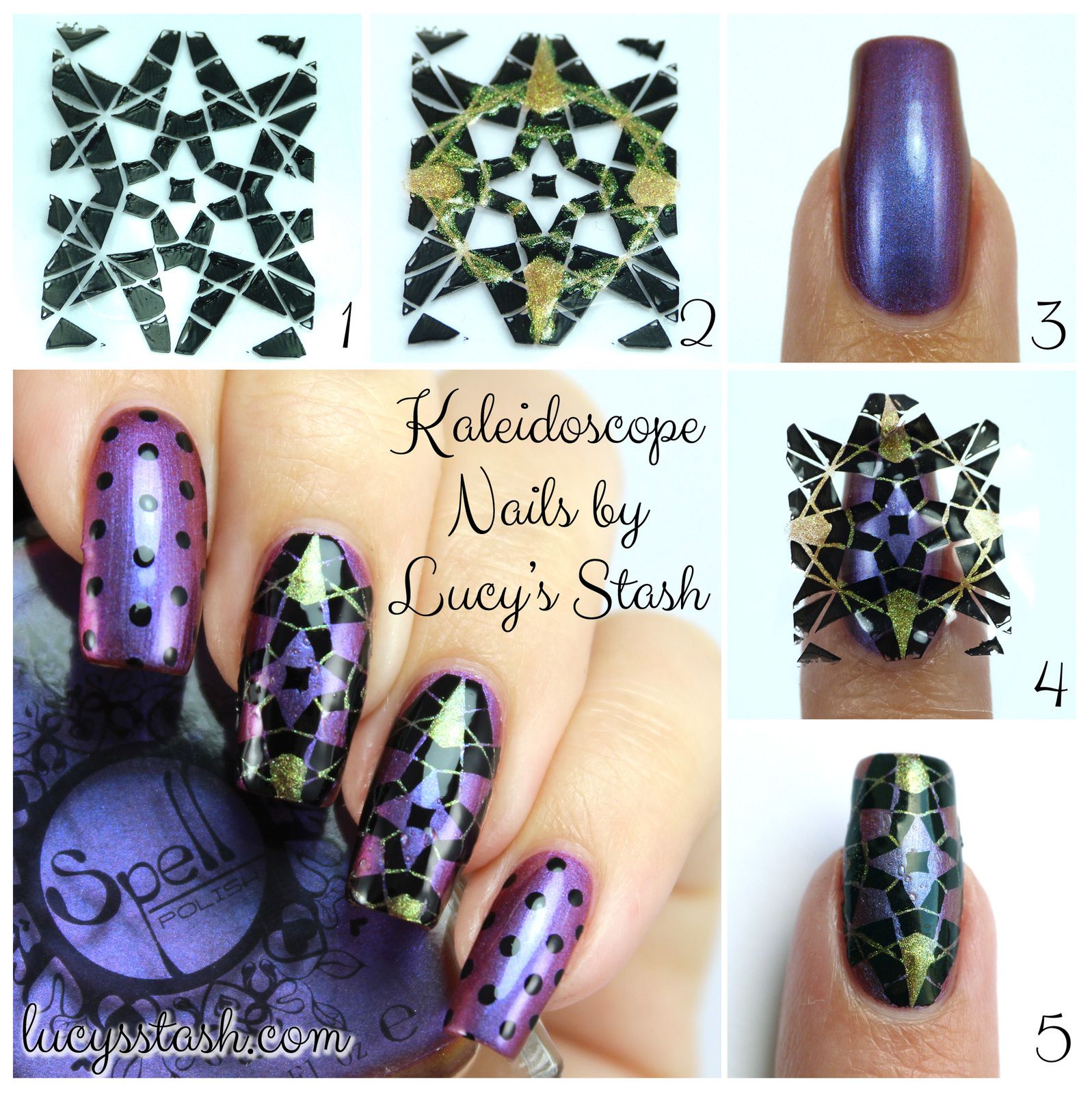 Products used:
Spell Polish Smile Transference
Spell Polish Swinging Through Stars
MoYou London Kaleidoscope 04 stamping plate
Konad Special Stamping Polish in black
Seche Vite Top coat
Small detailing brush
Here's a video tutorial on stamping decals I did earlier, it's basically the same process only with different design:
I think that this design would look even better in some bright colours but I wanted to use the new Spell Polish multichromes and I really liked to see the colour-shift in the design. What do you think? What colours would YOU use?
Have a good day and stay polished! Lucie x