*PR sample
Hello lovelies,
I have decided a while ago that I will feature more jewellery and accessories complimenting my manicures. When I have been approached by JORD watches if I'd like to review for them I was very happy to accept...after I went straight to their website and found they are made of wood! I loved the concept instantly and I must say I really like the watch as well. Let's have a look...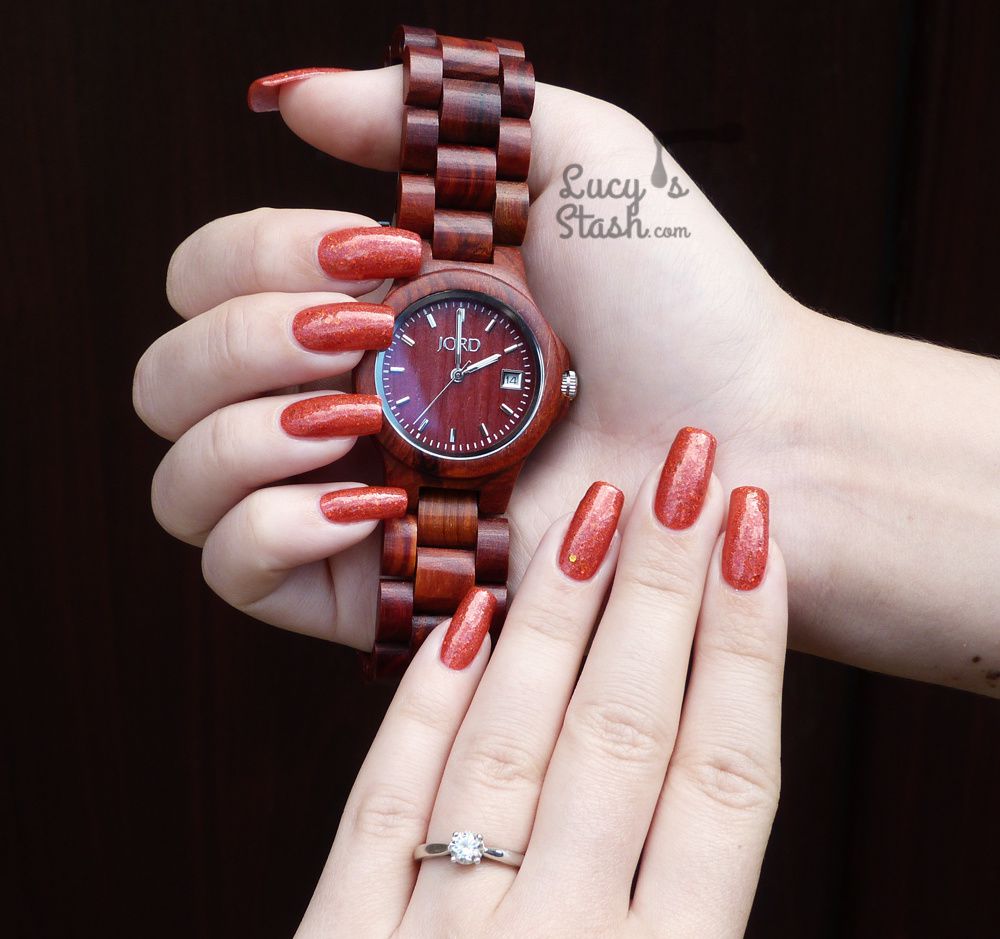 About JORD watches: "A wood watch by JORD is a truly unique time piece hand-crafted from natural wood. The bands and movement housings can be made from one or more types of wood. The internal movements are sourced from the finest international watch manufacturers and the glass is a scratchproof "blue film" glass. If you are seeking a beautiful and unique time piece for your collection or simply need an expressive fashion accessory, a wood watch is your next talk piece. Watches are manufactured with a variety of natural woods from around the world. Each product is different and we are constantly sourcing unique and sustainable product with which we hand-craft every watch. Some of the wood we use include bamboo, maple, sandlewood, blackwood, cherry, and teak."
I was given a chance to choose style and type of wood. My choice was Ely - more feminine style with small face in cherry. Cherry wood is warm, of red-based brown colour and has beautiful grain. As you might have guessed, due to the pieces being crafted from wood, each watch is original and no same piece is anywhere in the world. They will always differ in the pattern of the grain.
The watch came in a hard box with metallic silver JORD logo and earthy colours. I've found the watch inside, wrapped around branded cushion together with a warranty and business cards. On top of the clock, Ely watch has date window as well which is very useful for forgetful people like me.
There is one more little detail I absolutely love and it is the wooden circle with JORD logo burnt into it. I love it because the smell takes me back to my childhood when I was burning images into wood using a magnifying glass. It's the smell of burning wood and I love it!
The watch is very light and elegant and even my fiancée has moaned at me that he wants a pair of wooden watch for himself and why didn't I choose men's style! Lol, he's silly like that, why would I choose a men's style when I can keep them for myself :D Yeah, I really like them, can't you tell? I'm taking them with me for my holiday which I'm leaving for tomorrow and they will be a great accessory!
The official description of the watch says: The Ely series is our elegant, small-face design. This is that kind of watch that makes you grin for no apparent reason. Light, sexy, and compact design makes this a popular, everyday watch.
Hardened, Scratch-proof glass face: 26mm diameter
Frame / bezel: 34mm diameter
Band width: 21.5mm
Lug ends: 40mm
Single action locking clasp (stainless steel)
Premium Citizen Miyota movement with date window
JORD watch would definitely be a great and unique present. They are available at JORD website in other styles and woods.
As for my nails, my first thought was of course to create a 'wood grain' nail art but since many others have done that I've opted for a complimenting shade of polish. I'm wearing Glam Polish Warlock which is a brand new shade due to be released in September so you guys are getting super exclusive sneak peek!
And as a little treat, you can win JORD Ely in Cherry for yourself!