Hello lovelies,
Hope you're all well. I have been pondering about writing a post on part of my nail painting routine and maybe it will be somehow interesting for you. Life can be very stressful at times and if you're juggling job, kids, household and a partner then an hour for yourself to paint your nails can be a godsend. But what can you do to maximise that time and enjoy it to the fullest? Here are my tips: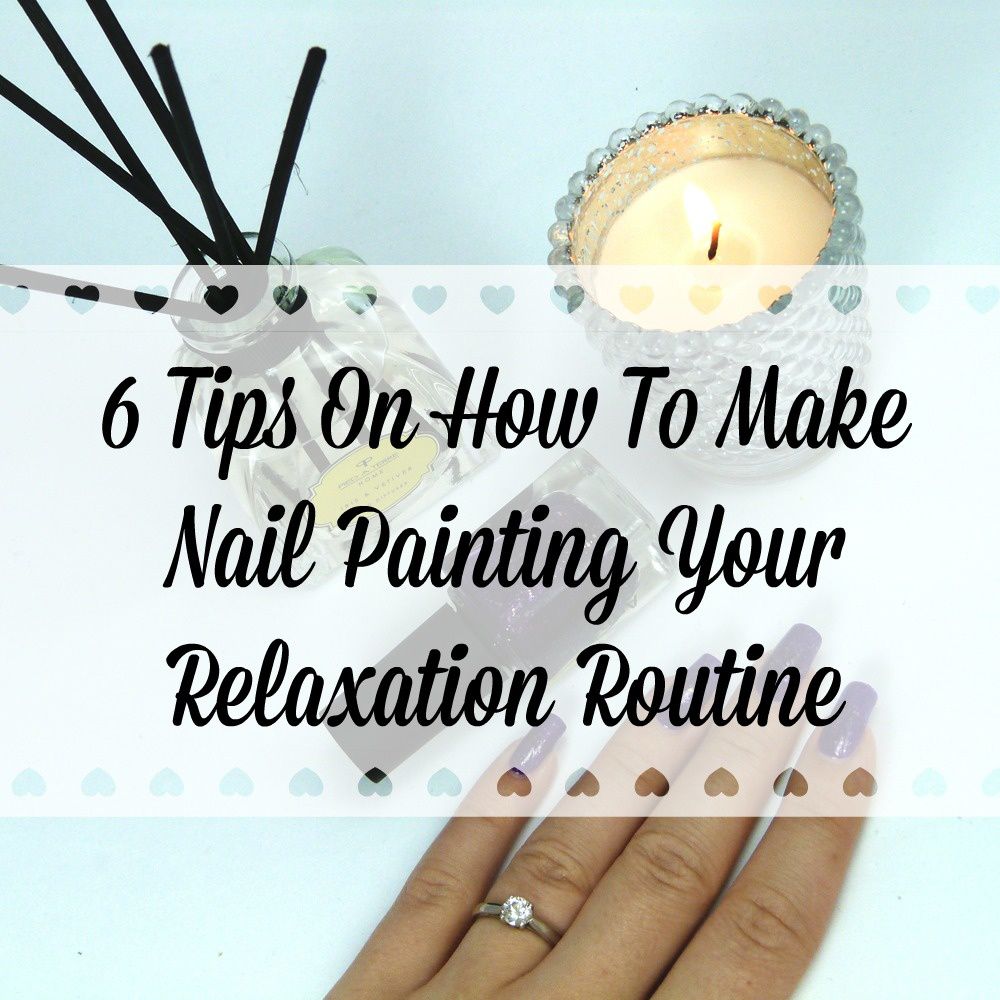 1. Make it your and your time only!
Make an agreement with your partner that this is your wind-down activity (and hobby?) and your time to relax. Just as your partner might like to watch sports or do their own hobby, you should be able to have your own 'me' time. This might be a bit harder if you have kids so you would probably have to wait until they are asleep.
2. Find your comfortable place
Find your own 'corner' for doing nails. Somewhere where you feel comfortable, and won't be disturbed. This could be just your favourite comfy chair in living room while watching telly or your special 'nail corner' (mine is in my bedroom).
3. Set the mood
It's nice to help the relaxed mood using aromatherapy and perhaps some music. Smells can alter your mood and can counter-act the vapours from nail polish. I like to have a diffuser in my bedroom with a matching scent candle that I can light.
4. Clear your mind
Doing something repetitive and 'easy' as nail painting can really help reduce your stress levels. Try focusing on the painting instead of on the hundred and one other things you need to do later, tomorrow or next week.
5. Have your favourite snack and drink at hand
I like to munch on some snacks or chocolate and sip hot tea while doing my nails. Eating your fav snacks will help lift up your mood. Be careful though - have everything out of packaging and easy to reach so you don't dent or smudge your nails!
6. Make a ritual out of it
Repeating certain rituals like the candle lighting, setting yourself in your comfy 'nail corner' will, after some time, automatically bring certain (hopefully good) feelings. Just like turning on light worked on Pavlov's dogs, you can teach your mind that by lighting your favourite candle means 'nail painting & relax time'. I know it sounds a bit weird but it really is possible to programme your mind to certain responses..in this case relaxing and leaving all stress behind even if just for an hour.
And remember - take your time, enjoy it and don't rush ;)

These are my diffusers and scented candles I currently use. I got Pied a Terre set of three mini diffusers and set of three candles in the following scents*:
Iris & Vetiver: A classic feminine floriental with a heart of iris, rose and jasmine, highlighted by top notes of bergamot and pink pepper. A sensual base of moss, vetiver and sweet amber completes the fragrance.
Plum & Black Amber: A heavenly fruitly rich plum laced with sensual black amber and dark musk accords.
Fig Leaf & Cassis: Green leafy fig accords entwine with fruity cassis and redcurrant. A base of white cedar and a hint of creamy coconut adds depth.
The diffusers come in quite heavy glass bottles with dark brown reeds. The candles also come in glass that has bumpy finish and a layer of spotted silver paint inside. It creates really nice look together. I thought my least scent favourite would be Iris & Vetiver but it turns out to by my absolute favourite. The scent is sweet with a hint of spice. Let's take a look at my 'relaxation sets':
Both sets come in matte grey boxes with glossy black floral print and with black ribbon. I must admit, I've never had candles and diffusers that feel luxurious but are in fact affordable. All of these are sold in full-sized versions separately so these sets are a great opportunity to find your favourite scent.
Pied a Terre products and these mini sets are available at House of Fraser, specifically candle set here, diffuser set here.
PS: In case you're wondering, the nail polish I'm wearing is Anna Gorelova by Dance Legend 04 Miracle Yudo
*The products were sent for feature