*PR samples
Hello lovelies,
I've been recently approached by Rimmel London if I'd like to review some of their polishes and since Rimmel is such an iconic brand I happily agreed. I've been testing out the new Rita Ora nail polish range and here are the first four swatches. I've done tonnes of nail art so expect to see some soon ;)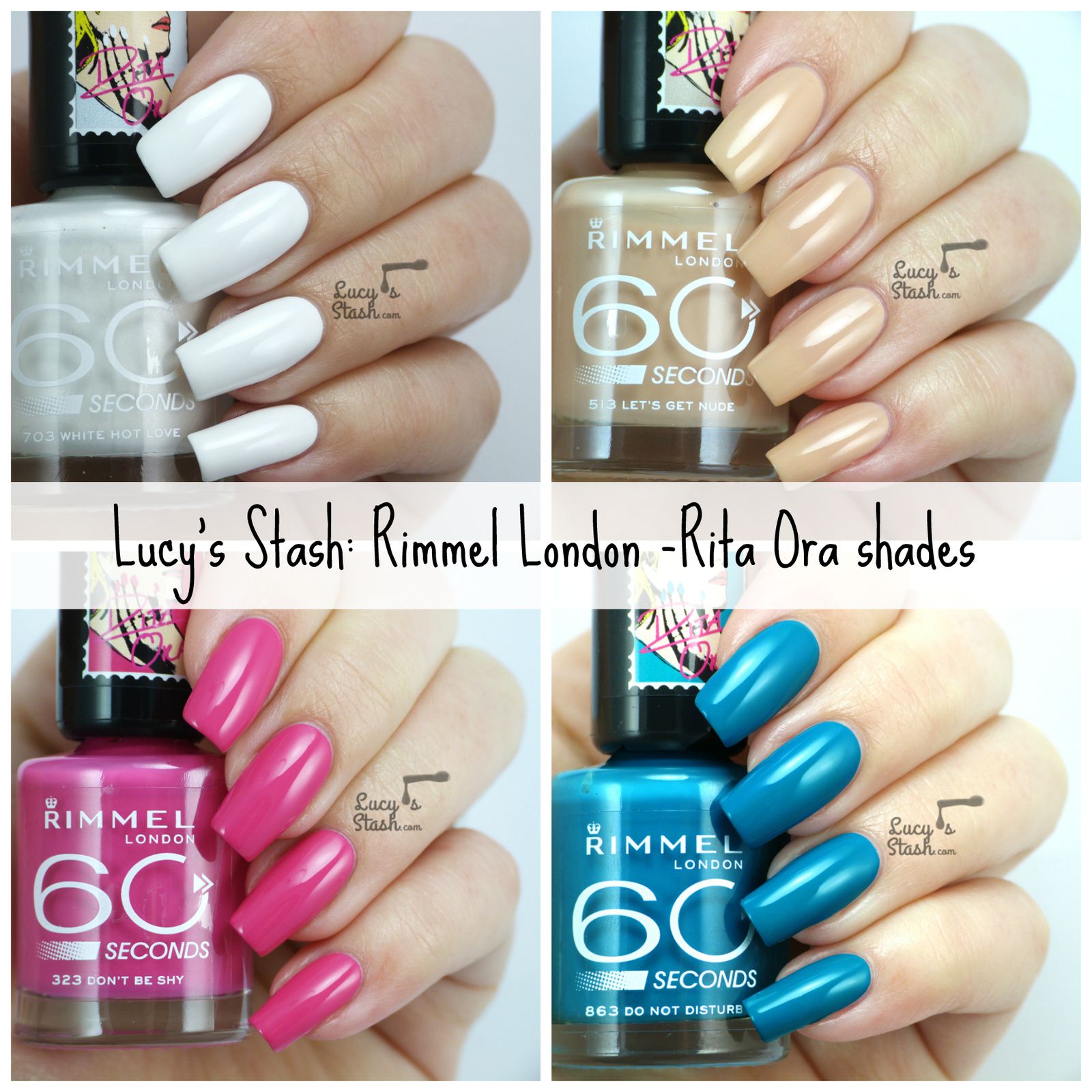 Rimmel 513 Let's Get Nude - beige creme shade. This is quite a classic colour; I always call them 'office-friendly'. The formula is very fast-drying so I had to work fast to avoid patching and I also had to apply thicker coats to get full opacity. The brush is not too flexible so thicker coats also ensured that the brush didn't drag the polish causing streaks. As I've mentioned previously, the polish dries very fast and glossy.

Rimmel 703 White Hot Love - white creme with strong silver shimmer. This frosty white looks very cool and will best stand out in monochrome black & white nail art. The formula was a bit tricky - it was patchy when applied in thin coats due to the fast-drying formula but second coat covered it up. I needed two thicker coats for full coverage and topcoat to get glossy finish.
Rimmel 323 Don't Be Shy - hot pink creme. Great vibrant shade that is perfect for summer season! It has excellent pigmentation and was almost fully opaque in one coat. I ended up applying two coats to get perfect coverage. It also dried fast so I had to work as fast as I could.
Rimmel 863 Do Not Disturb - teal creme with strong green undertones. Ok let's say it upfront - my camera is lying! The shade is much greener than it shows in the pictures. I've tried to change the colour in Photoshop but I couldn't get any closer to the true shade.
The formula was good to apply, actually a bit better than with the previous polishes but that comes with its own baggage - staining. I'm very sorry to say that this gorgeous green teal stained quite a bit :( I did manage to remove the staining with toothpaste but it is still a major drawback for me.

This was my first encounter with Rimmel polish mainly because I'm not big on purchasing drugstore brands. I like the colours and the fact that they dry fast and quite glossy. What I don't like is that they can be patchy and streaky for which I mostly blame the brush. I really don't like the brush. It is flat and kind of slanted on the edges and it's not very flexible so that can easily drag the nail polish and case streaks. I think I managed to paint the polis nicely but you should still be aware that they are tricky to apply, always use thicker coats.
I'm happy to say though that they worked very well for the nail art I've done and I can't wait to share it with you!
Rimmel London polishes are available in drugstores in UK, at Rimmel London website and online at Superdrug and Boots. I have no idea where they are available internationally except Czech Republic. There I know they are in drugstores too. Each bottle holds 8ml and is sold for £3.69. Superdrug currently offers buy 1, get second bottle half price.
Have a nice day! Lucie x
*PR samples