*PR sample
Hello lovelies,
Today I'm trying out F.U.N Lacquer polishes for the first time. F.U.N Lacquer is an indie brand from Singapore and I was lucky enough to be sent the Princess collection consisting of 11 holographic shades. Each polish is named after a Disney princess character. I'm going to show you five shades in this first part of the review: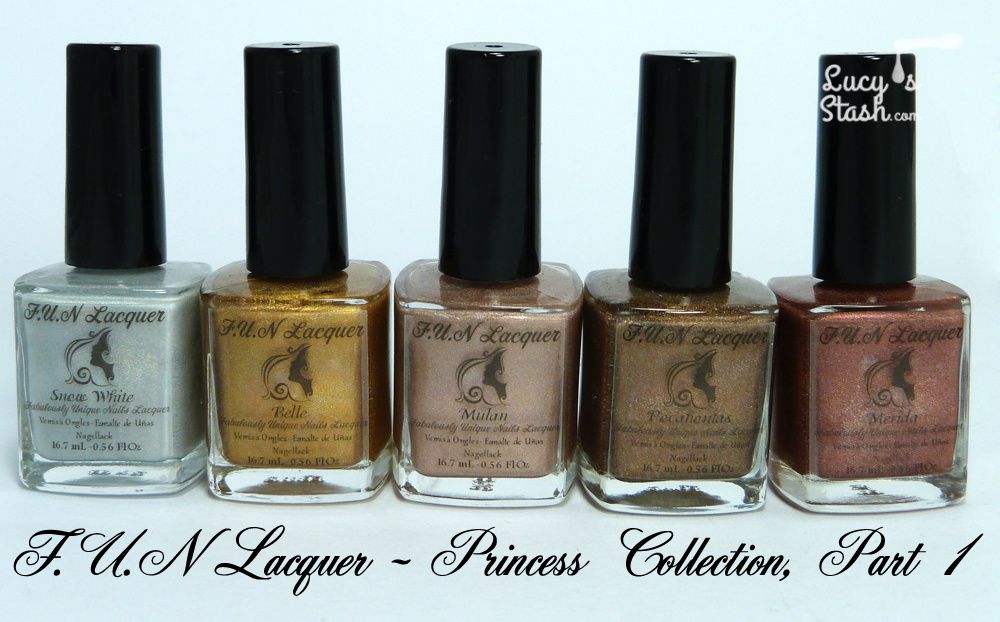 Most of them are really beautiful and I'm sorry not to show them in the sun. British weather hasn't been nice and sunny for a long time. All polishes have good strong holo and they are truly beautiful in the direct sunlight.
Snow White - light grey holographic polish. I don't actually have any other grey holo in my stash so this one is really cool. I needed two thicker coats for good coverage.

Belle - yellow gold holographic polish. Very pretty and warm gold shade with strong holo effect. The shade is leaning towrds brown undertones so it's not a bright gold but rather a nice Autumn colour. I'm wearing two thicker coats.

Mulan - beige holographic polish. If you're looking for an elegant and subtle holo shade, this might be your pick. The shade doesn't excite me very much but if I would need an office friendly polish, this one would be a good choice. It is slightly sheerer so I needed two thick coat but three thin ones would do too.

Pocahontas - cool-toned brown holographic polish. It's that kind of rustic walnut brown, very nice colour.

Merida - red-based brown holographic polish. I think this brown suits me the best as it's nice and warm shade. The holographic effect is strong and the pigmentation is good as well.
All polishes have the same formula which was easy to apply and the pigmentation was generally good too. All I needed were two thicker coats to get nice and opaque finish. Another thing I look at is how the polish dries - they dried quite fast and smooth but I still needed a layer of topcoat to get completely smooth and glossy finish.
This was the part of the collection consisting of neutral and brown tones. The next part will show the rest of the collection full of bright holos!
If you'd like to get your hands on the F.U.N Lacquer Princess Collection, hurry up because it is available till stock lasts and will be discontinued. You can purchase it at F.U.N Lacquer store, each full size bottle holds 16.7 ml of nail polish and is sold for $13. Mini sizes (7ml) are available too for $7.50. For news about F.U.N Lacquer visit their Facebook page.
*PR sample