Hello lovelies,
Lately I haven't been feeling like writing anything so all the swatches, photos and everything else is just piling up waiting to be written about. Don't you just hate moments like these? Sometimes I wish I could just paint my nails and the reviews would magically write themselves!
One of the products waiting to be reviewed is the Bundle Monster Work It! collection* of stamping plates. There are three sets with five plates each and I was able to choose one and I really wanted the set with yoga images on them. I must admit, I hate exercising and currently don't do it at all but when I did exercise before my wedding I enjoyed yoga the most (partly because of all the awesome videos on YouTube channel Yoga with Adriene). So naturally I've used the yoga images first ;)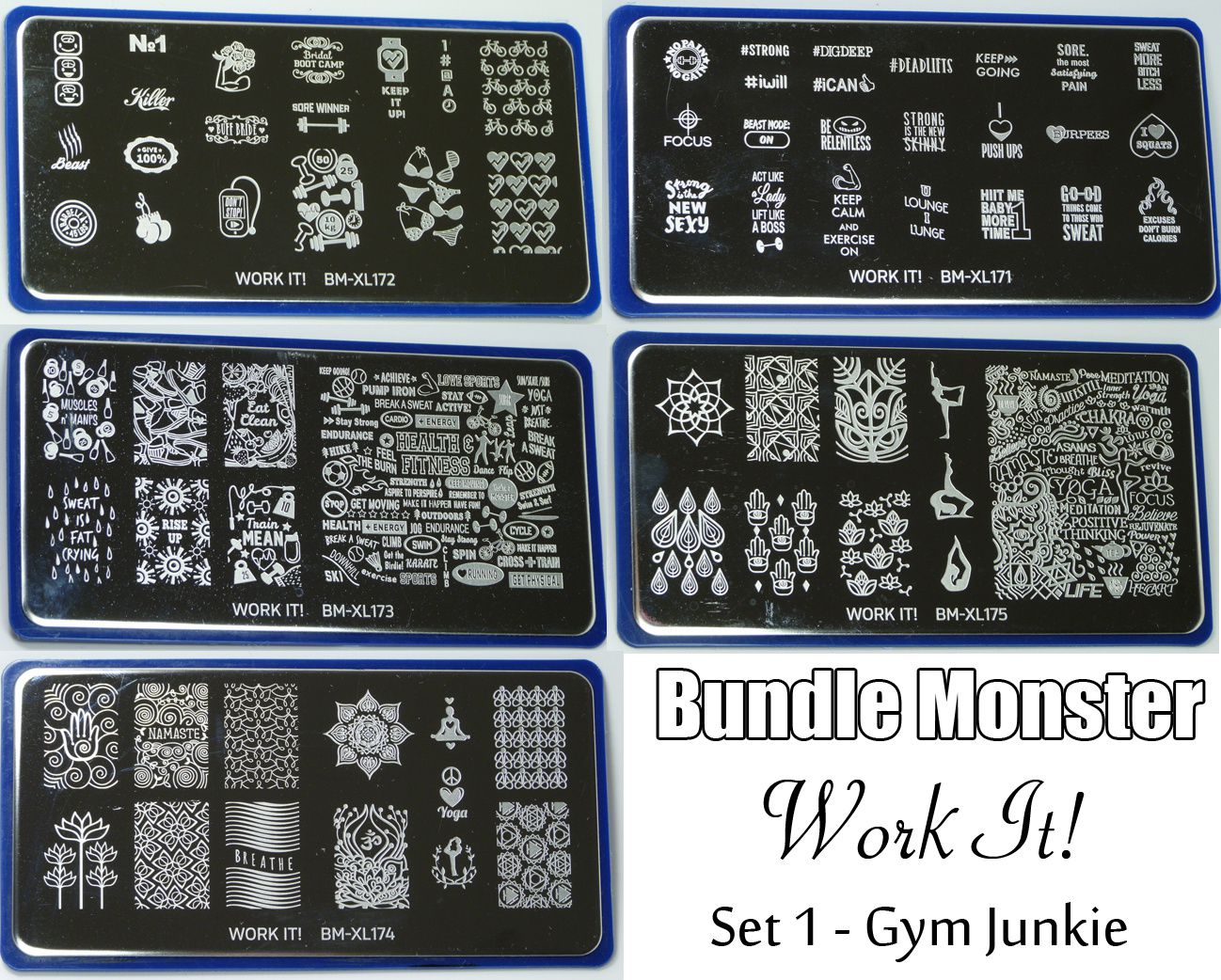 So let me show you Bundle Monster Work It! Set 1 - Gym Junkie. There are five themed plates (BM-XL171-175) with images ranging from yoga poses and patterns to power words and phrases. Each plate is the standard Bundle Monster rectangular plate with dark blue hard plastic backing. Plates come with the blue protective foil which' removed already ;) Images are the larger, XL size which suits me and my longer nails very well.
I've tested quite a few of images from each plate and so far all of them stamped nicely, there were no badly etched parts, no problems at all. I particularly like the variety of thickness of the lines. There are some very fine images in the yoga plates that I really liked. Sometimes plates are etched too thickly but luckily that's not the case here. I've created a gradient manicure with stamped yoga images and this is how they came out:
I have used Models Own Chrome Turquoise and Chrome Pearl for the gradient background. Next I've applied Bundle Monster Poli-Peel, a latex protector. Then I've stamped over them with Hit the Bottle As Black As Night. All sealed with Seche Vite topcoat.
The plates worked great as you can see! The whole range of Work It! plates is available at Bundle Monster website for $19.99 per set of 5 plates. Plates can be purchased separately as well.
I have another nail art manicure that I've done with this cool set but that's for the next time... ;)
Have a lovely start of the week! Lucie x
*PR samples