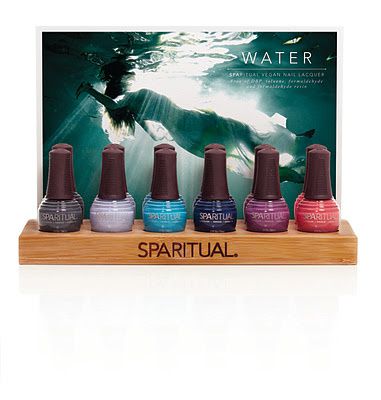 SpaRitual Water Spring 2012 Collection
Nature's purest distillation of life-giving energy. Drink in its powers while getting lost at sea. A hidden world, found in the depths below, beyond reflection.
Shimmering corals, deep watercolors and dense pastels rise to the surface. The effect is fluid, weightless and glistening.
Our collection is inspired by the beauty and life-giving energy of one of our most precious resources, water. To help raise awareness and protect our resources for generations to come, SpaRitual will be donating 20% of sales to Surge. Bringing water to those in need, Surge is a non-profit organization that improves access to clean water for life. Surge increases public awareness of the global water crisis through education and investment in sustainable solutions.
Deep – Iridescent Grey Shimmer
Hidden Reef – Coral Shimmer
Ripple Effect – Dusty Mauve Crème
Undercurrent – Deep Blue Crème
Water Individual Lacquers RRP £8.50
Water Collection Mini 4-Piece RRP £15.95
For more information, please call at 0808 202 0855 or visit the SpaRitual website at www.sparitual.co.uk
As with all SpaRitual lacquers, these new shades are vegan and free of DBP, Toluene and Formaldehyde and Formaldehyde resin. Each nail lacquer includes our sleek patented Plum Cap allowing effortless opening of the bottle and a non-slip grip while applying lacquer.