Welcome back for the second part of the Xen-Tan serie! Today I will review two dark lotions for those of you who like nice and dark tan!
Xen-Tan Dark Lotion - what Xen-Tan says about this product: "A favourite of A-List celebrities and beauty editors alike, our best-selling Dark Lotion gives you a rich, natural olive tan that looks great for up to 10 days. Easy to apply, it goes on evenly, smells delicious and instantly creates a gorgeous streak-free finish you'll love.  Packed with rich moisturisers and premium ingredients, Dark Lotion glides onto skin and leaves it feeling nourished and silky smooth. Enriched with coconut and walnut oils, it helps you achieve a stunningly natural olive tan that's exceptionally longwearing.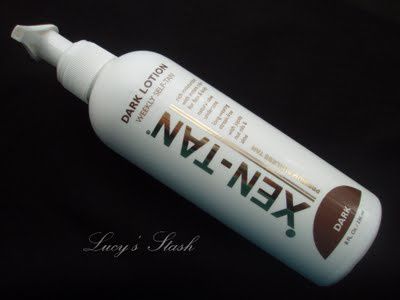 This product does not smell as vanilla like the others…it smells kind of like marzipan. The smell lasts quite a while, I could still smell it after 4 hours then it started to fade away. The formula is dark brown thicker cream. The colour is very dark brown as you can see in the pictures. That makes a perfect leading colour on the skin and it is perfectly visible where the cream has been already applied.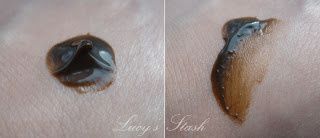 It is also better to apply cream self-tanners by hand than with a mitt. Mitt was great for the Mousse Intense product but not for this one. I've applied the cream in a patch so you can see the colour difference it makes. The colour next morning was visibly dark, darkest of all the four Xen-Tan products I've tried. It lasted on me the longest of all as well for about 9-10 days.
Applied lotion before properly spread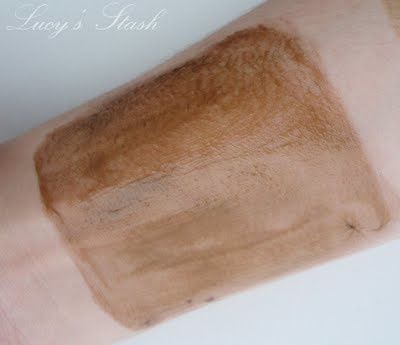 Colour the morning after. You can see much darker patch on the skin.
Xen-Tan Dark Lotion Absolute Luxe - what Xen-Tan says about this product: "We've perfected our darkest, richest and most luxurious tan to date; one that offers a tan that will last longer than any other fake-tan product. To create this ultimate dark, long-lasting tan, we've included more DHA active tanning agent than ever before. Enriched with Ginko Biloba, Green Tea extract, aloe and Shea butter, Dark Lotion Absolute Luxe is a real treat for skin, leaving it feeling wonderfully nourished and smooth."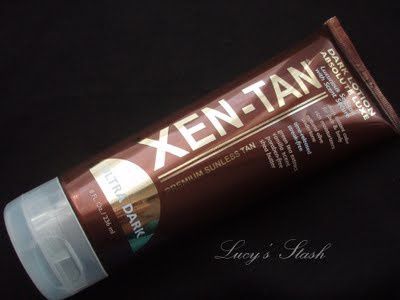 Absolute Luxe is a thick cream and its colour is something like light greenish brown colour. It's hard to describe so have a look at the picture below. The scent is vanilla again but not too strong and sweet and it doesn't smell for too long. I didn't smell it after 2 hours which makes it a great product for those of you who don't want that rich vanilla scent.

The colour I got the next day after application was dark but it wasn't as dark as from the Dark Lotion. In the picture you can see the colour difference it made on my skin. I'm quite pale and it made a difference.
Applied lotion before properly spread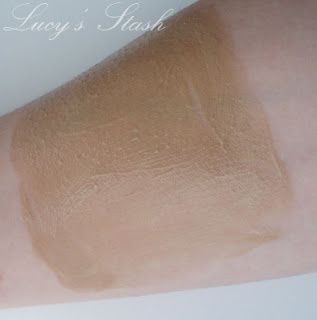 Colour the morning after - you can see darker patch on the skin but not as dark as with Dark Lotion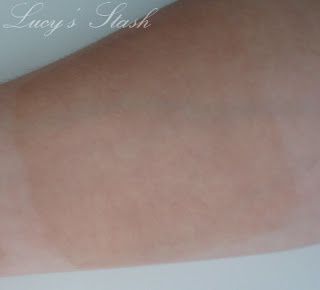 So which one is for you? I'm in love with Mousse Intense ;) In the last part of the mini serie I will compare all four productsand help you to choose the right lotion for you... Bye bye x