I've reached 500 followers very recently so I thought I'd do another giveaway to thank you, my readers :) I didn't expect to have so many followers so I am very nicely surprised. Thank you, thank you, thank you all the nail polish fans, beauty products addicts and my friends :) Your support means a lot to me!
Now to the prize! You can win 9 nail polishes and chocolate :) Again, I've tried to do a mix of brands and I picked up some polishes you can buy in UK only. I was giving away China Glaze Ghoulish glow in my first giveaway and you guys loved it so much that I managed to buy another bottle which is part of the giveaway as well! I'm also adding box of English Thortons Melts - the best chocolate pralines, I just love them!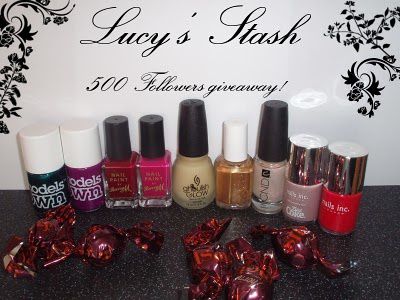 Prize is:
Models Own Peacock Green
Models Own Purple Passion
Barry M Raspberry
Barry M Fuchsia
China Glaze Ghoulish Glow
Essie Shift power
CND Crimson Sparkle
Nails Inc. London
Nails Inc. Mercer Street
Box of Thorntons Praline Melts
Please note, that some of the polishes were swatched and some are new.
The rules:
Mandatory:
1. You must be a public follower of my blog.
Please leave your Google Friend Connect name and your email address co I can contact you if you win (1 entry). This is thank you to all my followers and readers so don't cheat, I will check!
Optional:
2. Blog about my giveaway. If you use a photo of the prize (photo in the sidebar counts too), add an extra entry. Leave a link in  comments (2 + 1 entries).
3. Follow LucysStash on Twitter and tweet about my giveaway. You can tweet once daily, please provide a link everytime. Please retweet following: Enter @LucysStash International #giveaway and win set of nail polishes and more at http://bit.ly/ceYx1a  (1 entry for each tweet)
4. Add Lucy's Stash to your blogroll. Leave a link in to your blog (1 entry)
5. Mention this giveaway anywhere else and leave me a link (1 entry)
6. Tell me any nail art idea you would like me to do. It can be konading, free hand nail art, topic I could get inspired by, colours, whatever.... :) (2 entries)
EXTRA: Become my fan on Facebook and gain extra 3 entries! Here is the link!
The winner will be chosen using programme The Hat.
Giveaway ends 1st November 2010. I will count entry as long as there is 1st November anywhere in the world. Giveaway is open INTERNATIONALY.