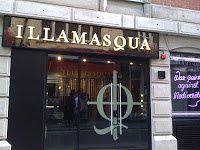 On Saturday I was one of the few lucky bloggers to attend Illamasqua's preview of Art of Darkness Autumn/Fall 2010 collection. The whole event was held in their new flagship store at 20 Beak Street right next to the Carnaby Street. The store should be open now and it also has room for a Makeup School of Art. Now to the store itself - I loved it! It was spacious, the floor was holo-glittery, creative elements such as broken mirror under the counter were everywhere and layout was finalized to the tiniest detail. I absolutely loved bowls full of fruit and dark chocolate mixed with newest products from Art of Darkness collection.
Here are some pictures from the store:
The collection itself is full of rich jewel-like colours and I was really excited especially about three new colours of Liquid Metals and two new nail polish shades! The visuals are stunning and include a short film, promo pics and amazing story:

"Deep in an enchanted forest, the scene is set for a sumptuous feast. The chosen have arrived. Where this night will end no one knows. Not even death is inevitable.Lured by the promise of immortality, a host of fantastical beings try their hand at creating the ever-elusive Elixir of Life. The resulting potions dazzle the eye and ensnare the senses, a beautiful array of jewel-like substances. They may not deny mortality, but they do make the theatre of life a more colourful stage on which to play.It's a melting pot of individuals, where ideas are exchanged, and new ones created. A surreal gathering from which the guests might never awake. Which is why this night can never end, and the game must be played for eternity."
Here are some of the characters and new products...I love whole looks and creative makeup Alex Box did!
The Queen of the Gypsies
 Wolfen
Wanton Woman
 Androgyny
Art of Darkness collection
I got a chance to see Alex Box at work and the result was amazing! She is so inspiring just by herself and her work, the makeup she does, just perfect!
Alex Box in action
The result!
I also met other lovely people from Illamasqua's management and other fellow bloggers including Hell Candy :) I must say I was so mad on myself for forgetting to charge batteries in my camera :( I had to take pics with my phone and they are quite rubbish :( That's also why I didn't swatch products as my phone was not able to take closer pictures.But at the end I have two product swatches for you anyway. I got a goodie bag from Illamasqua (Thank you, it was amazing end of the event!) with Resolute - brownish-red Liquid metal and Viridian, emerald green nail polish. I wanted to stop by at the Selfridges and buy Illamasqua's makeup but I realised I had to catch a train home :( So I have another reason to go to London and to Illamasqua's store again :)
Swatches of nail polish and Liquid metal coming soon!