Hello lovelies,
It has been quite a while since I shared with you the products I use to keep my nails in shape and healthy so here's a new update with some new products you might not have seen before.
I take my nail care very seriously because it has proven it has a real impact on my nails. When I stop caring for my nails, don't apply nail oil several times a day and don't use hand creams, my nails feel dry, brittle and they break easily. It really pays off for me to spend few minutes a day caring for my nails - what about you?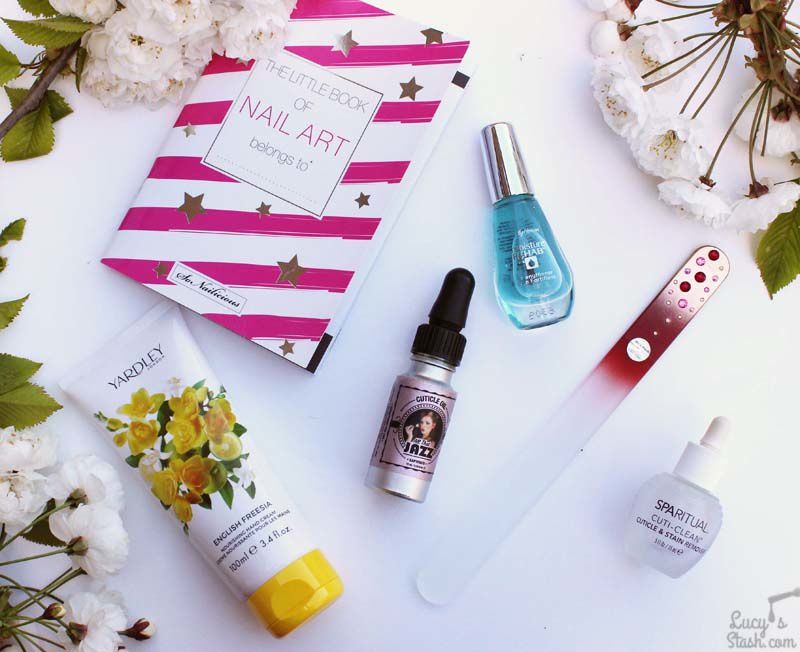 Let's have a look at the products that I currently use on regular basis:
1. Yardley London English Freesia Hand Cream* - This is the hand cream I currently use most of the time and it's part of the new Yardley Spring release. It has a fresh freesia flower scent with hints of citrus. It soaks into the skin fast which I really appreciate. I don't like to use greasy or sticky hand creams during the day and that's why I love this hand cream. It leaves my hands lovely smooth and nourished. It contains "freesia extract combined with shea butter, peach kernel oil, antioxidant vitamin E and chia seed oil" - all that and 100ml of cream for under £4.50. Also, it's a British brand so let's support British businesses, right?
2. All That Jazz Cuticle Oil - I've been using various All That Jazz manicure range products for the past years and I've always been very happy with all of them. They are marketed for both consumers and salon professionals which tells me that if they are good enough for professional use, then they're definitely good enough for regular consumers at home. Their cuticle oil in the Captivate scent (musk and coconut oil blend) is one of their products I use the most. I still have the original vintage-style packaging. They've recently changed into more modern black packaging just so you know. Just a bit of the oil goes a long way and it leaves my nails nourished and flexible again. It contains "fractionate coconut oil, vitamins A, C and D and carotenoids".
3. Mont Bleu Crystal Nail File - These Czech crystal files have been my staple for years and I'm not giving them up anytime soon! If you're still using cheap disposable nail files/emery boards, STOP! Stop and try a good quality crystal nail file and you'll see the difference. My natural nails love crystal nail files! It keeps the edge smooth and sealed and it helps in preventing splitting and breaking.
4. SpaRitual Cuti-Clean Cuticle Remover - I keep coming back to SpaRitual Cuti-Clean as my favourite cuticle remover because it just works so well and fast! It has a little glass dropper that helps with putting the product exactly where I need it. As soon as I finish putting it on my last nail, I can start working on the first one. It makes the cuticle removing process very fast and easy. Sometimes my nails start to get a yellow staining after painting my nails with dark colours so I really appreciate the stain removing properties. What's your favourite cuticle remover?
5. Sally Hansen Moisture Rehab* - This is a surprise product because I never thought I would like it as I'm a big fan of nail oils. Moisture Rehab is and overnight serum but truth to be told, I use it at any time of the day. It has gel-like consistency that soaks into skin and nails fast when massaged in. For especially effective overnight treatment I massage the Moisture Rehab into my nails and then apply cuticle oil over it. My nails and cuticles are in top form in the morning! It contains a "blend of natural actives including black orchid, acai and algae to deliver deep moisture and nutrient rich actives". Sounds good to me!
6. The Little Book of Nail Art by So Nailicious* - This little book is not a nail or hand care product as you've probably guessed but it is my go-to product for sketching and planning nail designs. This pink design has template for round nails but almond and square nail templates are also available. I often get nail art ideas just before I fall asleep so I keep one of these on my night stand. We all know that those ideas are gone and forgotten in the morning unless we write them down! And lastly, this book is an idea and product from a fellow blogger Maria aka So Nailicious so even if you don't plan on buying yourself this Little Book of Nail Art, at least check out Maria's blog, she's an amazing nail artist!
I hope I gave you little insight into my favourites and also inspired you to try something new. What are your current fave products?
Have a lovely day! Lucie x
*Post contains products previously sent for consideration, my honest opinion was given regardless.